EAST RUTHERFORD - The Giants recently welcomed youth football leaders from throughout the region for an exciting day of learning and idea sharing at USA Football's Tri-State Leadership Forum. League commissioners, presidents and board members gathered at Giants Stadium on March 13, discussing resources and other support currently offered by the Giants and USA Football. The full-day meeting was led by USA Football Northeast Regional Manager Ed Passino who played football collegiately for SUNY Brockport.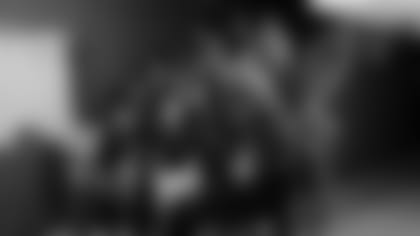 USA Football is the Giants' official youth football development partner and is the sport's national governing body on youth and amateur levels.
"There is a great deal of knowledge to be learned at these forums and it is very helpful that all the league leaders are able to gather together for the benefit of the kids and their football programs," said John Cingari, Commissioner of Parkville (N.Y.) Youth Football, who has attended all three USA Football Tri-State Leadership Forums dating back to 2008.
"USA Football puts together a good rule book, has a helpful website and discusses how to effectively run a football program," added Cingari. "I make sure to incorporate all of the information I take out of the forums into my Parkville Football programs."
Clyde Olson, commissioner of the Jersey Shore Pop Warner Football League, attended the forum for the first time and found it valuable.
"The safety of our players is extremely important and USA Football's concussion information package is vital for anyone in football," said Olsen. "USA football is doing a great job with youth football programs so far and I look forward to what they have to offer in the future."
"With the support from the Giants and other NFL teams, we are helping unify the sport on youth levels," said USA Football's Passino. "Ultimately it's the kids who love to play football who benefit from these meetings – they're going to enjoy the sport even more when coaches and league commissioners are prepared, organized and informed."
At each of its forums, USA Football selects one attendee to represent that region at the 2010 NFL/USA Football Youth Summit in Canton, Ohio, in July. Suffolk County P.A.L. Youth Football Chairman Lou Bonnanzio of Huntington Station, N.Y., was selected to attend this year's three-day summit in the NFL's birthplace. Approximately 200 coaches and administrators from every state take part in the annual event to discuss topics vital to the continued success of youth and high school programs.
"I look forward to meeting other youth football leaders and sharing new ideas," Bonnanzio said. "Any information I gain through this great network that USA Football has provided will improve our league."
Learn more about USA Football or arrange to have one of the organization's eight regional managers meet with your league by visiting www.usafootball.com or call 1-877-5-FOOTBALL.