EAST RUTHERFORD, NJ - The Giants added an intriguing and potentially significant player to their offensive line today when they signed two-time Pro Bowl guard Shawn Andrews, a former first-round draft choice of the Philadelphia Eagles.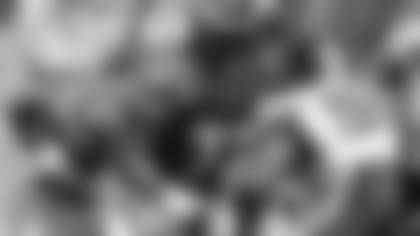 Andrews, 6-4½ and 330 pounds, was at the University at Albany yesterday for a workout and signed with the Giants at 1:45 this morning. He later stood with his new teammates during this morning's jog-thru and will begin practicing next week.
The 27-year-old Andrews drew interest from other teams, but signed with the fierce NFC East rivals of his former team.
"I guess they kind of picked me, but I picked them as well," Andrews said. "I just like the atmosphere. The guys that I met, I can tell genuine people when I see them. And it's right up the road in the NFC, same division where I come from and it's real intense and I like that.
"They were always good games (between the Giants and Eagles). Always a nice little battle down in the trenches. (Eli) Manning was physical. I remember playing against Fred Robbins, we always had a great battle. It was fun. Some of my better games, I would say."
But Andrews hasn't participated in one of those battles since 2007. He played only two games the previous two seasons – none in 2009 – due to back problems that required two surgeries. But he has started all 52 regular season and postseason NFL games in which he has played. And Andrews has worked hard to rehabilitate his back and return to optimal condition.
"Our personnel staff has been monitoring Shawn's progress for awhile now," general manager Jerry Reese said. "He looks great and had a very good workout for us yesterday. He can play both guard and both tackle positions. We just have to take him slow for the rest of the preseason to get him into game shape. Shawn is very excited and grateful for this opportunity to play for the New York Giants."
"You have to give the personnel people some credit," Coach Tom Coughlin said. "They've been tracking the guy. You know he's in excellent shape, starting to work out, very motivated.
"He had the back and some other issues that he had to deal with. But, sensing now that he really is motivated and that he really wants to play. He's just a pleasant young man to visit with. He does indicate to you the kind of desire that he has to get back in the game."
Andrews left no doubt that he is eager to get back in the trenches.
"I've put myself through various tests, and the only test for football really is getting on the field and just kind of going slow – (a) few plays here, see how the back holds up," Andrews said. "I'm laying it all on the line. Not that I haven't before, but this is it. So the Giants are going to get everything from me."
Coughlin said he hasn't decided if Andrews will begin working at guard or tackle. Andrews is a lefthander who can play both positions. Neither of the Giants' starting guards, Chris Snee (knee) or Rich Seubert (hand) will play in tomorrow's preseason home game vs. Pittsburgh, though neither is considered a long-term injury.
"We've got to do a bunch of work there," Coughlin said when asked about Andrews' position. "We know that he's played guard and we'll see. We'll work him in.
"I would think he'll get back (to football form) relatively quick. He's in good shape. He's in very good shape.
Andrews sounded as if he could be happy at either guard or tackle.
"I like the 'right now' aspect of the physical-ness of playing guard, but at tackle I kind of like the aspect of kind of showing my footwork a little bit - kind of showing off, if you will," he said. "I guess it's all physical, but I like both aspects and wherever they want me to be, that's where I'm going to be."
Andrews was Philadelphia's first-round draft choice in 2004, the 16th pick overall. He immediately won the starting right guard job, but suffered a fractured fibula in the season opener against the Giants, ending his season.
Andrews started all 16 games and was voted a Pro Bowl alternate in 2005. He was a Pro Bowler in both 2006 and 2007, when he was universally considered one of the NFL's finest offensive linemen.
The Giants have four Pro Bowl offensive linemen on their roster: Shaun O'Hara, Chris Snee, David Diehl and now Andrews.
In 2008, Andrews started the first two games of the season, but was then placed on injured reserve with a back injury. He re-injured his back early in training camp last year and again spent the season on injured reserve. The Eagles said he failed a physical in March and terminated his contract, but Andrews seemed to dispute that.
"That's kind of tricky right there," Andrews said. "I won't say that…nah, I didn't."
Andrews said he had "a couple partial-disc removals," the most recent last December. But he is confident his back can withstand the rigors of NFL football.
"The back is feeling pretty good," Andrews said. "I've been working hard. I've been going hard -- not that I've never worked hard in my life, but I said this is my last attempt at it and I'm going to go just all out. I'm selling out right now."
In Philadelphia, Andrews had a successful if somewhat curtailed career. He accomplished more than many players and could have easily settled into a post-NFL life. But he believes he still has much to accomplish.
"I'm a competitor and I'm trying to follow the footsteps of the great Larry Allen (an 11-time Pro Bowl selection with the Dallas Cowboys). I want to be that good and even better and I think I have a chance to do that. In this conference, it's competitive and I think I have a good shot to achieve that. So hopefully everything goes well, and it's back to kicking butt.
"I never set the bar low. If I would set the bar low, I wouldn't be here and I wouldn't have gone through a second surgery and I wouldn't have come here to work out. I always want to be the best. I want to do better than 'good enough' and that's what I aim to do while I'm a Giant."
To make room on their roster for Andrews, the Giants waived offensive lineman Cliff
Louis.
--- ](http://www.nyg2010.com/)**