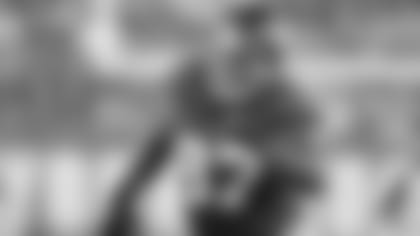 The same week the Giants are getting healthy on the defensive front, the Cowboys' carousel at left guard continues to turn.
Montrae Holland was placed on injured reserve this week with a torn biceps muscle, and the likely successor, Derrick Dockery, took first-team reps during Wednesday's practice in Irving.
The 6-foot-6, 325-pound veteran's only start this season came in Week 2 at San Francisco. The Cowboys also have the option to slide in Kevin Kowalski, who replaced Holland in the third quarter of the Eagles game after he went down.
"That's a big loss for them," defensive lineman Linval Joseph said of Holland. "He's a big body and he holds on pretty well…They're going to adjust and do what they have to do to get ready. They're going to fix it up any way they have to. We're just getting ready. He's a big guy so I have to be quicker than him and try not to get tired on him."
Chris Canty, a few years younger than the nine-year veteran, knows Dockery from a couple of jerseys. While playing for the Cowboys from 2005-08, Canty faced Dockery when he was in his first stint with the Redskins until 2006. Then in Holland's second stint (2009-2010), Canty saw him again through the eyes of a Giant.
Canty has been bringing his interior teammate up to speed as much as he can.
"He's just telling me that he's a big guy," Joseph said. "It's like anybody, if you get their feet moving, you have an eight out of 10 chance of beating them. So he's just telling me to get the feet moving and just punch him in the mouth when he punches you in the mouth."
Regardless of Dockery, the game doesn't get any bigger for Canty going against his former team.
"It's not about me personally," Canty said. "It's about our football team. It's about our football team meeting the challenge, being energized by the challenge, by the opportunity and going out there and performing. This is going to be a great stage Sunday night. We're here at MetLife, we're going to have our home crowd into it, everybody's going to be ready to go."
Meanwhile, the defensive line as a whole is getting stronger with the re-emergence of Justin Tuck and Osi Umenyiora returning to practice on Wednesday.
"There's no better time of the year to have all hands on deck," Canty said. "Obviously December and January is when you want to be playing your best in the National Football League. This is obviously a must-win game for our football team to get to where we want to be and continue to move forward with our season. So to have all those guys back, to have everybody performing at a high level, it's going to bode well for us."
"Everything is starting to build," Joseph continued. "Everything is starting to come together. Everybody is starting to come together. Tuck is getting healthy, Osi is getting healthy, so we're just trying to build."