Q: What went into the decision to put the coach to player device on Jonathan Goff?
A: The play calling, the (receiver) is new, but that's where he is. He's worked at that. He's worked on the voice, the inflection.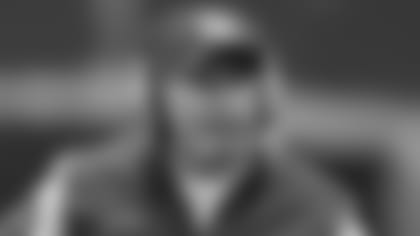 Q: What's the update on Aaron Ross?
A: He's working along. He's working along okay. It's daily.
Q: Will he play on Sunday?
A: I'm not going to say that yet. We'll give him every opportunity.
Q: Is a risk of reinjuring it or is it just a pain tolerance thing?
A: I would say there's a threshold of pain tolerance and there's probably always a risk of doing something else to it. He did have a reaction to something like that and it happens.
Q: Did you ever find out what was the cause of that? Was it the taping?
A: No. I don't know what it was. We never really pinpointed what that was.
Q: This time last year you were opening up somebody else's new stadium (Dallas). Do you remember if the hype surrounding that impacted the game at all?
A: I don't know whether that necessarily came to the team. It was never said that way, but of course you're going in to win a game. That's what you're trying to do and I think that there were fans that were saying things like, oh, spoil the opener or whatever, but from a standpoint of our team and whether we talked about that, no.
Q: So it wouldn't have any carryover for you in terms of what emotionally you might deal with on Sunday?
A: I think we'll have plenty of emotion.
Q: Nothing to do with the stadium?
A: It's the new stadium, first regular season game, the significance of the game. All of it.
Q: Has Eli Manning been wearing that bandage all week or just today?
A: He's had it. He's done extremely well but they still want it on him.
Q: How has Sage Rosenfels come along?
A: Good. He's done well. He's been in here. When he arrived on Sunday, he got a playbook and he went in the room. He stayed in there until the late afternoon and then he did the same thing the next day. He did it on Monday afternoon, Tuesday he was in here all day. He's one of those guys. He wants to be in position to help and he wants to do it right away. He's met with Mike Sullivan and spent a lot of time with him.
Q: Have Lawrence Tynes and Matt Dodge had a chance to get into the stadium and kick with the winds the last couple of days?
A: Not the last couple of days, but they've been over there.
Q: If Rosenfels had to go in a game, would he be ready?
A: He would have a package, yes.
Q: Do you have any idea how the wind is going to be in the stadium?
A: We've studied the wind and we've studied the sun. We have a game-by-game study on that. We didn't have a lot of wind in preseason. I do think it's a much different factor in the opening between the levels in the stadiums. We'll have to wait and see. I still don't…I just believe that it will be a swirling wind no matter what it is, just like we've had in the past.
Q: How do you think the wind compares?
A: I don't know. I'll let you know the first time that it becomes a factor.
Q: When you compare the atmosphere this year to last year going in, how is it different? How have you changed your approach to the opener this year?
A: I don't believe that I have changed much at all. I think that when we started in the offseason program there was an objective in mind and it was about doing something about the season that we had just finished, not wanting to go through that again. I think that's where the guys are coming from, but the way we have conducted ourselves and the way we have conducted our preseason camp, our approach to the first game, etc. has pretty much been the way that I believe it ought to be done.
Q: How much better do you feel now approaching this season compared to end of last year?
A: Well, I'm excited about seeing our guys go play. I'm looking forward to that.
Q: Brandon Jacobs has been a little sensitive about his status as a starter or a backup, has that translated at all to practice or the way that he deals with you?
A: No. Not at all. He knows deep down inside that you can't do it without two or maybe more. You need a lot of people to play this game at this level and at that position, so he is aware of that.
Q: Does doubtful give you a sliver of hope of playing Sunday?
A: A little bit of hope. I've been working hard to get back so I can be in the game on Sunday. I really don't know. I'm getting better and better every day. By now, I'm just leaving it up to the coaches and leaving it in their hands.
Q: When did this whole thing happen?
A: It happened in the second quarter of the Pittsburgh game. I really don't know what play, what happened. It felt like it was tight because of the blood. The blood was flowing too much to my toes. I cut off the tape, and that's when I realized it was my heel. Pretty painful.
Q: Was it the tape?
A: No, it wasn't the tape job. It was probably the way I planted. I just didn't feel it until I took the shoe off.
Q: You're obviously progressing, are you confident you'll be ready for game two but you'll have to play through pain?
A: As a football player, we play through pain all the time. If it's just pain, I'll be ready for week one. If it's still injured and I'll hurt the team, once again I can't make that decision.
Q: At cornerback, is it impossible to play with that type of injury because of the cuts you make. How difficult has it been?
A: In the beginning, it was really difficult. I couldn't put my heel down. I couldn't plant. This week, I've been doing a lot day-by-day. Fifty percent the first practice, 75 percent, then the whole practice today. I felt really good and it's been getting better and better every day. I still have two more days so don't count me out.
Q: Are they telling you there's a point when you'll get past it?
A: I believe so. It's getting better and better every day. It's week one, so we have 16 more weeks. I'm pretty sure every day it will get better.
Q: Rolle said he actually tore it completely last year and that is better than a partial tear:
A: Yeah, that's what I've been hearing. It's better to tear it completely. It feels good. I practiced a lot today: jumping, sprinting, everything today. I felt pretty good.
Q: Could you still return punts do you think?
A: I hope so. I hope this doesn't cause me to stay back from punt returns. It's completely up to the coaches. I continue to fight for it. It's in their hands.
Q: You fought with the hamstring, finally got better, and then this happens:
A: The first couple of days, I was a little down. Talking to other guys, coaches, and my family, they picked my spirits up and it's nothing compared to the hamstring. With the hamstring, I'd sit here and pout the whole time. With this, at least I can get out and practice a little bit on it.
Q: What is the final hurdle for you go to get the green light to play?
A: The coaches. That's the green light. Once the coaches tell me I can go, then I'll be ready.
Q: Are you wearing anything like orthodics or a different shoe?
A: Yeah. I have orthodics, a tape job, cushion under my heel. Just about everything to keep me going.
Q: Full practice today?
A: Yes, full practice today. I feel really good and it's not sore. Hopefully for two days, I'll get to rest it tomorrow and Sunday. Hopefully I'll be ready.
Q: Are you walking a fine line and is it better to err on the side of caution?
A: I've never been a cautious guy so I missed all of last year, so I'm really anxious to play. I love the game, so if I have to play with a little pain, that's what I'm willing to do. As long as it doesn't hurt the team.
Stay tuned to Giants.com for more player quotes...*