We are really excited about this week's preparation.  The Indianapolis Colts were the Super Bowl representative from the AFC last year – 14-2; a football team that quite frankly doesn't do a lot with preseason.  In the regular season, obviously they suffered a setback last weekend but they are coming home.  It is a Sunday night game and we are certainly excited about this week's preparation and the number of outstanding players that we have to both defend and attack.   And trying to improve ourselves is where we are.  The first thing that I presented to our team today was, 'this is exactly what the opponent sees.'  I do talk to them frequently about 'I am your mirror.  I tell you exactly what I see.'  And so we went over that part – what we have to learn and what we have to improve from last week's game.  And then we started in terms of our preparation for the opponent.  So it is an exciting week.  Here we go.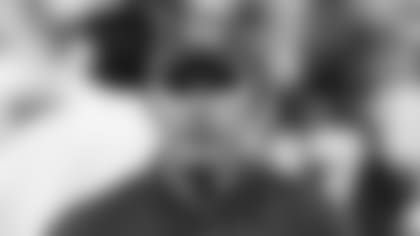 Q:   You mentioned the setback that the Colts suffered with Bob Saunders.  The run defense wasn't great regardless, how much more vulnerable does that make them?
A: Well, they played most of last year without Bob Saunders, too. So they were 14-2. Their defense is built in conjunction with the style of football that they play. They are very fast, they are very physical. All you have to do is look at those two defensive ends and you know that they are coming – they are coming after you. They have excellent speed rushes, power rushes, spin moves – you name it, they have got it. And the thing that Houston was able to do was to keep the score 13-10 with 10 minutes to go in the third quarter. So they were very much in the game and they were rushing the football and of course, everyone tries to win the time of possession – just to be able to hold the ball away from the opposing offense.
Q: Re: running the ball vs. Colts and controlling the clockA:  If you look at the average – what teams give up rushing, you do see that in games where people have had that intent, they can't always just sit there with the ball on the ground, because of what the offense of the Colts is doing.  So it is their strategy, no doubt.  And Houston, who plays them twice a year in the division, Jacksonville tried to do the same thing.  And for the most part, Tennessee tries to do the same thing.  It is a keep away game versus their offense.
Q:  The running game got off to a rough start in the first half last week.  It opened up in the second half.  What happened?
A: If you take an awful lot of first games and you can look around the League and use whatever expressions you want to use. But the way that I tried to explain it to you the other day is that we did play ourselves into a better form of football. And the longer we played, the better we played. And that probably took place there.
Q:  After the experience of the no-huddle against Baltimore – what are you doing differently this time?
A: We have the experience of that game. We have, hopefully, a good plan. And we haven't played the Colts recently but we did play them a few years ago. So I think we have a solid plan that we started in the offseason. You will have to wait and see.
Q: How different is this team than the one you played in 2006?
A: Much different, no doubt, it is different from the standpoint of people involved. Basically you still see Tom Moore in the background offensively. We know he is not the play caller, but Peyton is in his 13th year. So he has been around the system a long time.
Q:  How much did Eli help you with this week's preparation?
A: Eli is Eli. He is worried about his own situation and his own team. That is where he is. And everything that he does is in terms of studying them, inside information - no
Q:  How about Jim Sorgi
A: We've visited a little bit. He's taking care of his shoulder.
Q:  Can you talk a little bit about their weapons?
A: When you look at them, they kept four receivers. They kept that because Dallas Clark……… You look at last year; they had two receivers over 100 catches. And so they get outstanding contributions from an awful lot of guys. And this Collie kid came along and he is somebody that they depend on right now, too. And he had a big play the other day for a long touchdown and that is with Anthony Gonzales struggling to get back from his injury. So they have a lot of weapons.
Q:  Do you expect Aaron Ross to be full today?
A: I do.
Q:  How important is he?
A: Very. You need all of the players that you can get out there.
Q:  What is the one thing that Peyton Manning does better than a lot of quarterbacks?
A: He does a lot of things better than a lot of people. He really knows that offense and runs it very well. And you have to be able to recognize the fact that the number of throws that they had – the other day he threw 57 times without an interception. And his percentage, over the course of the entire season, his accuracy and his high percentage - you have to give him credit for that.
Q:  Winning a Super Bowl obviously changes the legacy for a quarterback. And winning two changes it even more. What would a second Super Bowl win mean to these quarterbacks?
A: Well, I really don't have a whole lot to say about that question, but I think that if you think about how people build their legacy, if you will, it's based on winning. If the guy wins and wins, the story becomes a greater story. Just off the top of my head, I remember when John Elway won his second and what that did for his stature in terms of being recognized in the history of the National Football League.
Q:  Do you think there will be any discussions between you and Eli regarding playing his brother in this game?
A: We may have a word or two about it. But listen, the competitive aspect of this game is that their quarterback and our quarterback are both preparing for our team. And that who we are going to play – is the Indianapolis Colts football team. And so that is the way that Eli will look at this – and nothing different. We have got to go into their place – a domed stadium – we have all of that to be concerned with as well. So it's the competitive aspect that comes to the front. And that is where it stays.
Q:  RE:  Eli's play the first time he faced the Colts.
A: He did, he played well. And unfortunately we didn't win it.
Q:  RE:  Osi Umenyiora and Hakeem Nicks
A: Hakeem has an ankle that he sustained in the game. He stayed in the game and played with it. ………We are going to hopefully get him back tomorrow – and Osi tomorrow as well.
Q:  What happened to Osi?
A: Just wear and tear.
Q:  Same as before?
A: Same issues.
Q:  RE:  What you saw from the three top safeties last week in terms of their versatility
A: Well, we saw great examples of that from all three. You mentioned flexibility, versatility. There wasn't any doubt about being able to do that. With (Deon) Grant, playing him in different spots, the two deep people (Rolle) ……. They know …..man coverage on people if you get stuck in situations. So the ability for them to play together, to communicate together, talk among themselves and get all of those things organized as we continue to play – that would ……
Q:  Given all the gyrations from Peyton, how does that affect the defense?
A: Well, you do react to what your decision is, based on formation, and based on what you are calling. And he may be going through gyrations which are false. So you really have to stay focused on your alignment, your assignment, your technique – where we want you when the ball is snapped. That is the main thing. Some of it is window dressing and some of it is that he is changing the call.
Q:  Any update on Kevin Boss?
A: In terms of what?
Q:  More tests?
A: He is not going to practice. He won't practice.
Q:  Can you contrast the way your ………attack at this time last year, the development of Eli and the receiving.
A: Again, for our standing point – not from the Colts' standpoint – we feel better about the development of our passing game and think that with true balance, which we were able to maintain the day, even though the numbers aren't always going to be that great – the rush offense wasn't much. But we still maintained the balance given that we do feel confident in our ability to move the ball in the air.
Q:  Chase Blackburn's status?
A: He is going to be day to day but he is not working today.
Q:  What is it about Mathis Kiwanuka, mentally, that you feel comfortable having him play ……….
A: His focus, intelligence, toughness, skill set.
Q:  Any concerns about field position with the punt and kickoff last week?
A: Yes.
Q: What could you possibly have planned for an encore?
A: Sticking to the game plan. We want to go out there and make plays and do the same thing we did last week. Be on top of our game.
Q: What problem does this defense create for you?
A: That's a good defense we're about to face. We have to get in the film room and critique them. Everything is going to take care of itself once we get out there.
Q: Everyone talks about getting that win on week one that is such a springboard. How does that affect you going into week two against a team like the Colts?
A: Yes it is. We're 1-0 but this is a whole new week right here. We want to approach it the same way we did last week. We want to make sure we are on top of our game plan, and make sure we do everything we need to do to prepare.
Q: Do you guys get into this 'Manning Bowl' stuff with Eli and Peyton?
A: No, we all pretty much don't get into that. We approach it and I'm sure Eli too, we are all approaching it like it's another game.
Q: Well, Eli thinks it's pretty special:
A: I'm sure that's probably some big brother/little brother stuff going on.
Q: How's your ankle?
A: My ankle is doing good. I rolled it in the second quarter of the game and it's a little sore so I'm going to stay off it for today.
Q: It should be fine Sunday?
A: Yeah, I'll be fine Sunday.
Q: Working tomorrow?
A: Depends on how it feels when I get in in the morning. We'll make that decision.
Q: You played through that, though, you did that early on right?
A: Yeah, I did that in the second quarter. It happened on the run play. I was blocking and it rolled up a little bit. Nothing too serious.
Q: What happened after, did it swell up on you?
A: It kind of swelled up a little bit. There was a little bit of pain on the outside.
Q: When you see an opponent rush for 200 yards against a team you're playing the next week, does that get you going?
A: In certain situations, you know that team won't change or make any adjustments from that week. This is the National Football League and we know that they're going to come out and make some adjustments. They're a good football team; they represented the AFC in the Super Bowl last year. You can't go out there sleeping on them and think that they're just going to lay down again and let you have your way with them. We expect them to go in there and have a tough fight and expect to go downhill and be physical. After a week like that, we know they're going to concentrate more on the run than they probably ever did. We look at the Houston game and look at certain run keys and reads, but we know it's going to be a tough, physical game.
Q: In watching the Houston film, did they physically beat them up to get the run game going or was it schemes and play calling?
A: A lot of it was getting some big runs in there. I would probably say schemes. You can't really tell that they were physically beat. It just seemed like the schemes that Houston had at a certain time that the defense had was a lucky call that went the distance. Houston had a good game, no question. It looked like Houston is a good football team. You can't take one team lightly because they come in and lose week one, it's the first of the game of the season. Things like that have happened in the first game of the season every year in this league. You have to go in there and expect something different than what they did last week.
Q: Is it a general theme to want to win this one for Eli?
A: We know what it means to him. He's not parading around the locker room saying "I need this one!" He's going in and preparing like he's prepped for any other game or week. Us being players, and knowing what it means to play against someone like his brother, we know it means a lot to us so we prepare and try to get ready to go get it for him.
Q: Is this more fun for the media and fans than it is the Manning family?
A: Probably so. I understand that it's a big deal to the media and fans, and that it's a unique story and everything. I think it's definitely been better this year in that it's the second game of the season, and not the opener where you had four months to talk about it. It's a lot easier dealing with just one week and I think it's a lot more relaxing for Peyton and I just having to deal with it for one week. I'm prepared for the Colts defense, and I'm getting ready for Dwight Freeney and those guys on the defensive side, and we got off to a good start at practice today. We have to continue to do that.
Q: One way of beating the Colts is stopping your brother. Sustained drives by you would do that:
A: Yeah, I mean we have to keep the ball out of that Colts' offense. That comes by running the ball, completing passes, converting third downs. When you get into the red zone, you have to score touchdowns and not settle for field goals. That's not easy to do. They're a good defense. They're very fast and they make a lot of plays, get turnovers, can get to a quarterback. It's just about being patient with them and you have to understand their packages and their concepts, and play great football.
Q: How difficult is the game for your parents?
A: I think it's a little difficult. It's hard for them to be happy at the end of the game for one son knowing that the other son is disappointed. They'll be at the game, and rooting for the offense the whole time. They're hoping for a high scoring game.
Q: Will it be easier the second time around facing your brother?
A: Yeah. It's never easy facing the Colts because they're a good team with quality players and a great defense. It's not a team we play that often so we have to watch a lot of film and really study up on what they're doing and their schemes defensively. It should be a great atmosphere, and I'm excited about the first time playing in Lucas Oil Stadium, so it should be a great environment on a Sunday night.
Q: In 2006, you couldn't feel a lot of this hype:
A: Yeah, I think in 2006 it was overload because right when people found out we were playing the game in April, we got questions about it. You get sick of answering the same question over and over and over again for five months, and it was just too much. I think with this week, you can handle it because it's been a little bit less stressful for Peyton and I, and we can think about it and enjoy this game and the fact that we both will be on the field on Sunday.
Q: When you talk to Peyton about football, do you get a sense that he respects you now more than ever?
A: Yeah, a lot of it isn't talking football as in teaching. Sometimes, you talk concepts or something comes up and you're talking football together and you may be talking to a coach that you see or another quarterback at a football camp that you get some college quarterbacks and they start asking questions or throwing some different ideas around or how you work and how you watch film. If he's answering the questions, I'll listen, and likewise, if I'm answering, he'll listen and see how we do things. Maybe you hear something that helps you that you didn't know he was doing.
Q: What makes the Colts defense so dangerous to you?
A: Their speed all over the field. From their linebackers to their defensive line to their safeties, everybody. That team is built around speed and getting to the ball, and getting sacks from the quarterback. That is something that we need to prepare ourselves as a team is getting ready for how fast they flow and some of their movements. They are a talented team, and they make plays. They don't give up many touchdowns, and they find ways to get fumbles and interceptions.
Q: Looking at the Texans-Colts game, what did you see there and how do you bring that into the game?
A: We are going to establish the run game. That's Giants football. It's something we're going to try to do and a part of that is being able to throw the ball successfully also. If you can throw well on first and second down, you can get into a two-high safety zone, and you can run it some and then get into third-and-manageable situations. If you're facing third-and-longs, that's when their defense comes alive and those defensive ends are sprinting up the field and it makes for a long day.
Stay tuned to Giants.com for more daily quotes...