EAST RUTHERFORD, NJ - The Giants played Thursday night with the increased energy and intensity Tom Coughlin sought and just for fun, they added some excitement to the mix.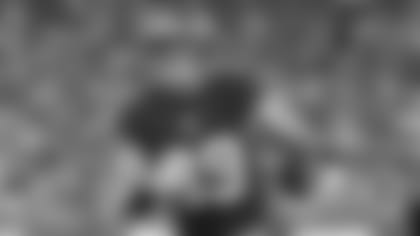 The result was a preseason-ending 20-17 victory over the New England Patriots in the New Meadowlands Stadium. The Giants, who trailed three times in the see-saw game, took their fourth and final lead with 1:49 remaining, when backup quarterback Rhett Bomar threw a 60-yard touchdown pass to rookie wide receiver Duke Calhoun.
Coughlin, whose team was 2-2 this summer, was thrilled to win, but he was likely just as happy to see his frontline players perform capably and with enthusiasm after a desultory loss in Baltimore last week. The Giants can now begin preparing for the regular season opener against Carolina on Sept. 12 in a better frame of mind.
"We played better tonight," Coughlin said. "That's the bottom line. We played better."
Later in his postgame news conference, Coughlin said, "I just felt the guys played better. They performed better. It looked like they were much more into what they were doing tonight."
The players were also more pleased with their performance.
"I thought we did some good things," said quarterback Eli Manning, who completed seven of nine passes for 91 yards and a touchdown as he and the starting offense played only the first two series. "We grew up in some areas. I look forward to the start of the season and Carolina next week. They're a good team, and we've met them these past couple years so it should be a great contest. We need to have a great week of practice and keep working."
"We did pretty well and we accomplished what we set out to do, which was to finish the preseason strong before the start of the regular season," guard Chris Snee said. "Hopefully, next week we get (injured center) Shaun (O'Hara) back, so the five of us are back together to get ready for a 4-3 Carolina team that has given us a tough time."
In addition to Calhoun's heroics, tight end Kevin Boss caught a touchdown pass (after which the extra point try was unsuccessful) and Lawrence Tynes kicked a pair of 24-yard field goals for the Giants.
New England also scored on a touchdown pass to its starting tight end (rookie Ron Gronkowski, from Tom Brady), got a long touchdown reception from a young free agent receiver (Darnell Jenkins) and a field goal (by Steve Gostkowski).
Manning and the first team offense had mixed results in their two possessions. After the opening kickoff, the Giants executed their finest drive of the preseason, moving 86 yards in nine plays, including Manning's 13-yard touchdown pass to Boss (whose 22-yard reception was the longest play of the series). Manning also threw passes of 12 yards to Hakeem Nicks and 17 yards to Ahmad Bradshaw, who ran for 20 yards on the drive.
Boss scored on second-and-eight from the 13, catching Manning's pass near the left side and stepping into the end zone. It was Manning's first touchdown pass of the preseason.
"That was what we wanted to do on the first drive," Manning said. "We wanted a nice, efficient drive that ended with a touchdown. We mixed it up. We had some nice runs, a couple good pass plays, and even a couple big ones. We got in the end zone, executed and scored a touchdown. That's kind of how you draw it up."
Unfortunately, the drive ended on a down note. Rookie Matt Dodge couldn't handle Zak DeOssie's snap on the extra point and instead threw in desperation to the end zone. The ball was intercepted by Jerod Mayo and the play was officially ruled a failed two-point conversion.
On their second series, the Giants moved from their own 20 to the Patriots' 44-yard line. They got uncommonly fancy twice on the drive, but the second time proved costly.
The series opened with Nicks taking an end-around and gaining 15 yards up the right side. Nicks then caught a 19-yard pass and the Giants were in business. But the momentum stalled after the Giants attempted a flea-flicker on the next play. Brandon Jacobs lateraled the ball back to Manning, who moved to his left and dropped the ball. To prevent New England from recovering the fumble, Manning swatted the ball with his hand. Because it bounced forward, Manning was penalized 10 yards for an illegal bat, pushing the Giants back to their own 44. The Giants picked up 12 of the 20 yards they needed for the first down, but Manning's deep third-down pass to Nicks was incomplete and they were forced to punt.
Rhett Bomar replaced Manning after that series and played the rest of the game. The current No. 2 quarterback completed 11 of 24 passes for 171 yards, a touchdown and an interception.
"On the next drive, we had some pretty good things going and then I had that penalty," Manning said. "We still should've converted on that third down."
Brady and New England's first-team offense also put together an impressive first drive, aided by Thomas Clayton's 55-yard kickoff return to the Giants' 45-yard line.
Brady and Co. covered the remaining territory in eight plays, including a 22-yard pass to Alge Crumpler that moved the ball to the 18-yard line. Brady's 10-yard pass to Randy Moss gave the Pats a first-and-goal at the five. Three plays later, Brady passed to Gronkowski, the rookie tight end from Arizona, for the five-yard touchdown.
New England's second offensive possession began at the four-yard line after a fine Dodge punt and ended at the 29 when safety Antrel Rolle intercepted Brady's long pass for Moss.
"It's all about recognition," Rolle said. "I know with Randy Moss, you have a great receiver, so I watch a lot of film on him. A lot of time by formation I can recognize the kind of route he's going to run. I knew they were trying to get a matchup of an elite receiver against a safety, and I know once Tom Brady gets that matchup, he's going to test me. It was kind of hard for me to see the ball in the air, so I just played to get good position and there it was."
An exchange of field goals in the second quarter gave the Patriots a 10-9 halftime lead.
Tynes booted a 24-yarder with 12:01 remaining, a score set up by Victor Cruz's 25-yard reception on a pass from Bomar.
The Patriots regained the lead just 27 seconds before halftime, when Gostkowski's 46-yard try cleared the goal post despite first hitting the right upright.
Tynes' second 24-yard field goal gave the Giants their third lead, at 12-10, with 3:53 remaining in the third quarter.
The Giants took possession at their 50 after Jonathan Goff intercepted Brian Hoyer's pass for Laurence Maroney. DJ Ware ran for 16 yards and caught an eight-yard pass and Bomar threw a 20-yard strike to Derek Hagan to set up Tynes.
The defense stepped up again on the next New England possession. Hoyer's 67-yard pass to Rod Owens helped give the Patriots a first-and-goal at the three. Thomas Clayton gained two yards on first down, then was stopped cold twice to set up a fourth-and-goal as the quarter ended. After the teams moved to the other end of the field, BenJarvus Green-Ellis was pulled down from behind by linebacker Bryan Kehl and below by Jason Pierre-Paul short of the goal line.
"That was awesome," Kehl said. "That was one of the most fun things that I have been part of here. As a defensive player, that was like back to schoolyard football – us against them. You just have to stop it. We were just pumped trying to get the fans into it. It was awesome.  It was pure excitement and emotion. It was a cloud of dust – get in there and knock somebody down." 
The Giants' fortunes would drop and then rise again in the fourth quarter. The Giants had moved from their own 11-yard line to the Patriots' 25 when Bomar's pass for Calhoun was intercepted by DeAngelo Willingham, who returned it to the New England 26. Three plays later, Hoyer flipped a short pass to the right side to Jenkins, who scampered through the defense for a 66-yard touchdown and a 17-12 lead.
The teams exchanged punts before the Giants took possession at their 27 with 3:19 remaining. They had a first down at the 40 at the two-minute warning. When play resumed, Bomar threw to Calhoun, who caught the ball at the Patriots' 43-yard line. The rookie from Memphis turned on the jets and ran through the entire secondary without being touched. Gartrell Johnson ran the ball in for the two-point conversion and the Giants led by three.
"(It was) just an in-cut, a deep-in," Bomar said. "Duke ran a good route. We had the right coverage, and he made a great play and went after the catch. I'm happy that he got an important opportunity to do that."
"It feels great," said Calhoun, who secured the ball to give to his mother. "I was glad to have the opportunity, and when my number was called, I did the best I could and made a play."
It certainly pleased Coughlin.
"(It's) nice to see Bomar and Duke Calhoun come back late like that and make a play," the coach said.
*Giants players not in uniform included center Shaun O'Hara (ankle/Achilles), cornerbacks Corey Webster (groin) and Aaron Ross (foot), defensive tackle Chris Canty (groin), linebacker Gerris Wilkinson (groin), tight end Travis Beckum (neck), running back Andre Brown (turf toe), linebacker Chase Blackburn (knee) and defensive end Alex Hall (shoulder).
*Linebacker Phillip Dillard (hamstring) and cornerback Courtney Brown (ankle) left the game with injuries.
*Keith Bulluck started at strongside linebacker ahead of Clint Sintim…Jonathan Goff played the entire game at middle linebacker and had seven tackles (four solo)…Kehl led the team with nine tackles (seven solo)…Adam Koets started at center, with Rich Seubert staying at his usual left guard position. Last week, Seubert started at center…Guy Whimper, who started the first three preseason games at one of the guard positions, played right tackle much of the game…DJ Ware led the Giants with 60 rushing yards in his first action since suffering a concussion on Aug. 21 vs. Pittsburgh.
*Coughlin lost a replay challenge with 3:26 remaining in the second quarter after Bomar's third-down pass for diving tight end Scott Chandler was ruled incomplete. Coughlin challenged, hoping for a reversal, but after review, referee John Parry upheld the call on the field.
*The Giants were 2-2 in the preseason after finishing 1-3 the previous two years…They lead the postseason series with New England, 11-8…The Giants are 14-14 in the preseason under Coughlin.
*The Giants' game captains were Ahmad Bradshaw, Rich Seubert, Deon Grant, Jonathan Goff and Rocky Bernard.
*Charles, Way, the Giants' director of layer development, and his assistant, Ashley Lynn, were honored by the NFL prior to the game with the league's outstanding career development program award for their excellence in supporting players to prepare for life in and after professional football. The award was presented by NFL vice president of player development Christopher Henry.
In 2009, the Giants created a mentorship program between their rookies and corporate executives. The program promoted and encouraged professionalism, social responsibility and life skills. In addition, the mentorship program was established to expose the rookies to possible future careers and introduce them to the demands of the corporate world. Some of the participating companies include: Johnson & Johnson, State Farm and the Mars Corporation.
The Giants rounded out their Career Development activity by having players participate in every phase of career development from internships, to job shadows, informational interviews, resume workshops and networking events.
The Player Development Department is the hub for a wide range of league-sponsored programs designed to meet the needs of players and their families in today's NFL. Since its inception in 1991, more than 9,000 players and significant others have made use of programs administered by the department. Player Development Directors at each club work to ensure programs and services are meeting the needs of players. Player Development is divided into five areas: Continuing Education, Financial Education, Career Development, Career Transition and Player Assistance Services.
--- ](http://www.nyg2010.com/)**