MINNESOTA - The Giants' once-promising 2009 season long ago took a wrong turn and Sunday it hit a dead end.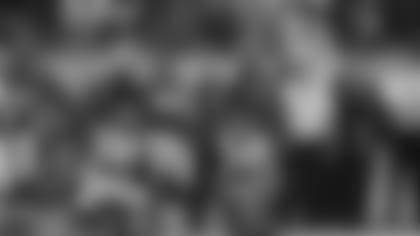 Hoping to finish with a winning record and playing to boost their collective pride, the Giants were routed by the Minnesota Vikings in the Metrodome, 44-7. It was the Giants' worst loss since a 38-point defeat (45-7) at New Orleans on Dec. 14, 2003. The lopsided defeat occurred just one week after a similarly disheartening performance in a 41-9 loss to Carolina that eliminated the Giants from postseason consideration.
"The last two games have been very poor," Coach Tom Coughlin said. "You can never, ever, ever accept what happened on the field."
"For this game, just embarrassed," Eli Manning said when asked for a word to describe the season-ending loss. "It wasn't a good performance. Really confused. I don't know why all of a sudden this play came about us. We started making mistakes and not being able to convert third downs. Just looking bad, not playing our style of football by any means."
The Giants, who started the season 5-0, lost three of their last four to finish 8-8 and in third place in the NFC East. They were dominated on Sunday as the Vikings scored the game's first 44 points and outgained the Giants, 487-181. Minnesota held the Giants to 35 rushing yards and 11 first downs and scored on eight of its first nine possessions – all after traveling inside the Giants' 20-yard line.
"I am at the point right now where I have no words for it," defensive tackle Barry Cofield said. "It is the worst we have looked since I have been here. We have been a successful team and we are going in the wrong direction."
"With the caliber of talent on this team, there is nobody to point the finger at other than us as players," center Shaun O'Hara said. "It really comes down to execution. We played this team last year (also in the season finale) and it is very similar teams that we had on the field last year. Last year we were playing for a different reason. We were 12-4. The players are here, we just have to play.
"I want every player to take it as bad as they can. We talked about it all week. Whatever happened in this game is something that we would have to take with us into the offseason. It is hard enough to take a loss and have to sit on it for six days. But to have to sit on it for six months is going to be even worse. The thing that I know, having been in the NFL as long as I have, is that change is inevitable. If you don't go out there and put your best foot forward, they are going to find someone that can. That is something that we will have to deal with as players. I wouldn't be surprised if John Mara takes off without us and makes us find our own way home. To play that way two weeks in a row is disrespectful to the logo we have on our helmets. The Maras and the Tisches and the Giants organization, fans, franchise deserve better."
Brett Favre threw four touchdown passes for Minnesota: 10 yards to Visanthe Shiancoe, four and 12 yards to Sidney Rice and one yard to Naufahu Tahu. The Vikings, 12-4 and champions of the NFC North, also scored on Adrian Peterson's one-yard run and Ryan Longwell field goals of 36, 24 and 27 yards.
The Vikings' 44 points increased the total allowed by the Giants this season to 427, the second-highest in franchise history (the 1966 team gave up 501). On Sunday, the Giants never sacked Favre and gave up 7.1 yards per play.
"For us to come in with the talent we had on this defense and to not do a better job than we have this year, it is unacceptable," linebacker Michael Boley said. "We've got great players all across the board. It's frustrating to come out and not be able to keep teams out of the end zone and keep giving up points the way we have. There is no reason for it."
D.J. Ware's one-yard touchdown run with 9:11 remaining in the fourth quarter prevented the shutout.
Minnesota ran away from the Giants in a lopsided first half in which the Vikings held huge advantages in points (31-0), yards (343-82) and first downs (20-4).
The game began poorly and then snowballed for the Giants, as Minnesota took a 7-0 lead just 2:03 into the first quarter.
The Vikings took possession at their 40-yard line after Lawrence Tynes deliberately booted a short kickoff to keep the ball away from dangerous returner Percy Harvin. They needed just five plays to cover that territory after Mathias Kiwanuka started the game with a neutral zone infraction penalty.
On second down, Favre hit Shiancoe for 13 yards. Chester Taylor then ran off right guard for 10 more to the Giants' 32-yard line. Harvin demonstrated why the Giants didn't want to kick to him when he zipped 22 yards around left end, setting up first and goal. On the next play, Favre threw to the left flat to a wide-open Shiancoe, who caught the ball at the eight and stepped into the end zone untouched.
Minnesota extended its lead to 10-0 on Longwell's 36-yard field goal on the second play of the second quarter. The score capped a 49-yard drive that included Favre passes of 12 yards to Shiancoe and 10 yards to Bernard Berrian and Rice.
Vikings coach Brad Childress tried to keep his team moving toward the end zone by electing to go for it on fourth-and-one. But tight end Jim Kleinsasser was penalized for a false start, prompting Childress to take his offense off the field and send on Longwell.
Peterson's one-yard touchdown run increased the Vikings' lead to 17-0 with 8:52 remaining in the second quarter. On second-and-goal, Peterson powered his way through the center of the line for his NFL-leading 18th rushing touchdown of the season.
Minnesota's offense needed only six plays and 3:51 to travel 91 yards, which tied for the longest drive against the Giants this season (Philadelphia had a 91-yard touchdown drive on Dec. 13).
On the third play of the series – and first-and-15 from the 19 – Favre threw a 50-yard pass to Rice, who got behind cornerback D.J. Johnson and safety Aaron Rouse. He immediately followed that with a 27-yarder to the right side to Shiancoe, who was pushed out of bounds at the four. Peterson ran for three yards and then one for the touchdown.
The Giants went three-and-out after Peterson's touchdown and the Vikings quickly returned to their attack mode. Favre's four-yard pass to Rice increased Minnesota's advantage to 24-0 with 2:39 remaining in the second quarter. On second-and-goal, Favre had plenty of time to scan the field and find Rice standing by himself in the center of the end zone.
The Vikings drove 59 yards in 3:43 and seven plays, including nine-yard passes to Shiancoe and Harvin and two Giants penalties (Osi Umenyiora for roughing Favre and Michael Johnson's offside infraction on third-and-four, which gave Minnesota a first-and-goal).
The Giants, desperate to get back into the game, instead turned the ball over to set up another Minnesota touchdown.
Manning's pass to Kevin Boss was tipped by one linebacker, Ben Leber, and intercepted by another, Chad Greenway, who somehow secured the ball while diving parallel to the ground at the Giants' 40-yard line.
The Vikings were forced to move back to the 50 because of Harvin's offensive pass interference penalty, but that didn't slow them down. On fourth-and-one from the Giants' 41, fullback Naufahu Tahi picked up two yards and a first down. Two plays later, Favre threw a short pass that Harvin turned into a 17-yard gain to the 12. Two plays after that, Rice outjumped cornerback Terrell Thomas for the ball, scoring the touchdown that gave Minnesota a 31-0 halftime lead.
It was the Giants' largest deficit after two quarters since they trailed in Seattle, 35-3, on Sept. 24, 2006.
The Vikings continued to add to their lead in the second half. After the Giants punted following the second-half kickoff, Favre's 29-yard pass to Rice helped set up Longwell's 24-yard field goal.
Instead of advancing, the Giants continued to step back. C.C. Brown was penalized for holding on the kickoff, David Diehl was flagged for a false start and on first-and-15, Manning was hit by Jared Allen and fumbled. The ball was recovered by Allen on the Giants' eight-yard line.
Three plays left the Vikings facing a fourth-and-two. But instead of having Longwell kick a chippie field goal, Childress kept his offense on the field. Favre threw to his fullback, Tahi, who stepped into the end zone untouched for his first NFL touchdown and a 41-0 lead.
Longwell added a 27-yard field goal with 10 seconds remaining in the third quarter, after backup quarterback Tarvaris Jackson led the Vikings down the field.
The Giants finally began moving the ball early in the fourth quarter. On his final drive of the season, Manning led the Giants 77 yards in 11 plays, including five consecutive completions. Ware scored his first NFL touchdown from a yard out.
David Carr quarterbacked the final offensive series and the Giants soon retreated to their locker room to analyze why their season had turned so sour.