Four players on the Chicago Bears have at least 25 catches so far this season.
Only the Denver Broncos, who boast the NFL's No. 1 offense, can say the same thing.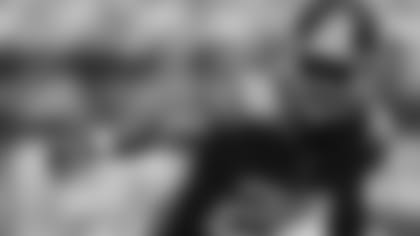 Know Your Opponent: Bears Roster The Giants have seen firsthand what the undefeated Broncos can do, but now it's time to face the Jay Cutler-led offense Thursday night at Soldier Field.
"They've shown all different flashes," Giants cornerback Prince Amukamara said. "They've taken shots, they've set up for the runs, and they're really good in the red zone. So I think they're pretty well-rounded."
Where the Bears set themselves apart is the size they have on the outside.
Cutler, the Bears quarterback, has a 6-foot-4, 230-pound target in Brandon Marshall on one side, and the emerging 6-foot-3, 216-pound Alshon Jeffery on the other. Marshall, an All-Pro wide receiver, leads the team with 31 catches, while second-year pro Jeffery tops the corps with 429 yards on 28 receptions.
Jeffery had a franchise-record 218 yards last week against New Orleans, but it came in Chicago's second consecutive loss after starting the season 3-0.
"They're both good receivers," Amukamara said. "They're both big, and they're both explosive. But we're still going to stick to our game plan."
That game plan will also include former Giants tight end Martellus Bennett (25 catches for 281 yards and three touchdowns) and running back Matt Forte, to whom Cutler isn't shy to throw. Forte has caught 27 passes out of the backfield for 200 yards in addition to notching 375 yards on the ground.
"I think that [Cutler] has some really nice weapons with his two big receivers and then Bennett being a tight end and Forte," defensive coordinator Perry Fewell said. "So I think he has some nice weapons around him. There's no reason why he should not return to his form."
Another characteristic that has led to a No. 4 scoring offense for Chicago is also one the Giants will try to exploit – the willingness to take chances. Cutler has a 93.0 passer rating and a 65.7 percent completion percentage, but he has also thrown six interceptions.
"I think that that's going to be huge for us," Amukamara said. "There are times where he tries to squeeze the ball into tiny pockets, and it's our job to make him pay for those. But we've seen on film whether it's times where it's gone his way and he has made big plays by doing that."
He added: "He does take chances. He kind of reminds me of [Dallas Cowboys quarterback] Tony Romo – just their quarterback style and their confidence in their receivers and in themselves."