EAST RUTHERFORD, N.J. – The Giants' practice bubble is usually quiet at this time of year, but for one day this week it was a cauldron of activity thanks to a youth football clinic attended by about a dozen Giants players.
Forty-six boys and 52 girls from the Link Community School, a private coed school for seventh and eighth graders in Newark's Central Ward, attended the clinic. The boys participated in a low-skill level football clinic taught by the players, while the girls received tennis lessons at the other end of the bubble.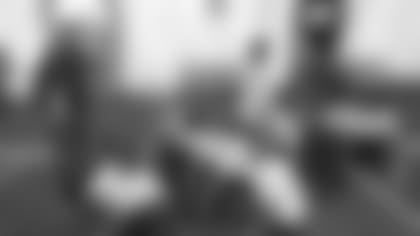 Giants quarterback Jared Lorenzen speaks to a group of boys at a recent youth football clinic held by the Giants.
More importantly, the clinic emphasized the kind of character and life skill issues that are stressed every day at the Link School, including setting goals, choosing friends carefully, perseverance and keeping your word.

The boys were divided into groups and participated in a different drill at each of six stations, with two or three players teaching at each one. After throwing, catching or blocking, the youngsters would sit down and listed to the players discuss one of the life skills.

The players in attendance included Justin Tuck, James Butler, Gerris Wilkinson, Jared Lorenzen and Ryan Grant.

"I love doing this," said Tuck, who was as enthused at the clinic as most of the participants. "Whenever you get a chance to give back to these kids, it's a great feeling.

"We talk to the kids about stepping up and not quitting. When you talk to the kids personally it becomes more real to them. They see you're not talking off a card. They relate to it much better. A lot of big-time athletes want to say they're not role models. I realize even if I didn't want to be a role model I still am, because they see us on that football field every Sunday and they look up to us. So we definitely are role models. It's important to show them that we are human and the reason we're playing for the New York Giants is we work hard and we don't quit."

"This is a lot of fun," Lorenzen said. "I'm a big kid, anyway, so I like doing this kind of stuff. I know we're not going to get through to everyone here, but I've always been told if you get through to one, that's one more than before. You just want to talk to them and get to know them a little bit. We've talked to them about being honest, picking good friends – just being smart. That's what everything comes down to."

Representatives of the school said even a clinic that is just a few hours long can make an impact on a youngster's life.

"We want to give our kids exposure and experience to different things outside of Newark," said Jeff Pate, the Dean of Students at Link. "I think this is a great opportunity especially for our boys. And this is the first year we've offered the tennis clinic for the girls.

"I think this helps a lot, because they hear from what we would call their heroes," "Their heroes are people in entertainment, who they see on the big screen or on TV. When they hear these messages repeated in an environment like this, from their heroes, it's more meaningful."

The participating students made it clear they preferred playing in the bubble to sitting in a classroom.

"I think every person deserves a chance to show their athletic side," said Tiffany, an eighth grader at Link. "This is a privilege – most kids don't have an opportunity to experience something like this. I'm having a great time."

"This a really, really fun," said Vaughn, another eighth grader. "It's fun to come out here and play football. But it's also helpful to have the players talk to us. In Newark, you can fall into a lot of the temptations that they're telling us to avoid. They told us to be leaders and not followers and to step up to challenges. So it's great to be here."