*The Giants have interviewed former Broncos assistant head coach/running backs coach Eric Studesville for the team's head coach position: *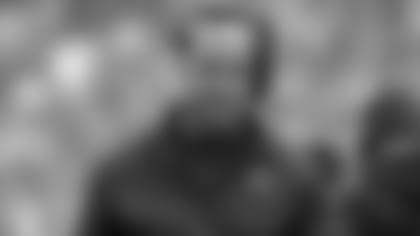 EAST RUTHERFORD, N.J. – Eric Studesville, whose 21 years in the NFL include a three-year stint as the Giants' running backs coach, today became the sixth candidate to interview for the Giants' head coaching position. He is the first hopeful who was not a coordinator in 2017.


HEAD COACH TRACKER
>
[Panthers DC Steve Wilks](http://www.giants.com/news-and-blogs/article-1/Giants-interview-Panthers-defensive-coordinator-Steve-Wilks/2c74c82c-f605-4ac0-97da-901232d4c962)
>
[Vikings OC Pat Shurmur ](http://www.giants.com/news-and-blogs/article-1/Giants-interview-Vikings-OC-Pat-Shurmur-for-Head-Coach/530bd2f2-1a34-4a3a-83a0-dc7263cc7cda)
>
[Patriots OC Josh McDaniels](http://www.giants.com/news-and-blogs/article-1/Giants-Interview-Patriots-Offensive-Coordinator-Josh-McDaniels/f545a51b-6be5-482f-9f8c-2b44d55df61f)
>
[Patriots DC Matt Patricia](http://www.giants.com/news-and-blogs/article-1/Giants-Interview-Patriots-D-Coordinator-Matt-Patricia/ae2c5cee-82c2-4e9a-b85b-2e8eaed60650)
>
[Giants DC Steve Spagnuolo](http://www.giants.com/news-and-blogs/article-1/Coach-Search-Update-Steve-Spagnuolo-interviews-for-Head-Coach-position/99b574a5-a9a4-4ec3-a2ac-1e89def8c1de)
VIDEOS
>
[Watch latest Giants videos](http://www.giants.com/videos/index.html)
Studesville met with team president John Mara, general manager Dave Gettleman, and assistant general manager Kevin Abrams at the Quest Diagnostics Training Center, the Giants' headquarters. Giants chairman Steve Tisch will also interview the candidates as part of the selection process.
The other candidates to interview for the Giants' opening have been offensive coordinators Josh McDaniels of New England and Pat Shurmur of Minnesota and defensive coordinators Matt Patricia of the Patriots, Steve Wilks of Carolina and Steve Spagnuolo of the Giants, who was the team's interim head coach for the final four games of the 2017 season. McDaniels, Shurmur and Spagnuolo all have head coaching experience. Studesville was 1-3 as the Broncos' interim head coach after McDaniels was fired in 2010.
Studesville, 50, has 17 years of experience as a running backs coach, a positon he held the previous eight years with the Denver Broncos. In 2017, Studesville was also Denver's assistant head coach. He was dismissed by the Broncos at the end of the season.
Studesville was the Giants' running backs coach from 2001-03.
He first coached in the NFL as the Chicago Bears' offensive quality control coach from 1997-2000. Studesville then did a three-year stint with the Giants under Jim Fassel.
In 2004, Studesville became the running backs coach of the Buffalo Bills, a position he held for six seasons. He was also the Bills' running game coordinator in 2008-09. Studesville joined the Broncos' coaching staff in 2010.
Studesville has coached three Pro Bowl running backs: Marshawn Lynch (2008), Willis McGahee (2011) and C.J. Anderson (2014). During his tenure as a running backs coach, he guided five players to a total of nine 1,000-yard rushing seasons with McGahee (three), Tiki Barber (two), Lynch (two), Knowshon Moreno (one) and Fred Jackson (one) reaching the mark.
During Studesville's three seasons as the Giants' running backs coach, Barber ranked seventh in the league in yards per rush (4.6) and ninth in rushing yards (3,468). Barber rushed for 1,387 yards in 2002 and 1,216 yards the following season, and led all NFC running backs (and was third in the NFL) with 210 receptions and placed fifth in the league with 5,103 yards from scrimmage during that three-year period.
Before entering the NFL, Studesville was the secondary coach at Kent State University (1995-96) and Wingate University (1994). He worked at the University of North Carolina as a video assistant from 1992-93 after serving as a graduate assistant in 1991 at the University of Arizona, where he earned a master's degree in exercise physiology.
A defensive back at the University of Wisconsin-Whitewater, Studesville graduated from the school with a bachelor's degree in physical education.
Photos of head coaching candidate Eric Studesville, who was the Broncos' assistant head coach in 2017