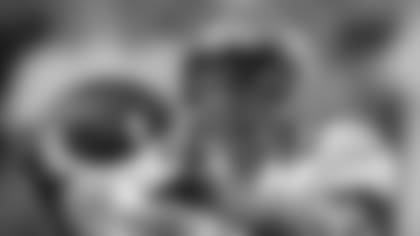 ](http://www.giants.com/media-vault/photo-gallery/5th-Rd-S-Cooper-Taylor/f71d5371-9e62-49e7-9d72-fa6359f8b217)
PHOTOS: SAFETY COOPER TAYLOR
EAST RUTHERFORD, NJ --
A successful NFL Draft might seem like a milestone offseason event, but to the Giants it's simply part of a ceaseless quest to upgrade their roster.
"I feel good about it and obviously it's just part of the puzzle, the draft," general manager Jerry Reese said after the Giants had secured the last of the seven players they selected in the three-day draft. "Free agency is part of the puzzle and the draft is part of the puzzle. It might be the week before we line up to play Dallas (in the season opener on Sept. 8) before we have the roster ready, because you'll have some 53-man cuts. There will be some people left and we'll continue to look for players to help our football team. But what we have right now, I like what we did in the draft. Obviously, we still have some work to do."
"Time to get after the free agents," coach Tom Coughlin said. "One stage to the next, that is the way this thing goes. The ongoing search to try to put together the best team you possibly can."
The Giants concluded their 2013 draft with four selections and a trade today.
They dealt their selections in the fourth (No. 116) and sixth (No. 187) rounds to Arizona for the 110th overall pick, which they used to select Syracuse quarterback Ryan Nassib.
"We came in this morning and he was sticking out there and we talked about it, went over it, and just said if this guy is still around or close to our range, we should really consider something happening with him," director of college scouting Marc Ross said.
"We were pleased with the quarterback move," Coughlin said. "We thought we had to do that. The value was there beyond a doubt for us in that round. So we moved up to take him."
In the fifth round, they took safety Cooper Taylor of Richmond. The Giants had two seventh-round choices, which they used to select guard Eric Herman of Ohio University and running back Michael Cox of Massachusetts.
They join the players the Giants drafted the previous two days: Syracuse offensive lineman Justin Pugh, Ohio State defensive tackle Johnathan Hankins and Texas A&M defensive end Damontre Moore.
"We went in with some pretty set ideas about what we wanted to accomplish going forward," Coughlin said. "We did go ahead and address our offensive and defensive lines with some competitiveness. Certainly the first two day players are very, very competitive. They will give us great versatility there at those spots."
Nassib started all 38 games the previous three seasons for the Orange and concluded his career with 791 completions in 1,312 attempts (60.3 percent) for 9,190 yards, 70 touchdowns and 28 interceptions. His 791 completed passes and 1,312 attempts are both school and Big East career records. In 2012, Nassib was named first-team All-Big East after setting school records with 471 passes, 294 completions (62.4 percent), 3,749 yards and 26 touchdowns while throwing 10 interceptions.
Nassib will have a chance to learn from Eli Manning, who hasn't missed a game since his rookie season in 2004. The Giants, who also have backups David Carr and Curtis Painter, have carried just two quarterbacks on their regular-season roster since 2008.
"The best thing that we can get is the competition," Coughlin said. "And then we will make a decision as we go through camp in terms of whether we would want to be a two- or a three-quarterback operation. And that is all in front of us. But the competitiveness will be good for us in that regard. And I like the fact that we will go to camp, we will see where we are numbers-wise at that point in time."
The Giants' other third-day selections:
*Safety Cooper Taylor, Richmond, 6-4, 228, Fifth Round, 152nd overall selection
Taylor, who began his collegiate career at Georgia Tech, resumed his career after undergoing surgery for Wolff-Parkinson-White Syndrome, which is characterized by abnormal electrical pathways in the heart. He was granted a medical redshirt.
In his career, Taylor played in 38 games with 25 starts and was credited with 231 tackles (119 solo), 1.5 sacks, 6.5 tackles-for-loss, six forced fumbles, 14 pass break-ups and seven interceptions. He started all 18 games he played in his two years at Richmond, where he recorded 141 tackles (65 solo) with 1.5 sacks for minus-14 yards, 6.5 stops for losses, four forced fumbles, 12 pass deflections and five interceptions for 99 yards in returns, including one touchdown.
"Cooper Taylor, just at that point in the draft, we think we got a hidden gem there," Ross said. "This guy is big, fast, smart, plays the game the right way. He does a lot of things for Richmond. They line him up at multiple positions. You'll see him in the box; you'll see him back deep."
"(Taylor is a) big size-speed safety that we think has a really nice upside," Reese said. "I can envision him honestly on special teams with that size and speed. I can envision him being that third safety in some of the three-safety looks that (defensive coordinator) Perry Fewell likes to use sometimes. A big, tough guy, we like his skill set."
*Guard Eric Herman, Ohio University, 6-4, 320, Seventh Round, 225th overall selection
After redshirting in 2008, Herman was a four-year starter and two-time All-Mid American Conference selection for the Bobcats. He started all 13 games at right tackle in 2012 and all 27 at right guard in 2010 and 2011.
"(Herman is) a big, tough, nasty guard," Reese said. "We really liked him. We'd been looking at him on the board for a while there and we were hoping that if he could get to the seventh row, he'd be a nice pick for us at that spot. He'll create some competition at the guard position – tough, hard-nosed, big football player."
"He is a guy that will slug it out and battle with you," Coughlin said. "So a great spot for him right there."
*Running Back Michael Cox, Massachusetts, 6-3, 214, Seventh Round, 253rd overall selection
Cox played at UMass as a grad student last year after playing at Michigan from 2008-2011. He started all 12 games for the Minutemen and had 198 carries for 715 yards and five touchdowns. He also had 13 receptions for 63 yards. Cox played in 15 games at Michigan, where he rushed for 169 yards on 19 carries (8.9-yard avg.) and scored two touchdowns.
"They (UMass) were really kind of outmanned this year and you don't see a lot of production," Reese said. "But if you look closely and do what us scouts do, we're excited about him. We think he's got a chance. He's a big and powerful, elusive guy with speed, so he's got a lot of things that we like about him."
"If you look at his stats at UMass, they aren't that impressive but he gets the ball and there are two guys in the backfield, he's trying to make everything on his own," Ross said. "Runs hard, he's got size, he's got really, really good hands, excellent hands, got a little burst to him. We had him in for a visit, real good kid. Our coaches were impressed with him so we were happy we're getting a big, fast guy who runs hard that late in the draft."