Michael Strahan narrates and appears in hype video to kick off Giants Wild Card weekend, presented by Verizon
The New York Giants today unveiled "OUR WAY," the franchise's campaign for the playoffs. Giants Legend Michael Strahan helped launch the campaign with a hype video that was shared across the team's social and digital media platforms. "OUR WAY" embodies how the Giants have been true to their own identity throughout the 2022 season.
"OUR WAY" celebrates the success of the first season under head coach Brian Daboll and general manager Joe Schoen, who have preached "Smart, Tough, Dependable" as foundational characteristics of the Giants. The "OUR WAY" campaign will also share the success with Giants fans through a series of events, social media content, influencer collaborations and brand-building initiatives.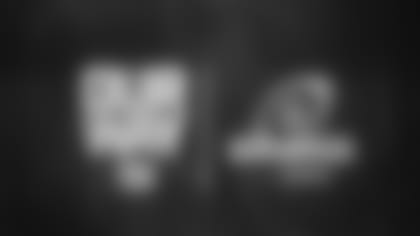 The Giants Wild Card game, presented by Verizon, caps a week of programming and fan engagement activations, including:
"Giants Playoff Preview Live Show" presented by Pepsi Zero Sugar – Live from Blu Alehouse in Riverdale, N.J. on Wednesday, January 11th from 7:00 p.m. – 9:00 p.m. Bob Papa, Carl Banks and Tiki Barber will give a preview of the Giants Wild Card game with special call-ins from celebrities and current players. Fans will have the opportunity to ask questions in person or by calling into the show. Tune in at WFAN 101.9/660 AM, WFAN.com, and the Audacy app, or the Giants mobile app.
"Giants Legend Meet and Greet" – In-store alumni player appearance at Verizon's Bryant Park location on Friday, January 13th from 3 p.m. – 4:30 p.m. This appearance is the first of three fan meet and greets at Verizon retail stores throughout the month of January. Specific players and Verizon stores will be updated on Giants social platforms.
"Big Blue Friday" presented by Pepsi Zero Sugar – The Giants are encouraging fans to wear blue on Friday, January 13th to show their support. The Giants "Blue Crew" will be going door-to-door in select neighborhoods to provide local businesses with a Giants playoff pack, including an "OUR WAY" poster. The retail store inside MetLife Stadium will be open from 10 a.m. – 8:00 p.m. with Giants playoff gear available and also a discount offer on all merchandise items. The Empire State Building will be lit blue to celebrate Big Blue Friday with the Giants.
Giants Playoff Pep Rally – "Play 60 Celebration" – The Giants will hold a Play 60 event and playoff pep rally at a local school in Clifton, N.J. Entertainment will include Giants Legends Ahmad Bradshaw and Jonathan Casillas, on-air talent Brandon London, DJ Wallah, and the Giants G-Line drummers. Members of the Clifton Mustang High School football and cheer program will also be in attendance.
Giants Playoff Party – "Giants Bar Network Presented by Modelo" – Join Giants Legends Ahmad Bradshaw and Plaxico Burress with on-air talent Brandon London at Wicked Wolf in Hoboken, N.J., which will serve as the official watch location for the Giants Wild Card game against the Minnesota Vikings on Sunday, January 15th at 4:30 p.m. Fans will have the opportunity to win prizes, giveaways and enjoy Modelo drink specials. In addition, the Giants will deliver swag to select locations in the Giants Bar Network presented by Modelo, including "OUR WAY" coasters, shirts, and posters.
Tune in on Sunday, January 15th at 4:30 p.m. to watch the Giants Wild Card match-up against the Minnesota Vikings.