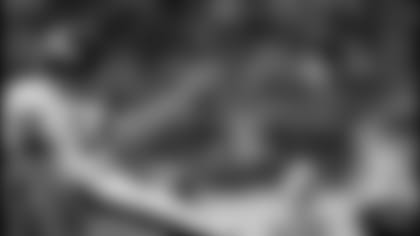 EAST RUTHERFORD, N. J. – Dave Jennings, the most prolific punter in Giants history who was later a radio analyst for the team and is a member of the franchise's Ring of Honor, died this morning in his Upper Saddle River, New Jersey home. He had turned 61 on June 8.
Jennings had suffered from Parkinson's disease, a chronic degenerative neurological disorder, since 1996.
Jennings played for the Giants from 1974-84. He holds the franchise records for punts (931, or 405 more than runner-up Sean Landeta) and yards (38,792). Jennings was selected to play in the Pro Bowl in 1978, '79, '80 and '82. He punted a career-high 104 times in 1979, which was the Giants record until Brad Maynard had 111 punts in 1997. Jennings punted for more than 4,000 yards in a season three times (1979-81) and had a career-best 44.8-yard average in 1980.
"Dave Jennings was one of the all-time great Giants," said John Mara, the Giants president. "He was a valued member of the Giants family for more than 30 years as a player and a broadcaster, and we were thrilled to include him in our Ring of Honor. More importantly, he was an outstanding person who battled his illness with rare courage and dignity. We will miss him dearly."
Added Giants chairman Steve Tisch, "Dave is and always will be a Giants' Giant. He lived his life with class and dignity, and he was the ultimate professional as a player and commentator."
"Dave was the very first player I met when I came to the Giants," said Hall of Fame linebacker Harry Carson, who joined the team in 1976. "When I met him I felt so welcomed. Dave was a guy that everyone not only liked, but loved. Anyone who knew Dave would say he was a great guy. He was a terrific person with a bubbly personality.
"The Giants were not very good when Dave and I were teammates in the 1970s. Dave was one of the few bright lights on those teams as a punter."
After leaving the Giants, Jennings punted for the Jets from 1985-87. He worked as a radio commentator for Jets games from 1988-2001.
In 2002, Jennings moved into the Giants radio booth with Bob Papa and the late Dick Lynch. He was also a part of the Giants pre and postgame shows. Jennings was replaced in the booth by Carl Banks after the 2007 season and left broadcasting the following year.
"Dave was always a guy that I admired from afar, and when we had an opportunity to add him to the Giants' broadcast team – when John Mara brought him back to the Giants family – it was a treat to work with Dave," Papa said. "He was meticulous in his preparation and Dave was a leader in rules interpretations. Dave knew all the rules. Whenever something came up, you could always turn to Dave and you knew he would get the rule correct and that was going to serve the audience best.
"Dave was a great guy. I got to know Dave in the early 1990s when we did an NFC East TV show together that was syndicated. We traveled around to the different NFC East camps. Dave was a workout machine. But he was just a good guy. Dave had this dry sense of humor. And Dave always challenged himself. He liked to have fun. One of the great Dave Jennings rituals was that he would set his stopwatch the second the wheels lifted on the Giants' charter. And then everybody would have to guess how long the flight would be. He'd have his stopwatch going the entire flight. He and everyone else would make their guess how long the flight would be. When we landed he would bark out the time."
Jennings was part of the Giants' second Ring of Honor class in 2011. He joined the ring with running back Alex Webster, tight end Mark Bavaro and linebackers Brad Van Pelt and Banks.
"Dave was very serious about conditioning," Carson said. "He was the punter, but he was in great shape. He was a fantastic athlete. Dave enjoyed the football experience, he enjoyed the locker room.
"Dave could have participated in different sports, but he had punting down to a science. He could position the ball where he wanted it to go. He had a terrific sense of placement. He took his job very seriously and he made it his own little science to punt the ball where it needed to be."
David Tuthill Jennings was born on June 8, 1952 in New York City. He did not play football at Garden City High School on Long Island. Jennings attended St. Lawrence University, where he earned two letters in basketball. After winning the punter's job as a walk-on, he was a three-time all-conference selection. Jennings also earned a bachelor's degree in economics.
Jennings is survived by his sister Susan Jennings and her husband Harley. The family has asked that donations be made in Dave's memory to the Michael J. Fox Foundation (www.michaeljfox.org).