EAST RUTHERFORD, N.J. -** Eli Manning has found the Giants' silver lining.
"We can only get better," Manning said today.
Who's going to argue? The Giants are 0-2 after losses to Dallas and Denver by a combined score of 77-54. They have been unable to run the ball, are too turnover prone, have breakdowns in all three phases of football and will face an equally desperate team when they visit the winless Carolina Panthers on Sunday.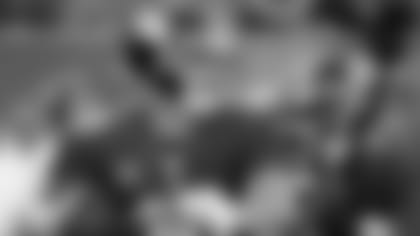 View Game Timeline in Photos "Today is a day of sulking," defensive end Justin Tuck said. "We'll sulk today. We'll come back and win and get this thing right."
They may be sulking, but they're not panicking. The team's veteran leaders stood tall in the locker room today, made no excuses and reminded everyone 14 games remain to be played, which seems to be enough time to make up a one-game deficit in the NFC East standings.
"I feel like we're doing some decent things," Manning said. "We've got to get better, but I think we will. I think we have great character guys. The season is very early. All you can worry about is this next game. We've got to go to Carolina. They've played a couple of close games. They seem to be playing good defense, so we've got to go in there and play better football and find a way to get a win."
"Honestly, we have to stop beating ourselves," Tuck said. "We have a lot of opportunities in these first three games to kind of rewrite what this 0-2 is, the reality of this 0-2. We have to stop beating ourselves. We had a lot of opportunity to win both of these football games and didn't do it. Granted, we played two pretty good football teams, but like I said, we had opportunities to play better than what we did."
Safety Antrel Rolle was asked if the Giants are a better team than they've shown.
"Absolutely, but are we showing that we're a better football team right now with a 0-2 record?  No way," Rolle said. "We need to understand that and we need to get extremely better. Not just a little bit better, but a whole lot better. Like I said, that's in all three phases of the game and I think that we're not finishing games. I don't think we're playing with the excitement, the enthusiasm. What it looks like from the sideline, and outside looking in, it seems like sometimes we're in it, sometimes we're not.  I don't know the reason for that, but this is the game that we love to play. Personally speaking, I keep the same mentality that I've had since I was a youngster. I don't like to lose. I don't care if there's time to get better, I don't care if there's time to improve. I don't like to lose. Granted, we played a great team yesterday. We understand that they were a great football team, but I also understand what we could have done to that football team. We have to get better. We can't hang our heads. We're not going to hang our heads, we're definitely going to get better and just try to pick it up around here."

>>QUOTES: PLAYERS REFLECT ON WEEK 2 LOSS
"I think we're a team that's right on the brink," said Victor Cruz, who had 118 receiving yards for the second straight game. "We're right on the cusp of really making a big game, having a statement game and taking it from there. Once we get that first win, I feel like we can roll from there. But it's about getting that first win, it's about settling down and hopefully that time is this week for us."
If it is, the Giants must make some tangible improvement. The first is in the run game, which has totaled only 73 yards and is averaging 2.2 yards per carry.
Against Denver, the Giants rushed for only 23 yards, their poorest performance on the ground in 24 years. They did not have a run longer than six yards.
"You see the openings but in the NFL, they close quickly," tackle Will Beatty said. "So we just have to keep them open a second longer. Some of those running plays, because you saw where the secondary is, we could have hit for big yardage. We're using that as you see what we ran, you see what we did and look what could have happened."
Getting the rushing attack moving won't solve all of the Giants' issues. They have to eliminate or at least reduce their turnovers, which total 10 in two games, including seven interceptions, both NFL highs. .
"Turnovers are going to lose you football games and so we've got to eliminate the turnovers," Manning said. "Every interception has its own story, but I have to be smarter with the football and throw the ball more accurately and we've got to make some plays."
Manning insists he is not pressing because the running game has been ineffective.
"The first interception (on the final play of the first half) was just a bad play, a bad decision by me," Manning said. "The second one was just a weird throw off a heel and then after that we were down 22 points. One was a fourth-and-10 and was intercepted in the end zone, and (I was) probably pressing. The next one was just a bad play. But I think for the most part we've been throwing the ball well and doing some good things. We've been stuck in some second and longs, third and longs. We've got to get the running game, we've got to be more balanced and I think that will help things out."
With more than three months remaining in the season, the Giants believe they can and will get back on track toward a playoff berth.
"There's no concern," Cruz said. "It's still very early in the season, there are still a lot of ball games left and we understand our position. We want to go out there and put our best foot forward come this week and get our first victory and see what happens."
"I think in this situation you've got to have a little sense of urgency," Manning said. "I don't think there's anything wrong with that. If you make it a must-win, sometimes you need to be put in those situations. It is a big game. We're 0-2 right now. We're looking for our first win, but I think guys have got to keep their heads up, look at the good things and look where we've got to make improvements. Where are our mistakes? Why aren't we being as consistent as we need to be? I think everybody has got to look hard at that and come out and have a great week of practice, have a great preparation and go out there and just play our best football."
If they do that, the Giants will give themselves a much better chance to celebrate their first victory in 2013.
Coach Tm Coughlin did not meet with the media this because of a family emergency.
Historians and optimists will note when the Giants last started a season 0-2 in 2007 they followed with six consecutive victories and finished it with triumph in Super Bowl XLII. But only nine current Giants remain from that team: Manning, Tuck, Chris Snee, Brandon Jacobs, Corey Webster, Aaron Ross, Mathias Kiwanuka, Zak DeOssie and David Diehl (currently sidelined after undergoing thumb surgery).
And they're not particularly interested in looking back.