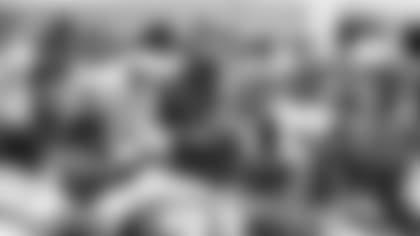 Giants broke camp with "recovery cycle" at QDTC. **


NEWS
>
[Osi Umenyiora retires a Giant](http://www.giants.com/news-and-blogs/article-1/Osi-Umenyiora-There%E2%80%99s-nothing-like-being-a-Giant/a3237801-0859-465f-b2d9-ff38358239eb)
>
[Watch highlights from Giants practice](http://www.giants.com/news-and-blogs/article-1/Watch-highlights-from-Giants-practice/4dc61096-6e7d-4fdf-ba05-9ddafaf7ee85)
>
[Giants 2015 Uniform Schedule](http://www.giants.com/news-and-blogs/article-1/New-York-Giants-2015-Uniform-Schedule/53f9a908-a8cc-4f7d-8d71-cf9ad61d8a7e)
PHOTOS
>
[Know Your Opponent: Jets](http://www.giants.com/photos/photos/Know-Your-Opponent-New-York-Jets/3b2678f2-8bc3-411f-ae15-229329a21841)
VIDEOS
>
[Mailbag: James Jones impact](http://www.giants.com/videos/videos/Video-Mailbag-James-Jones-impact-vs-Jets/0b0bfd5d-42b0-4462-9848-437412930a7b)

The New York Giants broke camp on Thursday at the Quest Diagnostics Training Center with what coach Tom Coughlin called a "unique" day of recovery, part of an experimental approach to game week. Players chose two of six possible elements: yoga, contrast bath (hot-cold tub), massage, self-massage stick rollers/bands, functional movement screen (FMS) exercise and air compression boots.
"A little different week for us," Coughlin said. "This is what I call the GPS week. We're following that to a 'T.' We've had two hard practices, followed by basically meetings, walk-throughs and a recovery cycle. So all three --- special teams, defense and offense -- had good, long meetings, they had walk-throughs and we finished that up with a recovery cycle. The recovery cycle has basically six elements and, by seniority, they can choose two. It is two fifteen-minute periods and we are currently right toward the end of the second cycle.
"So it is a unique kind of a day and I am interested in the feedback that I get from our leadership council and also from the assistant coaches as we go through the day and, of course, the proof will come later as to how we perform."
2. Cycle could carry into regular season.
While Coughlin and the staff assess the results of this week's plan, the recovery cycle days could lead to changes in the regular season. If implemented, they would be in place of a practice during game weeks.
"What you would do is you would load up according to the GPS system the first two days of the week," Coughlin explained. "In other words, you cover a lot of territory. I don't know if you noticed, but yesterday's practice was quite long and could've actually been another five minutes. So you're getting a lot of things done on an overload kind of a day and then you're having an unloaded cycle and then the week's not over yet."
*3. Offense prepares for tough Jets defense in annual MetLife Bowl. *
With the Snoopy Trophy on the line, the Giants and Jets meet Saturday night for the annual MetLife Bowl. Big Blue took last year's by a score of 35-24 and will look to defend it against the Jets and first-year coach Todd Bowles. Meanwhile, Giants running back Shane Vereen knows the rival as well as anyone on the team, having played the Jets twice a year in the AFC East as a former member of the defending champion Patriots.
"All those games against them, they're always close," Vereen said. "Regardless of the teams' standings and records, the games were always close. I know defensively, they are a great, great front four. You're not going to be too out of shape when you have Darrelle Revis, too."
4. Prince completely over groin injury, will play.
Despite practicing the last two weeks, cornerback Prince Amukamara has yet to appear in a preseason game as he's dealt with a groin injury. But that will likely change on Saturday. Amukamara said today that he is completely over the injury and not limited in any way.
"I think preseason games are important because you get your body in shape and you start to work that muscle memory," Amukamara said. "And going against players from a different team, I'm excited I get to play this week."
About the rivalry game against the Jets, Amukamara said, "I know for our fans, it's a huge game. Jets and Giants can split families, so I've heard."
5. Cruz's comeback waits another week; injury notes.
Clearing almost every hurdle in his return from a season-ending knee injury, wide receiver Victor Cruz hit a speed bump with a calf issue that has prevented him from practicing and playing in any of the first two preseason games. Coughlin said today that Cruz will not play on Saturday night against a Jets team that he has plenty of history going against.
Meanwhile, safety Nat Berhe "re-injured" his own calf, and center Weston Richburg (knee) "feels pretty good." Coughlin added that safety Landon Collins (knee) will play and linebacker Mark Herzlich (concussion) "was coming along well and just didn't feel real good yesterday. Not as well as I would like."
6. Newhouse OK after ankle scare.
Right tackle Marshall Newhouse left Wednesday's practice after a linebacker accidentally stepped on his ankle while he was engaged in a block. But a day later, Newhouse, who was unable to say yes or no for Saturday, said he thinks "all is well" with the injury. The competition to find the five best offensive linemen will come to a head shortly as the Giants wrap up the preseason a week from today.
"I think we just want to have a stellar performance," Newhouse said. "I think that's our goal. We're trying to improve every week. Just put our best foot forward, that's basically all we can do. How things shake out is how they shake out. That's just the way the NFL goes."
*7. Preseason important for secondary chemistry. *
After returning no starting safeties from a year ago, the Giants moved forward with a group of young players looking to establish themselves in the league, including Landon Collins, Nat Berhe, Cooper Taylor, Bennett Jackson, Mykkele Thompson and Justin Currie. But all of them have dealt with injuries at times this preseason or worse. Jackson, Thompson and Currie were lost for the season, leading the Giants to rely on veterans Brandon Meriweather and Jeromy Miles, whom they singed in the middle of training camp.
"I wouldn't say different feel because everyone is new to this defense," Amukamara said, referring to Steve Spagnuolo's first season back as defensive coordinator. "But a guy like Meriweather—he's a for sure, true vet. So he definitely takes ownership of the defense. So does Miles, and Collins does too when he's in there. So, I haven't played in a game with them yet, so we'll just see how we all play together. That's what I like about preseason, because you get to build that chemistry and that communication."