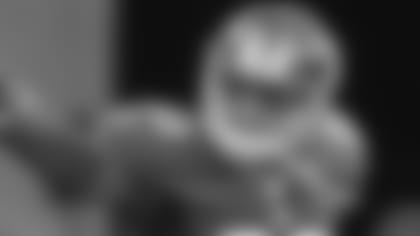 The Giants filled the open roster spot by signing wide receiver Julian Talley off their practice squad. Talley might be needed for the Giants' game in Detroit Sunday if his fellow UMass alum, Victor Cruz, is unable to play because of the concussion and knee injury he suffered two days ago vs. Seattle.
The Giants also signed running back Kendall Gaskins to the practice squad.
Webster, a nine-year veteran, played in the season's first two games but was inactive for the next four because of a groin injury. He returned to play on Oct. 21 vs. Minnesota and Oct. 27 at Philadelphia, where he suffered an ankle injury that sidelined him the last six games. Webster finished his season with 13 tackles (eight solo) and no interceptions.
Talley, 6-1 and 192 pounds, has spent the entire season on the practice squad. He was signed by the Giants on Aug. 1, waived on Aug. 31 and signed to the practice squad on Sept. 1. Talley had seven receptions for 98 yards in the preseason.
Talley originally signed with the Giants as a rookie free agent by the Giants on May 11, 2012 and was waived on Aug. 27. He played in 45 games at UMass and caught 162 passes for 2,090 yards (12.9-yard average) and 11 touchdowns with a long catch of 55 yards.
Gaskins, 6-0 and 239 pounds, was signed as a rookie free agent on May 6 by the Buffalo Bills from the University of Richmond. In the preseason, he had 26 rushing attempts for 79 yards and two receptions for 15 yards before being waived on Aug. 31. Gaskins was on the Tennessee Titans' practice squad from Oct. 8-18.