The Giants stood with arms linked during Sunday's national anthem, while some went down on one knee: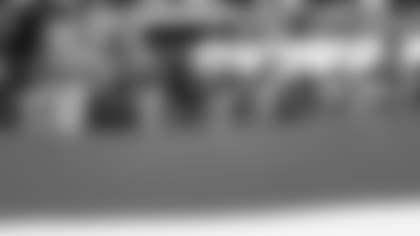 PHILADELPHIA – Like all teams around the NFL, the Giants on Sunday made an emotional and poignant statement during the playing of the national anthem prior to their game against the Philadelphia Eagles in Lincoln Financial Field.

Most of the team's players and coaches stood with their arms linked, while Landon Collins, Damon Harrison and Olivier Vernon chose to go down on one knee. The actions were a response to President Trump's criticism of NFL players who kneel during the national anthem.
"We talked about it pregame, and opened it up that we can stand united as a team," coach Ben McAdoo said. "It seems like the message we are getting from the White House is they are trying to create division in this league, whether it's with the team or within the league or whatever the case may be, and doing things on an individual basis maybe playing into their hands. So sticking together as a football team again, going back to the message we practice empathy here. I believe in it. I'm not sure how much the president can empathize with our players and the way that they grew up. They grew up a lot different than a lot of people. Some tougher than others, but I think empathy is the key message here. Choose understanding over judgment."
The Giants organization issued a statement after the game, which the Giants lost, 27-24.
"We think the national anthem is an important way to honor this great country and the men and women who protect all of us.
"We are thankful and respect that we live in a country where an individual has the right to make the choice in how they recognize the anthem.
"Coach McAdoo has been proactive in conveying to our players the significance of the national anthem. As an organization, we will continue to provide our players with opportunities to make a difference in our society and in our communities. Many of our players have accepted the responsibility to use their platform to make this country and our world a better place.
"There are many issues and problems that trouble all of us, and we know many of our players feel strongly about being on the forefront of positive change and progress and being a force for unity. As an organization and a team, we practice empathy and not judgement."