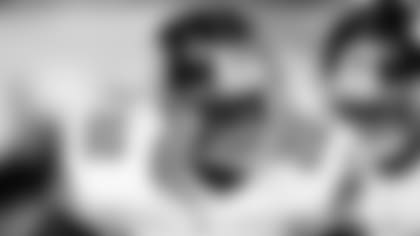 1) RB David Wilson –** Having Ahmad Bradshaw, Andre Brown, and David Wilson all contributing down the home stretch would have been nice for the Giants, but that plan ended Sunday night. After suffering a fractured fibula against Green Bay, Brown was placed on injured reserve (with a designation to return in eight weeks), which means Wilson is the next man up.
The Giants' first-round draft choice had 11 plays go to him against the Packers, a number which will likely increase on Monday Night Football against the Redskins. "The timing as far as where he's coming from couldn't be any better," Tom Coughlin said earlier in the week about Wilson's development. Meanwhile, look out for newcomers Ryan Torain (No. 41) and Kregg Lumpkin (No. 38), both of whom the Giants signed this week to bolster the backfield.
2) LB Mathias Kiwanuka – The versatile Kiwanuka enjoyed the best game of his season last week playing on the defensive line. He racked up two sacks (the Giants had five total) and six tackles. On any given week, Kiwanuka will play wherever defensive coordinator Perry Fewell wants him. We'll have to wait and see where he is and how he does against Robert Griffin III and the Redskins offense.
3) WR Hakeem Nicks – You'll want to watch him every week, but Nicks found the end zone for the first time against the Packers since the second game of the season. He also had his highest yardage total since that 199-yard performance in Week 2 against Tampa Bay. Nicks is getting healthier, and he and Eli Manning could take advantage of the Redskins pass defense, which gives up more than 300 yards per game (31st in NFL).
4) S Antrel Rolle – With Kenny Phillips returning to the field last week, Fewell could dust off the three-safety packages that became so effective down the stretch last season. Like Kiwanuka, Rolle can move around, creating wrinkles for opposing offenses. But with Phillips aggravating his injured knee against the Packers, Rolle will also be instrumental in keeping the defense disciplined against all the options Griffin presents.
5) LB Chase Blackburn – In the first game of the season series with the Skins, Blackburn had 11 tackles and forced two fumbles, including the final one in the closing seconds that sealed the victory. However, the Giants gave up 248 yards on the ground in that game, and Blackburn knows his defense will have to do better than that this time around.
![](http://shop.giants.com/)