*Giants president John Mara spoke with the media Wednesday to address the team's starting quarterback change: *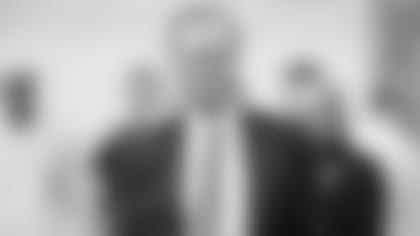 EAST RUTHERFORD, N.J. –
John Mara would have preferred Eli Manning accept the Giants' offer to continue starting games, but he understands the quarterback's decision to decline if he couldn't finish them.
The Giants announced yesterday that Geno Smith would start Sunday in Oakland, ending Manning's 13-plus season regular-season starting streak at 210 consecutive games. Coach Ben McAdoo said Manning had been given the option of starting and playing the first half before ceding snaps to Smith or perhaps rookie Davis Webb. Manning chose not to do that and will be the team's No. 2 quarterback against the Raiders.
"I met with him this morning and had a good talk with him," Mara said today in his first public comments since the change was announced. "It was a very emotional talk, and he is obviously not happy with the decision. But he understands it and I had told him – I said, 'My hope here had been that you were going to continue to play, not only to keep your streak alive,' but because I was hoping – I didn't want him to go out like this. But I understand. I understand his feeling. I respect his decision. He doesn't want the streak to be tarnished by just getting in for a few series or something. But I was hoping that he'd come in, he'd play, he'd be playing well, we'd have a chance to win the game, and maybe stay in there or something. But, he understands that at some point, we have to look at the other quarterbacks because he's not going to play forever.
"Again, I was hoping it would turn out a little differently that he would continue to play some portion of the games, but at some point we would work in the other quarterbacks. But he didn't want to do it that way, and I understand that and I respect him so much, and I'm not going to argue with him on that."
Mara said he supports the decision by McAdoo and general manager Jerry Reese to play and evaluate Smith and Webb in the season's final five games. That change at quarterback has produced a visceral negative reaction from many Giants fans.
"I had had a conversation with Jerry a week or two ago," Mara said. "I normally don't speak to the coach directly about which players are playing, and which players are not playing. I'll have the conversation with Jerry. I mentioned to him a week or two ago, 'Don't you think it's time that we start to get a look at these other quarterbacks at some point during the games?' And he agreed. Said he had already had a conversation with Ben about that.
"Jerry called me on Monday afternoon - I was at a family function in Virginia - to tell me that Ben was going to be speaking to Eli to let him know that he was going to continue to start the game. He's going to start the game on Sunday, but that at some point Geno would come into the game. Tuesday morning, Jerry called me and said that Eli had informed Ben that 'if you're going to play Geno in the second half, you may as well just start him. It's not fair to him. It's not fair to me and I think that would be the best decision going forward.' And he also wanted us to put out a statement announcing that. So that's what we did."
Mara said there was "probably" a better way to enact the change than having each quarterback play a half, but conceded he wasn't sure what the solution was.
"Tell me what it is," Mara said. "I don't know. I didn't necessarily think it had to be at the half. I think if he's playing well in the first half, we're winning the game, it looks like we've got a chance, the offense is clicking, I would argue then keep him in the game. But having him definitively come out at the end of the first half – I can understand why he would object."
Although this is a seismic change in the Giants' landscape – no quarterback other than Manning has started a game for the Giants since Kurt Warner on Nov. 14, 2004 – Mara said it's premature to render final judgments on the quarterback's short or long-term prospects.
"Who knows what the future is going to bring?" Mara said. "He can get into the game on Sunday, you just don't know. Any quarterback, any player at any position, is just one snap away from getting into the game."
Regarding the 2018 season and beyond, Mara said, "I don't think we should be writing his obituary just yet. A lot of things can change between now and next spring and next season. And the reality is (Steve Tisch and I) have some tough decisions to make at the end of the year, and who knows what's going to happen?"
Mara said he thinks Manning will be a starting quarterback in the NFL in 2018. Asked if he believes Manning can still be successful in the league, he said, "I think he can still win in the NFL, yes. And I hope it's here, but that'll be a discussion for the offseason."
All of this is predicated, of course, on the Giants' struggles this season. They are 2-9 and will likely have a Top 5 selection in the NFL draft. Several outstanding quarterbacks are expected to be available. The Giants can't make an informed decision about whether to take one without knowing more about the passers currently on their roster.
"I accept the fact that we're 2-9, we're completely defenseless when you have a record like that, particularly when the expectations were so high," Mara said. "And it's up to us to fix that going forward. But one of the things that we have to do is try to find out whether one of these two guys can be a quarterback for us in the future. I don't know if we'll have an answer to that by the end of the season, but we weren't going to have an answer unless we got them in a game."
Mara disagreed with the premise that not playing Manning is admitting the team is not trying to win, perhaps in an attempt to move up in the draft.
"That's not the case," Mara said. "Again, we're 2-9. We're still going to try to win the games. I read something somewhere about, are we going to tank the rest of the season? That's complete bull----. I would never allow that here. We're going to try to win the games. We're just going to have to try to do it with a different guy at quarterback."
But the thoughts of many, inside and outside the team, will be on the quarterback whose incredible streak will end Sunday. Mara has been around the Giants and the NFL his entire life, and knows pro football can be a harsh business. But this is one of those days where he couldn't keep emotions from seeping into his consciousness, because of his high regard for Manning.
"He's a special – not only a special player but a special person -- and when you see him get that emotional, it's tough," Mara said. "The thing about him is, to a lot of players this is just another team and another franchise. But to him it means something to be a New York Giant and that's what makes this so much tougher."