East Rutherford, NJ** - A significant change to the NFL instant replay system will likely be instituted in the future, but not in time for 2014 season.
RELATED NEWS
[ Tom Coughlin analyzes Giants schedule
](http://www.giants.com/news-and-blogs/schedule-2014/article-1/Tom-Coughlin-analyzes-Giants-schedule/c3a8e906-059a-4854-89d5-a3a64f8b0058)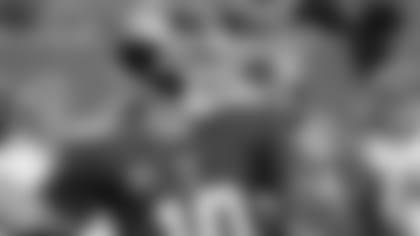 CLICK HERE for the latest Giants News](http://www.giants.com/news-and-blogs/index.html)
Less certain is the addition of a playoff team in each conference, though John Mara said this week, "I think we're heading in that direction."
Mara, the Giants' President and Chief Executive Officer, is a 14-year member of the NFL's influential Competition Committee, which studies all aspects of the game and recommends rules and policy changes to NFL clubs. The committee meets for several days in Indianapolis and Naples, Fla. prior the NFL's annual meetings, where the owners vote on numerous rule, bylaw and resolution changes.
Aside from Mara, the committee members include Chairman Rich McKay (the Atlanta Falcons' President), as well as coaches Jeff Fisher of St. Louis, Marvin Lewis of Cincinnati and Mike Tomlin of Pittsburgh, general managers Rick Smith of Houston and Ozzie Newsome of Baltimore, and executives Stephen Jones of Dallas and Mark Murphy of Green Bay.
Many proposals brought forth by the committee were rejected by ownership or tabled to future meetings (the next one is in May). But some significant changes were passed and the groundwork was laid for important future modifications.
One of the changes that won't be introduced this year but is possible for the future concerns instant replay. Since replay was revived in 1999 with coach's challenges, referees have retreated to a covered monitor on the sideline, studied the play in question and made a final decision. Mara believes that routine will soon be history.
"I think we're moving toward a system where replays are going to be conducted by the command center in New York," he said. "I don't think we're there yet, but I see us moving in that direction."
That shift will begin with the coming season.
"I think we're going to experiment this year with communication between the command center and the referee," Mara said. "I think there is a feeling on the part of some people that the referee still needs to be involved. Other people would argue that the system in college works quite well, the referee doesn't have any involvement and that decision gets made upstairs. In the NHL, those decisions get made in their command center, the referee really isn't involved in that. I can see us being in a position someday where our replay calls are done from the command center. We're just not there yet."
Mara said moving instant replay to the NFL office would benefit the game.
"I think you get more consistency, because you have the same two or three people making the calls all of the time," he said. "I think in terms of interpretation and consistency, it would improve in that area and possibly it would be more efficient. You wouldn't have to wait for the referee to run all the way over to the sideline and get under the hood and crank up the machine. You'd have the decisions made much faster. I think in college the decision gets made faster. We originally had that system that they used in college back when replay was first introduced but we didn't think that it worked well because the people that we had in the press box making the call were basically retired officials. We didn't think we had enough capable people to have that system work very well, so we moved away from it and got back to just the referee making the call on the field. You still have up to 16 different referees working on any given weekend. That sometimes leads to calls that some people would view as being inconsistent and having inconsistent standards. If we can come up with a way to have it done in the command center, maybe it would lead to more consistency."
Before the change can be implemented, one group must be convinced it's for the best.
"For the most part, the referees want to be involved in the process," Mara said. "They would like to be the ones that make the final call. Whether that makes it right or not, I don't know, but that certainly has been their expressed preference."
Another potential significant change is in the number of teams that make the playoffs. Since 1990, six teams from each conference have qualified for the postseason. The possibility of adding a seventh team has gained momentum and will be discussed again at the owners meeting next month. If Mara had his druthers, the system would remain unchanged.
"If it was strictly my vote, I would keep it the way it is, because I think it works very well," he said. "I think the first weekend of the playoffs last year was as exciting a weekend of football as we've ever had. I don't want to water it down too much. And I'm not crazy about adding games at night in January. It makes it tougher on your fans to go to night games in January as opposed to afternoon games."
Although many commentators consider it a fait accompli that the postseason will be expanded, Mara isn't so sure.
"I think we're heading in that direction," he said. "But I don't think it's a slam-dunk just yet, because it takes 24 votes to get that. I know there are some teams that are not in favor it, so who knows what will happen at some point in the future. It seems like we're moving in that direction. (But) there still has not been a proposal put forth for the owners to vote on. Unless it happens at the May meeting, I would say that you won't see an expanded playoffs in 2014 and possibly you'd see it in '15."
Mara discussed numerous other Competition Committee-related topics:
*One was the continuing debate about whether extra points and field goals should be more challenging. In 2013, NFL kickers made 99.6 percent of their extra point tries (missing just five all season) and a record 86.5 percent of field goal tries. In the first two preseason weeks this year, extra point kicks will be spotted at the 20-yard line instead of the two. That makes them the equivalent of a 38-yard field goal.
"I think something needs to be done," Mara said of the extra points. "I think it's become a non-event. You rarely see any of these blocked and maybe by moving the ball back further, you'd see more teams go for two, which I think is an exciting play. But we need to study it a little bit more and not rush into anything. You see a lot of discussion about the extra point and what we're going to do with that, and I think there's a general feeling that we need to do something there. The kickers have gotten so good, there's some discussion about whether we should make the goal posts, the uprights, narrower at some point in the future. We're not ready to do that just yet but you could see that at some point in the future if the accuracy continues to improve."
Another possibility is moving the line of scrimmage on extra points up to the one-yard line, which would encourage teams to go for two points more frequently.
"There was some discussion about that," Mara said. "That's not out of the realm of possibility for some point in the future. I think that would be something worth looking at."
*Sportsmanship issues dominated the committee discussions as player safety issues did in recent years.
"I think that players and teams have kind of adjusted to the safety rule changes," Mara said. "This year, we spent just as much time looking at tape and discussing a lot of these issues as we always do, but I think there was more of an emphasis on sportsmanship. We were all alarmed by what seems to be a growing lack of respect among players on the field (and) that sometimes works its way into coaches and officials. We had one instance this year where an official was disciplined for allegedly making some inappropriate comments to a player. A number of us were alarmed at the number of taunting penalties that were called this year and the number that could have been called but were not.
"We just felt like it was necessary to make that a real point of emphasis this year. We got input from a lot of different people, from officials, from players, from coaches and I think people, for the most part, were generally supportive of trying to emphasize respect and try to eliminate patterns of behavior that we think are unacceptable."
*New England proposed a rule change that would enable coaches to challenge any official's decision, except scoring plays, which are automatically reviewed. It was voted down, but replay was expanded to include the recovery of a loose ball in the field of play. That was referred to as the NaVorro Bowman rule. After the San Francisco linebacker who recovered a fumble in the NFC Championship Game, the officials awarded possession to Seattle and the play was not reviewable. A similar play in 2014 will be.
"We believe replay is in a pretty good spot right now, although it seems like we keep adding every year to plays that are reviewable," Mara said. "(In the NFC Championship Game) there was an obvious recovery, but it could not be reviewed. So that's the one additional play that will be subject to review this year. But we don't want to expand that too much. We don't want to get to a situation where every single play is reviewable. (That) has some merit, but replay was created to review the big error, to get the big call correct, not to review every single play."