College Football's 150th season kicks off nationwide this week. While the full slate of games is sure to keep fans entertained all weekend, there is one matchup in particular that is sure to be playing on the televisions here at Quest Diagnostics Training Center.
Saturday afternoon, the Duke Blue Devils face the Alabama Crimson Tide in the Chick-Fil-A Kickoff Game at Mercedes-Benz Stadium in Atlanta. This ACC-SEC battle has caught the attention of two Giants players in particular.
Quarterback Daniel Jones started three seasons for Duke before entering the 2019 NFL Draft. Despite opting not to return to school for his senior season, Jones finished his career ranked fifth in school history with 8,201 passing yards and third with 52 passing touchdowns.
"I'm excited," Jones said about the Blue Devils' season opener. "I'm excited to watch the guys play. I know they've been working hard. They've been doing everything they can to prepare for the game, and I know Coach Cut (David Cutcliffe) and his staff will have those guys ready. They always play well. It's the first game of the season, big game, so I'm expecting a big game from them."
Duke appeared in two bowl games during Jones' tenure, wins over Northern Illinois in the 2017 Quick Lane Bowl and over Temple in the 2018 Independence Bowl. Jones took home the MVP award in both of those bowl games, in addition to winning MVP honors at the 2019 Senior Bowl.
"First, my teammates," Jones told Giants.com about what comes to mind when he thinks back to his days at Duke. "Just being on that team, in the locker room, we had a special group of guys. There's nothing like being on a college team. I got really close to those guys."
As Jones prepared this week for his first NFL start, he couldn't help but look back at his first time starting at Duke. The stakes may have been different, but the rookie admitted that the process to prepare for each game looked very similar.
"First college start, we played North Carolina Central. We won the game pretty handily," Jones said. "I was just trying to do everything I could to prepare as much as possible. I had the same process this week. I probably had just a little bit more sense of what to do and how to prepare now."
Jones can't wait to watch his former teammates take on the Crimson Tide, but it will likely take a miraculous effort for the Blue Devils to emerge victorious from Saturday's battle against last year's CFP National Championship runner-up. While the rookie quarterback may not enjoy the outcome of Saturday's contest, the same cannot be said about third-year defensive tackle Dalvin Tomlinson.
Tomlinson enjoyed a successful playing career at Alabama. From his redshirt freshman year through his senior season, the Tide won two national championships along with four SEC titles. As Alabama gets ready for Duke, Tomlinson is confident in his alma mater's chances of taking home the W.
"Roll Tide, baby," said the defensive tackle. "I feel like 'Bama is going to come out and dominate like usual. That's the Crimson Tide way. But I feel like it's going to be a good one. Daniel is here now, so they don't have anything to worry about."
As a four-star recruit, Tomlinson received offers from some of the nation's top programs, including Georgia, Florida, Clemson, Michigan, Stanford, USC and many more. However, between all of the scholarship offers that he passed on, there was one that truly stood out.
Tomlinson got looks from several Ivy League schools during the recruiting process, but wound up receiving a scholarship offer from only one of them: Harvard. Contrary to what most would probably believe, the 6-foot-3 defensive lineman thought long and hard about attending one of the country's top academic schools before choosing Alabama.
"I considered it pretty seriously, because my mom was big on academics when I was growing up," Tomlinson told Giants.com. "When I was a kid, I used to always joke around and say I was going to Harvard. When I actually got the offer from Harvard, it was just crazy. It was in my top five."
Although many observers feel Saturday's contest has the makings of a lopsided affair, Jones said Tomlinson will certainly be hearing from him before the 3:30 p.m. kickoff.
"Yeah, I'm going to talk some trash there," Jones said.
In honor of College Football 150th Anniversary, we asked several players about their favorite memories from their college days.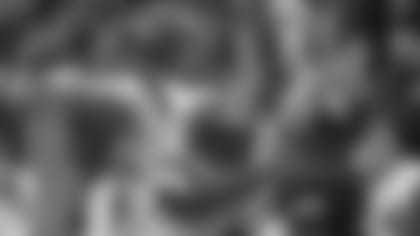 "I think my favorite college moment was my senior year, playing in the Cotton Bowl, a historic bowl game there in Dallas and just winning that game and getting to celebrate with my teammates. And especially since there was, I think, 22 of us that signed together as freshmen, a bunch of us redshirted and there were 14 left that played in that game as seniors. All of us spent five years together, just that closeness that we had, that bond, and to kind of go out our senior year and to play in a major bowl game, to win that bowl game together was special for me. It meant something. And to be on the field together and hold that trophy and get to celebrate in the locker room and afterwards just knowing that was going to be our last football game together - some of them, their last football game they ever played in - but to have that moment was really special for me."
RB Saquon Barkley, Penn State
"My most memorable college football moment- I had a lot in college. Two that stick out to me, one is my first college touchdown, I'll never forget that against Buffalo, on a rainy day at Beaver Stadium. I visualized myself in high school when I was committed to Penn State of making plays and scoring touchdowns, and for that to actually happen was amazing. But the one that sticks out to me the most when I played at Penn State is my junior year against Michigan, white out, 110,000 people, I scored on the first possession of the game. I've never heard a stadium get that loud. You really could feel the field shaking, the energy was super high and we kind of just built off of that and were able to beat a Top 20 team in Michigan that year."
"Looking back on my college experience, being a part of the Duke-Carolina rivalry and going 3-0 in my time there, I'd say. So I think those memories, each of those games are games I'll always remember, look back fondly. But just to be a part of those rivalries in college athletics, and for Duke it was against Carolina, is what makes a lot of those games special and I'll definitely remember those."
DT Dalvin Tomlinson, Alabama
"Oh, that's a tough one. My favorite would have to be…I could say the national championships. But I would probably have to go with my freshman year when I redshirted in the national championship versus Notre Dame just because of being in a stadium that big in Miami. And the atmosphere, the energy you felt just winning, and it was crazy. Probably beating Clemson in Arizona, those two are probably tied right now because that game was super hard fought."
"In my senior year, 2013, we're playing Tennessee. I got my eye poked, my right eye poked in the first quarter, so my eye puffed up. I had to leave for a couple plays, get it stitched up and I came back in. We won and the rest of the game I couldn't see out of one eye. That game will forever stick out in my mind."
"My favorite college football moment was we beat the University of Oklahoma at Boulder and no one thought we could do it. Actually the stands emptied out and everyone was sitting at home and it's a pretty close campus, so everyone was coming and flooding in as they saw that we could possibly win the game. So, by the end of the game, the whole stadium was packed. People were going nuts and then they rushed the field. I think Oklahoma was Top 5 at the time, like No. 3 or something, in the nation, and we beat them unranked. That was definitely my Number One college moment."
LB Oshane Ximines, Old Dominion
"My favorite experience in college, hands down, is when we upset Virginia Tech at Old Dominion last year. They were the No. 13 team in the nation, we were 0-3, mid-major school, so nobody expected us to win. So, just to give that win to our fans and to my teammates and my coaches, the smile on everybody's face after that win is going to be unforgettable. I look forward to many wins in a Giants' uniform, but that's one I'm always going to keep in the back of my mind."
"My most memorable, favorite moment of college football would be my junior year of college football, we played against University of Texas-San Antonio, and we went into five overtimes. Unfortunately, that year we hadn't been doing too well up until that game and we had come from four straight losses and that was the fifth game. We went into five overtimes and all I remember was a bunch of guys that were just tired of losing and were eager to win a game — so eager that it took five overtimes. We won in the fifth overtime, and I just remember after that game, after all the whooping and hollering and everybody being happy and yelling and celebrating, my body felt the most tired it had ever felt. But also at the same time, the best that it ever felt after a game, after laying everything on the line. That was definitely my favorite college football moment."
WR Golden Tate, Notre Dame
"I had a bunch of great college moments, but I'd say my favorite is when I caught a deep ball in the corner of our end zone and got my feet in and tried to dive onto the Michigan State band. It didn't work so well, but that was pretty fun and since then, every time we play Michigan State, it's replayed, so I'm kind of in the history books for that. So that's one of my favorite moments, but I've had a ton."