EAST RUTHERFORD, N.J. –** Two days after David Wilson hurt his neck and two days before they face the Bears in Chicago, the Giants today shored up their offensive backfield by re-signing running back Da'Rel Scott, who was waived a week ago.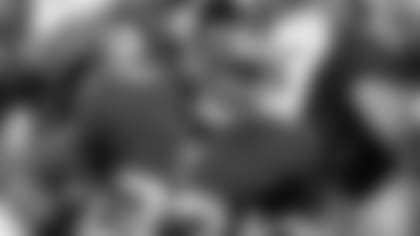 Scott, a third-year pro, played in each of the Giants' first four games, including a start at Kansas City on Sept. 29. He is still second on the team with 56 rushing yards on 16 carries. Scott also had 10 receptions for 98 yards, including a 23-yard touchdown against Denver in Week 2.
Scott was waived last Tuesday when the Giants signed offensive lineman Dallas Reynolds, who was released on Saturday.
Wilson, the Giants' starting running back and leading rusher, did not participate in the Giants' jog-thru practice yesterday. Coach Tom Coughlin said he was undergoing medical tests. The other running backs on the roster are Brandon Jacobs and rookie Michael Cox.
Trattou, a third-year pro who spent the 2012 season on injured reserve, played on special teams in each of the Giants' first five games. He is tied for the team lead with three special teams tackles, all against the Broncos on Sept. 15.
*The Giants also added cornerback Junior Mertile and linebacker Darin Drakeford to their practice squad.
Mertile, from Florida International, was with the Giants in training camp until he was waived on Aug. 25. He played in three preseason games and had four tackles (three solo).
Drakeford, 6-1, 238, was signed by the Kansas City Chiefs as a rookie free agent from Maryland on May 10. He was waived on Aug. 31, signed to the Chiefs' practice squad two days later and waived from the squad on Oct. 1. Drakeford played in all four of the Chiefs' preseason games and had six tackles and a forced fumble.
The Giants had two openings on their practice squad because cornerback Charles James was signed to the active roster on Saturday (he made his NFL debut vs. the Eagles) and linebacker Ty Powell was signed off the squad by the Buffalo Bills.