EAST RUTHERFORD - Antonio Pierce, who continued the Giants' tradition of outstanding linebackers and was one of the vital contributors to their Super Bowl XLII championship team, was released today.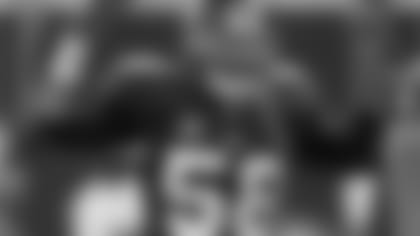 Antonio Pierce, who continued the Giants' tradition of outstanding linebackers and was one of the vital contributors to their Super Bowl XLII championship team, was released today.


Pierce, 31, led the team in tackles three times, was a three-year captain, a Pro Bowler in 2006 and one of the inspirational leaders of the squad that made the playoffs four times and did not have a losing season in his five years in a Giants uniform.
"A.P. came right in and took the bull by the horns from day one and was very instrumental in helping the New York Giants win a lot of games and accomplishing a lot of our goals during his time here," general manager Jerry Reese said. "He has been an outstanding Giant and we wish him nothing but the best for his family and future."
Pierce joined the Giants as a free agent in 2005 after spending four seasons with the Washington Redskins, the team he signed with as an undrafted rookie free agent. His first Giants season was cut short by an ankle injury. But he started 62 of the next 63 regular season and postseason games at middle linebacker before a bulging disc in his neck forced him to sit out the final seven games of the 2009 season.
"When we brought him in here we were interested in A.P. for all of the dimensions he brought to the table – his leadership qualities, his natural charismatic ability to rally the troops, he loved football, he's a very smart football player – he took great pride in studying the tape and knowing what everybody did on defense," Coach Tom Coughlin said. "He had the ability to communicate assignments on defense as the leader in the huddle. He was a three-time elected captain here with the New York Giants. He demonstrated great leadership. He has been an outstanding football player. Think of the screen play against Green Bay in the NFC Championship Game and the tremendous play that he made. Had he not made that play who knows where that ball would have gone?
"He has worn that Giant uniform very, very proudly."
Pierce led the Giants with 159 tackles in 2006 (when he became the first Giants linebacker to play in the Pro Bowl since Jessie Armstead in 2001), 116 in 2007 and 113 in 2008. He was at the forefront again before the bulging disc was discovered two days prior to the Giants' Nov. 22 victory over Atlanta.
Beyond the numbers, he was the heart and brains of the defense, an emotional, inspirational leader whose meticulous study of the next opponent enabled him to correctly position teammates before the snap and often predict which play was coming.
"When I came to New York I wanted to be a dominant player and help this organization win a championship, which we did in Super Bowl XLII," Pierce said. "I wanted to be a leader and I did that and was voted a captain for three years and another two years when we didn't have captains and I was still out there. I wanted to be a guy who always led by example, a guy you could count on every day. You never had to worry if A.P. was going to be at practice or if he was going to show up for the game. I was going to be there."
Asked what he is most proud of from his five years with the Giants, Pierce said, "Obviously, from a team standpoint, the Super Bowl. Personally, it's how the guys on the team looked at me. They looked at me as a guy that led. I led by example."
Pierce has played with uncommon determination and zeal throughout his nine-year NFL career. He believed he should have been drafted and arrived at his first camp with the Redskins determined to prove the teams that had passed on him had significantly erred in their judgment. After three seasons of part-time and special teams duty, Pierce started all 16 games for Washington in 2004.
That was Coughlin's first season with the Giants and both the coach and then-general manager Ernie Accorsi quickly noticed an opponent who seemed to be in the middle of every play. Pierce had 109 tackles that season and was a free agent at year's end. The Giants quickly moved in to secure his services.
"The one thing that has always been something that I've taken great stock in has been competing against players in the division and having a chance to see them firsthand twice a year," Coughlin said. "I felt from the other sideline that Antonio Pierce was a tremendous rallying point for the Washington Redskins when we played against him. He was an extremely strong leader, a guy who was very smart, an intelligent football player, a guy who could line his whole defense up. He was the kind of guy that participated on special teams. He just had a very, very competitive personality. The game was very important to him. If you studied his background, you knew why. He made himself into a football player. He was an undrafted free agent linebacker who did have the ability to play with some great players. He played with Jessie Armstead in Washington. He had these characteristics."
Pierce said he had a long talk yesterday with Coughlin and a meeting today with Reese. It is uncertain who will replace him in the middle of the Giants' defense. Chase Blackburn started the first two games after Pierce's neck injury was diagnosed before second-year pro Jonathan Goff stepped in for the rest of the season.
Pierce finished his final season with the Giants with 51 tackles (31 solo), three tackles for losses, a sack, two passes defensed, a forced fumble and a fumble recovery. His five-year totals with the Giants were 537 tackles (322 solo), 7.0 sacks, six forced fumbles, seven fumble recoveries and four interceptions. Pierce also had 44 postseason tackles (28 solo).
"I appreciate everything the Giants organization has done for me," Pierce said. "I told both Tom Coughlin and Jerry Reese when I sat in front of them that I have no animosity, I have no anger. It's nowhere near that kind of situation. You might not agree with everything that's said, but you understand how the game is. It comes and goes.
"I had support from everybody in the Giants organization from Mr. (John) Mara, Steve Tisch and everybody all the way down to Jose (Garcia), the guy that cleans the locker room. I appreciate everything. I have nothing but very strong love for the New York Giants. Obviously, I wanted to end it when my contract ended, but it didn't. It ended a year early. But I have no regrets. I have nothing to look back on and wish I had done it differently. Now it's time to look forward at the possibilities that I have."
If you'd like to submit a question or comment to Michael, click here.