FRIDAY: Day 5; NFL ExperienceSomeone flipped a switch in Indianapolis that hadn't been turned on in nearly a quarter of a century.
The magnitude of the buzz swirling around the capital city was seen once before in 1987 when the Pan American Games rolled into town. Now, 25 years later, The Hoosier State again rose to the occasion to host Super BowlXLVI, and deep-rooted locals still remember that hometown hype.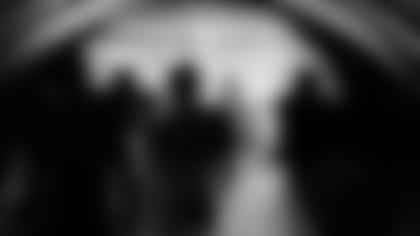 I caught up with some of them at the NFL Experience, a 500,000 square-foot interactive theme park set up in the downtown convention center.
"From the moment they announced it, we were excited and knew the city was up for it," said David Jenson, who has lived in Indy since 1975. "We were hoping it was our Colts team playing, but we have events like the Indianapolis500 and the Pan Am Games. But this is takes it to a whole new level. The cityis completely consumed with it."
Meanwhile, Julius and Vicki Jones, husband and wife, moved to the host city the year of the Pan Am Games, which coincidentally was the summer after the Giants won Super Bowl XXI.
"I've been down here waiting for a Super Bowl to come here,"Julius said in front of a room where fans could take their photo with the Vince Lombardi Trophy. "This is far and beyond anything. We had the Pan Am Games, but this is bigger and better. We volunteered for that, but this is much more of a larger scope.
The NFL Experience, which averages more than 100,000 fans in Super Bowl host cities, encapsulates the week long spectacle leading up to the championship. From autograph sessions to indoor football clinics and memorabilia showcases,the indoor event gives the residents a chance to taste the action without attending the actual game.
"This is a big deal," Jenson said. "I was really pleased we finally got it. I thought we were going to get it last year when it ended up being in Dallas. That didn't happen, but luckily we got it this year. They dressup the whole downtown and sometimes I can't even recognize it."
Day 3: WednesdayYou know in sports movies – or any genre, really – when a character effortlessly throws out a perfect one-liner? You think to yourself that no one in real life talks that way without the aid of a Hollywood writer.
That must come with nearly three decades of NFL experience working with tight ends. The position coach held court during Wednesday's media availability in the team hotel.
On being on the same staffs as Bill Parcells, Tom Coughlin, and Bill Belichick: "I guess if you talk about longevity, it's probably because I haven't had to go coach some guy standing out here who is afraid of a car backfiring or something like that. I've always had pretty tough guys."
On making it to another Super Bowl: "Only when we got to the Super Bowl, I hear from guys I sat beside in second grade – 'You got any tickets?'"
On Jake Ballard and Bear Pascoe: "If we're going to the Olympics and run the 100 meters now, you probably won't see either one of their names."
And last but not least, Pope on not showing your hand against Belichick: "Don't be the Western Union guy. Don't send them the message."
10:30 am Locked away in their film rooms, position coaches rarely break the code of silence within the Giants organization. When they met today with the general media, it was just the third time this season.
Since training camp, the last time the coaches spoke was before the bye in Week Seven. Meanwhile, there has been a lot to catch up on as players like Victor Cruz racked up nearly 1,400 yards while Jason Pierre-Paul notched 9.5 sacks in that time span. Not to mention piecing together a run at the Super Bowl.
Here are some of memorable moments of their media session held in the team hotel:
Defensive line coach Robert Nunn gave his glowing review of Pierre-Paul.
"He stays in balance about as good as any defensive linemen that I've been around," he said. "He can get in a bad situation and all of a sudden land on his feet and lock down and anchor big men. And he's just off to a great start with his career. It's going to be interesting to see if he continues to grow like he's doing in all areas on and off the field like he is right now. It will be interesting to see his career."
Mike Pope, the tight ends coach in his 29th season, can't imagine doing anything else.
"I'm virtually worthless if it wasn't for this profession," he said. "There's nothing else I can do. I don't know how to do anything else. But I never really wanted to do anything else, really. It's all I've ever done."
More than 20 weeks in, quarterbacks coach Mike Sullivan talked about the final push.
"Not only the players, but certainly as coaches there is an added energy once you get to playoff time," he said. "Everyone talks about the intensity of the game picking up and certainly preparations. I'm sure New England is not leaving any stones unturned, we are not leaving any stone unturned. So it's going to be a great, great game. At this time of the year, any type of fatigue is all worth it just to have this incredible opportunity. So we're definitely on our third, fourth, fifth, whatever, wind it is but we're going to ride it out."
Running backs coach Jerald Ingram talked about Tom Coughlin's effect as a coach this season.
"Having been with Tom for 20 years, there's one thing i can say about him: he's never quit on a guy," Ingram said. "Never quit on a guy no matter if it's a janitor or the position coach or the player, he's going to make sure he gets every ounce out of you to be the best person you can be, the best individual you can be and the best worker you can be. Do what you do and you're going to be OK."
DAY 2; Tuesday
12:12 The Patriots' session ended over an hour before, but Tom Brady was still hanging around in the stands during the Giants' slot at Media Day.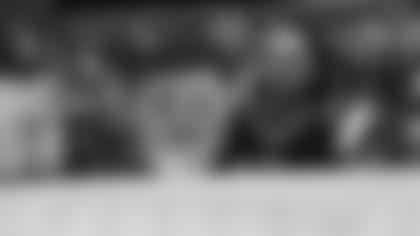 Well, a Tom Brady lookalike. And a pretty good one to boot.
"This is my Halloween costume last year," Fake Tom Brady, a Missouri native, said. "So I decided if I was going to come out to media day, I was going to throw it on. I'm kind of going with like a playoff, 2010 look with the rough facial hair and the longer hair."
Moments later, after a few other interviewers also reached up from the field to speak to him, Fake Tom Brady was asked to move away from the railing by stadium security. *
Fake Tom Brady's SB XLVI prediction: Patriots 31, Giants 24.*
12:37 Foreign members of the media always add a certain twist that you might not otherwise get.
Kicker Lawrence Tynes, who hit the game-winner in overtime to send the Giants to the Super Bowl, was asked about rugby players thinking they can make it in the NFL. Tynes spoke with the reporter from the UK-based Sky Sports network.
"I would say good luck, that's all I would say," Tynes responded. "It's not easy as it looks. There is a lot of timing involved. It's not just put a ball down and kick it. There are guys that are rushing, there are a lot of variables. But certainly anyone that's kicked the ball for a living would have an opportunity, but it's not as easy as it looks."
Meanwhile, Germany was represented by Sat.1, which is headquartered in Upper Bavaria. One of its reporters asked linebacker Mark Herzlich about his German heritage.
"I think everyone is over here now. My great-grandparents were over there still, but I think they've passed away now," he said. "But I know it's tradition in the family that everyone take a trip over there so I'll do that whenever I can at some point.
"I had to have been about nine or 10 and my grandfather wrote a book basically for the grandkids, for his kids to tell them about his whole process and our lineage of our family coming over during the war," said Herzlich. "It was probably a 700-page book just documenting everything in terms of the whole family history, family tree and everything they've been through. So I read all that, everybody read all that, and we do have a good idea."
The reporter then asked what he thinks of present-day Germany.
"I think of it as a very progressive place. It's a place that has had a lot of bad happen in the past and is doing amazing things now. And I think it's a real testimony to the culture and the type of person that lives there."
12:45Local media welcomed back offensive tackle Tony Ugoh, who is familiar with the host city. Playing for the Colts from 2007-09, he spoke about returning to Indianapolis.
"I don't really think of it as strange," he said. "I'm here for the Super Bowl. That's the emotion whether it was here or anywhere else. It's the same feeling, you're here for the Super Bowl. So it's definitely a great feeling.
"I still have a lot of contacts with the Colts as far as the players. I have some great friends here – Jeff Saturday, Ryan Diem, a lot of great people here that I still talk to. So I have my own thing going on, but I know it's pretty hard for them. It was a rough season."
Meanwhile, another lineman with ties to The Hoosier State was in a nearby scrum. James Brewer, a rookie out of Indiana University, grew up in Indianapolis.
"As soon I was straight with our [team] schedule, I went to see my mom," Brewer said. "She works…four or five blocks away from the hotel. I walked down to see her, a kiss and hug, took pictures with everybody working there, we got lunch and just talked for like two or three hours."
Despite being inactive all season, the fourth-round draft pick is soaking it all up.
"I've been blessed to be with a great group of veteran guys on the offensive line – Kareem McKenzie, David Diehl, Chris Snee, Kevin Boothe, who have all been in the Super Bowl before," Brewer said. "They all have at least five-plus years on them, and I just kind of learned not only what it means to be a Giant but what it means to be a professional in the league.
"Now I'm with guys who are grown men who have kids, have families, have wives," he continued. "I watch how they juggle being a husband and a father, but also being a professional athlete and protecting Eli Manning every Sunday."
12:54Media Day is an annual event that embraces the tremendous magnitude of the Super Bowl. Essentially an indulgence for members of the media, the spectacle is a last chance for some levity before the big push to the game, ranging from TV personalities dressed as super heroes to foam finger webcams.
However, there are moments of sincerity, and Jason Pierre-Paul embraced one of them.
The rising star at defensive end let a group of interested onlookers into the life of his family, more specifically his father.
Emigrating from Haiti before Jason was born, Jean Pierre-Paul has been blind for all of his son's life. Jason is known for his endless motor, and he attributes it to his dad.
"Just knowing my dad, my dad never quit no matter what," Jason said. "Since I was born, he couldn't see. But it is what it is. He never let that stop him. Most people, when something like that happens, they just think they're life is over. But that's not true. My dad can still do things like a normal person. He still cooks, watches my sister's and brother's baby when my mom's not home. He does things like a regular person.
"What I bring to the table to help my team out is that no matter what it is, we could be down 20 points, two touchdowns, I'm never going to quit. I'm going to keep rushing to the ball until the whistle blows and it's the end of the game. That's how I'm going to keep on playing."
His father will be in attendance on Sunday as well as the rest of his family. Pierre-Paul said it was the first time they will all be together for one of his games.
Meanwhile, his family is getting the hang of American football's biggest event of the year.
"Coming from Haiti, the only football they know is soccer," he said. "My mom, my dad, the only football they know is soccer. I was born in America and the only football I know is football. So the only football they know is soccer. But after the game, I'll call home and get their two cents about the game. They say I played great, keep on playing great. My dad, it's fun, because he just starts explaining about what I did in the game, and how the other team lost. He's got it down pat now. He's been watching football ever since I started."
Tuesday Morning: Radio Row
If you'll be listening to sports talk that's worth a lick this week, it's most likely coming from Radio Row beaming from the JW Marriott in downtown Indianapolis.
Located in a third-floor ballroom across from Lucas Oil Stadium (check out the photo below of its Lego rendition), more than a hundred sports radio shows from around the world descended on the host city and are broadcasting remotely from this epicenter.
From Sirius XM to FOX Sports and from ESPN Radio to WFAN, all the major networks are camped out with their press banners hung proudly.
"It's kind of like seating a huge wedding where everybody has a special request," Brian O'Connell, director of the operation, told NFL.com.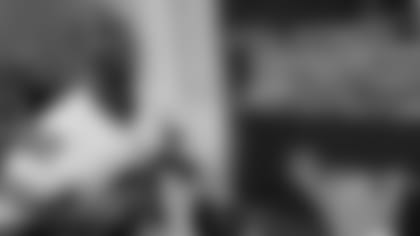 ](http://www.facebook.com/#!/media/set/?set=a.10150644118553455.451867.286845273454&type=1)
"When you get in here on Thursday or Friday, you can't swing a stick without hitting a celebrity. Especially on a Friday afternoon, there will be movie stars, Hall of Famers, Pro Bowl guys, everywhere you turn."
Giants.com, tucked in the middle of the complicated game of Tetris, came to you at 8:30 a.m. this morning with Big Blue Kickoff Live!
Paul Dottino and Anita Marks co-hosted their inaugural show from Super Bowl XLVI as guests wandered in and out of the annual sports radio holiday.
Guests included Gil Brandt, former Dallas Cowboys VP of player personnel, and current NFL analyst Sean Salisbury. Listen tomorrow as Dottino and Marks come at you live throughout the week from 8:30-9:30 a.m. on Giants.com.
From takeoff to touchdown, Giants.com takes you behind the scenes to keep you updated on Big Blue's road to the Super Bowl. Remember to keep checking back in for all the latest happenings in Indianapolis!
8:00 Arriving at the Timex Performance Center early Monday morning, players were greeted at the gate by news vans setting up to capture their afternoon sendoff. While the buses loaded up their equipment, players had an optional lift, breakfast and final meetings before the flight.
Noon A crowd gathered outside the players' parking lot in East Rutherford, snapping photos of the Giants as they boarded the buses to Newark International Airport. As the players funneled out of the facility and onto the buses, I caught up with a fan named John Davis of New Jersey.
"It's an amazing opportunity," said the 25-year old Davis. "I just wanted to see the team off and cheer them on. It's unbelievable. A month ago, I didn't know if it was going to happen, but here we are again. They've got this win. They're on a roll."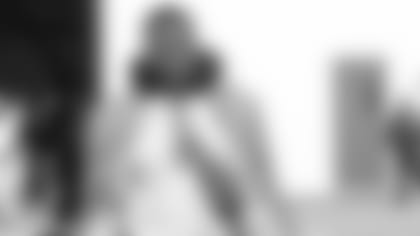 ](http://www.facebook.com/#!/media/set/?set=a.10150641537923455.451610.286845273454&type=1)
1:02 United Airlines Charter #1832 departs for Indianapolis.
2:47 Touch down in Indianapolis, home of Super Bowl XLVI.
Justin Tuck (@JustinTuckNYG91): NY @Giants have arrived
Jason Pierre-Paul (@DatBoyJPP): Feels good to be here thank you lord.
Victor Cruz (@TeamVic): Just touchdown in Indy town!
Mark Herzlich (@MarkHerzlich): 2 yrs ago I was told I might never walk again. Just WALKED off plane in Indy to play in The #SuperBowl.
"I cover different people all the time," Rolle said on Monday. "The little slogan on my shirt is 'Where 'Trel at?' You never know where I'm going to be. I never know where I'm going to be. Whatever is called, I just go and line up and take my responsibilities."