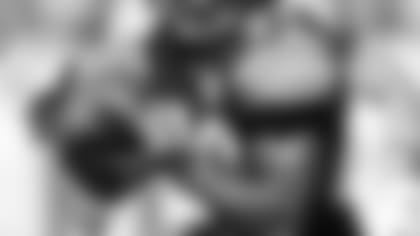 ](http://www.giants.com/media-vault/photo-gallery/Giants-sign-S-Ryan-Mundy/66fcab79-4e57-4c6e-9bfc-323736e97dd8)**
PHOTOS: RYAN MUNDY CAREER
EAST RUTHERFORD, N.J. –
The Giants today added much-needed depth and experience in the back of their defense when they signed free agent safety Ryan Mundy, who played his first four NFL seasons with the Pittsburgh Steelers.
Mundy, 6-1 and 209 pounds, played in all 16 regular-season games in each of those seasons, with five starts. He also played in four postseason games with a start in the 2011 AFC Wild Card Game in Denver.
Mundy's career totals include 79 tackles (64 solo), one interception, eight passes defensed and 61 special teams tackles. In the postseason he has eight tackles (five solo), two forced fumbles and four special teams tackles.
In 2012, Mundy started the season opener at free safety and the next two games at strong safety before settling into a reserve role for the remainder of the season. He had a career-high 27 tackles (23 solo) and 14 special teams tackles, plus a fumble recovery.
Mundy got his lone career interception on Nov. 27, 2011 at Kansas City, which he returned five yards. He also has a 33-yard reception from Daniel Sepulveda on a fake punt vs. Tennessee on Oct. 9, 2011.
Mundy joined the Steelers as a sixth-round draft choice from West Virginia in 2008, the 194th overall selection. He spent Pittsburgh's entire 2008 Super Bowl championship season on the practice squad. Two years later, Mundy played for the Steelers when they lost to Green Bay in Super Bowl XLV.
Mundy should compete for playing time with the Giants. Antrel Rolle and Stevie Brown are the current starters at safety. Former first-round draft choice Kenny Phillips agreed to terms with Philadelphia today.