EAST RUTHERFORD, N.J. –** Week 3 of the NFL season is far too early to label any game a "must-win." But history suggests the Giants will be in a much more advantageous position to make a playoff run if they defeat the Carolina Panthers Sunday in a clash of 0-2 teams.
No team has made the playoffs after a 0-3 start in 15 years, since the 1998 Buffalo Bills did it. According to the Elias Sports Bureau, since the current playoff format was adopted in 1990,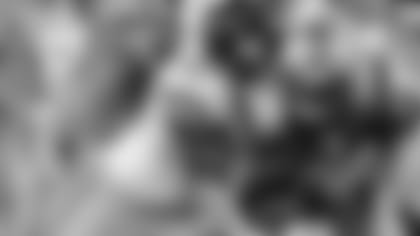 Updated Giants Injury Report
115 NFL have teams started 0-3. Only three advanced to the postseason play: the 1992 San Diego Chargers, the 1995 Detroit Lions and the '98 Bills.
Even without being aware of those numbers, some Giants spoke this week about having a greater sense of urgency.
"I would like to see us start faster on defense, offense and special teams and play faster," defensive end Justin Tuck said. "I would like to see that from myself and from everybody on this football team. There hasn't been a sense of urgency because we're not getting these two games back. We need to get this season started. Obviously, I don't believe this is a must-win game but I think we need to approach it like that."
The Giants lost their first two games to Dallas and Denver. Against the Cowboys, they trailed by five when they got the ball late in the game with a chance to pull out a win. But a late interception doomed their chances. Last week vs. the Broncos, they trailed by one point in the final minute of the third quarter before Denver rallied with three touchdowns in a little more than five minutes to put the game out of reach.
Those defeats did not shake the Giants' confidence.
"We feel that we're close," quarterback Eli Manning said. "We feel that we're close to playing good football. We know what the mistakes are, what the corrections that we need to make to get better and so I think there's still a positive energy around this team and we feel that we can straighten it out and start playing really good football real soon."
"We're a better football team (than what they've shown I the first two games)," safety Antrel Rolle said. "There's no doubt about it. Two minutes left in the third quarter last week and the score was 17-16 and then things just kind of went downhill. We understand who we are as a defense, but we also understand that we need to get extremely better and just play within the defense, play smarter, have a little bit more enthusiasm as a team and just go out there and make plays and just congratulate each other and just keep building. Keep building the momentum any way you can."
Cornerback Corey Webster is listed as doubtful for the game after missing practice for the second day in a row with a hip injury.
Webster has started 34 consecutive regular-season games, the third-longest streak on the Giants after Manning (137) and Antrel Rolle (50).
Aaron Ross is expected to start in his place.
"We have some guys who can go and Aaron is the guy that would go right away," coach Tom Coughlin said.
Ross' last start for the Giants was in Super Bowl XLVI. He started nine games last season for the Jacksonville Jaguars. He did not play a defensive snap last week vs. Denver.
"I go in preparing like I'm a starter," said Ross, who played extensively in the season opener in Dallas after Prince Amukamara suffered a concussion. "You never know what's going to happen, like the first week when Prince went down and I had to step in and know the plays, know what was going on, know the formations, know what (Tony) Romo likes to do. So I prepare like I'm a starter every week, no matter if I play or not. … If I don't, I'm going to be the biggest cheerleader on the sideline, and if I do, I'm going to be ready to play and ready to help the team win."
If Ross does play, the defense will have to change nothing.
"The way we look at it in our defensive room is that everyone is a starter," Rolle said. "You never know what's going to take place. It can be before the game, it can be during the course of a game, the guy has to be ready and step in. Ross has been a starter in this league for a number of years. He's played multiple positions for us, so we're not looking for any kind of letdown, we're looking for Ross to go in there and play ball, as he did going into the game against Dallas."
The Giants listed three players as probable: wide receiver Hakeem Nicks, who was excused from practice for personal reasons, guard Brandon Mosley (back) and quarterback Ryan Nassib (ankle). Mosley and Nassib were limited in practice.
Tackle David Diehl (thumb) and tight end Adrien Robinson will each miss his third consecutive game.
For the Panthers, safety Quintin Mikell (ankle); cornerbacks Josh Thomas (concussion) and D.J. Moore (knee); and running back Kenjon Barner (foot) have been declared out. Defensive tackle Dwan Edwards (thigh) and cornerback James Dockery (thumb/shoulder) are questionable.
Giants cornerback Terrell Thomas and Carolina linebacker Thomas Davis are the only NFL players to return to action after undergoing three surgeries to repair a torn ACL in the same knee. Thomas, who first had the surgery at USC in 2005, missed the previous two seasons after knee reconstruction. Thomas was supported by Davis throughout his rehabilitation and the two speak to each other regularly.
"It's going to be a great feeling," Thomas said. "Thomas is a good friend of mine. We've talked about the whole process. It's the first thing he said, 'Man, let's be the first two to ever do it.' That really pushed me and motivated me. I kind of wanted to change a little bit, not wearing a brace and showing kids that you can overcome any type of injury and still retain all of your God-given talent if you just have the right mindset and the faith in the right person.
"(Davis helped by) knowing exactly what I was going through, emotionally, financially, physically, everything. He knew exactly what I was going through. My mom didn't understand. Nobody did, but he did. Anything he said I held on to."
[
VIEW 5 PLAYERS WHO NEED TO HAVE BIG GAMES ON SUNDAY](http://www.giants.com/photos/photos/Players-to-watch-vs-Carolina/87b7bfeb-e40d-43a9-a0bd-30dbb00fc95a)