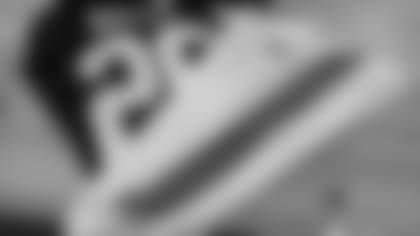 The Giants today unveiled a piece of the uniform they haven't worn since 1999 -- white pants.
First announced in late March, the team will wear the white instead of the traditional gray for select games in which they wear blue jerseys, either home or away. On Friday, equipment director Joseph Skiba said the plan is set for two games to be decided, pending NFL approval.
As shown in the photo, the white pants have a red stripe bordered by gray and blue lines on the outside. The gray pants, meanwhile, include a blue stripe bordered by gray and red ones. The Giants last donned white pants in 1999, the final season they had "GIANTS" on their helmets and all-white road uniforms. The following year, the Giants began wearing uniforms that featured the "ny" on the helmets and gray pants.