*Here are the storylines to follow as the Giants begin prep for the Bengals on Monday Night: *
KEEPING PACE IN THE  2ND HALF
Fresh off the bye week, the Giants picked up where they left off in London and won their third consecutive game with a 28-23 victory over the Eagles. Big Blue improved to 5-3 overall, 2-1 in the NFC East, and will host the Cincinnati Bengals (3-4-1) in an inter-conference matchup on Monday night at MetLife Stadium.


NEWS
>
[Cover 3: Underrated Performances](http://www.giants.com/news-and-blogs/article-1/Cover-3-Underrated-performances-vs-Eagles/3cde7c71-a543-40a7-9b3b-35c2c59622a2)
>
[Anatomy of a Play: Art of deception](http://www.giants.com/news-and-blogs/article-1/Anatomy-of-a-Play-Art-of-deception/9236d9d8-7341-4e2c-a4a7-3674c12bd1c9)
>
[Rookies ignite Giants vs. Eagles](http://www.giants.com/news-and-blogs/article-1/Upon-Further-Review-Rookies-ignite-Giants-vs-Eagles/e9407b45-2f6a-4262-a814-9d7080be64eb)
PHOTOS
>
[Giants.com hands out Game Balls](http://www.giants.com/photos/photos/Giantscom-hands-out-game-balls/f7bc6424-bdf3-4d24-98b4-d081ea931ebc)
VIDEOS
>
[Sights and Sounds: Giants vs. Eagles](http://www.giants.com/videos/videos/Sights-and-Sounds-Giants-vs-Eagles/fec6f570-04e0-4ded-9a9e-70d6ceefd30e)

Dallas remains the frontrunner in the division after recording its seventh win in a row and improved to 7-1 at the midway point of the season. The Giants are in second place by themselves, ahead of Washington (4-3-1) and Philadelphia (4-4). This week, they'll look for their first four-game winning streak since 2013.
"That sounds good," wide receiver Odell Beckham Jr. said. "Just trying to win the division. Starting one game at a time. Get to the playoffs, hopefully. I haven't had a chance to be in a playoff game. It's a one-game-at-a-time thing. You can't look forward to that.
"You have to look forward to next Monday. How we're going to prepare for them and come out with a win -- 5-3, hopefully we can go to 6-3. That puts you in a pretty good place, especially with the other teams in the division. Dallas, they're playing at a high, high level. You have to keep winning."
Left guard Justin Pugh sprained his knee in the second quarter of Sunday's game and is "going to miss some time," according to Ben McAdoo. The head coach did not know how long when speaking to reporters on Monday. Former CFL star Brett Jones played 50 snaps in place of Pugh, his most since the 2014 Grey Cup when he was with the Calgary Stampeders.
Meanwhile, wide receiver Victor Cruz sprained his ankle and was scheduled to undergo an MRI. Cruz had just one catch against the Eagles, but it was a 46-yarder that set up Beckham's second touchdown from Eli Manning. Safety Darian Thompson (foot), defensive end Kerry Wynn (concussion) and backup quarterback Ryan Nassib (right elbow) were all inactive in Week 9 due to injuries.
ROLES CHANGING ON THE ROSTER
The coaching staff alluded to some personnel changes coming out of the break, and we saw that come to fruition in the first game back. On offense, carries were split evenly between rookie running back Paul Perkins and veteran Rashad Jennings with 11 apiece. Larry Donnell, the previous starter at tight end, took zero offensive snaps, while Will Tye was targeted seven times (only Beckham, with 10, was targeted more). Rookie sixth-round pick Jerell Adams also carved out a role and had three receptions. Undrafted rookie wide receiver Roger Lewis, who has two touchdowns on three career catches, also saw more work with Cruz banged up.
On defense, undrafted rookie Andrew Adams solidified a role opposite Landon Collins with Darian Thompson sidelined and Nat Berhe returning from a concussion. The UConn product grabbed his first career interception off Carson Wentz. Additionally, third-year linebacker Devon Kennard, who normally lines up on the strong side, got some work inside.
"That's how I grew up in this business, to get young players and everyone involved in game days that is up," McAdoo said. "Give them all the support they need to be successful. The way to get young players acclimated to the varsity team is to get them out there and get them going. When the snaps get to December and January, it's not too big for them. It's not the first time they're on the field."
In their last time out, the Bengals played to a 27-27 draw with the Redskins in London. They are third in the AFC North with wins over the Jets, Dolphins and Browns. Their four losses were to teams with a combined record of 24-9: Patriots (7-1), Cowboys (7-1), Broncos (6-3) and Steelers (4-4).
Offensively, Cincinnati is sixth in total yards per game (395.4), fourth in passing (275.1), seventh in rushing (120.3), and tied for 21st in scoring (20.9 points per game). Wide receiver A.J. Green is first in the league, averaging 112.0 receiving yards per game. Defensively, the Bengals are 25th in yards (378.5), 21st against the pass (262.4), 23rd against the run (116.1), and tied for 19th in points allowed (23.6).
RING OF HONOR, CLASS OF '16
Giants legends Tom Coughlin, Ernie Accorsi and Justin Tuck will be inducted into the team's Ring of Honor during a ceremony at halftime. With their inclusion, 42 people have now received the franchise's highest honor. Accorsi will be the Ring of Honor's second general manager (George Young), Coughlin its fourth head coach (Steve Owen, Jim Lee Howell and Bill Parcells), and Tuck its fifth defensive end (Andy Robustelli, George Martin, Michael Strahan and Osi Umenyiora). The three spoke with Giants reporters on Tuesday.
"To have the family name along with the (41) great names of what is being recognized as the finest Giants of all-time is of real significance to me," Coughlin said. "And I think back to my mother, God bless her, when I was named the head coach of the New York Giants, she was very sick at the time and I had an opportunity to get up to central New York to see her on occasion and I can remember her saying, 'Thank God for the Giants.'"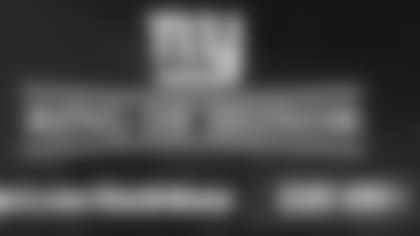 ](http://www.giants.com/roh/roh.html)