EAST RUTHERFORD, N.J. – The challenges keep coming for the Giants defense.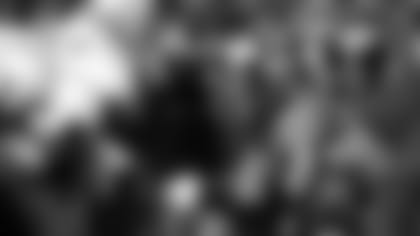 Players to Watch vs. Chargers On Sunday, for the third time in four games, the Giants will face an offense ranked in the NFL's top seven in yardage when they visit the San Diego Chargers in Qualcomm Stadium. They played well in defeating both Green Bay (currently No. 5) and Washington (No. 7). Each of those teams also has top 10 rushing attacks (Washington is first, the Packers are eighth).
The Chargers present a different test. Their offense is ranked fourth in the NFL, averaging 401.6 yards a game. But while San Diego is 21st in the league in rushing, it is fourth throwing the ball, averaging 292.4 passing yards a game. It is the second highest-ranked passing attack the Giants have faced this season (Denver is No. 1).
"(They have) a great offensive football team," safety Antrel Rolle said. "Despite their (5-7) record, I think they have a lot of weapons."
The most important is Philip Rivers, the quarterback who was drafted by the Giants and traded to San Diego for Eli Manning on Draft Day, 2004. Rivers' 70 percent completion rate leads the NFL and he is fourth in the league with 3,633 yards and fifth with 23 touchdown passes. Rivers has thrown just nine interceptions.
"I think the system that he's running right now with the weapons that he has, he's really doing a nice job of just getting the ball out," defensive coordinator Perry Fewell said. "He knows where he wants to go with the football. He's taking advantage of either man coverage, zone coverage, double coverage. We saw some people, Kansas City double (Antonio) Gates and then he hits another, so he's got some good weapons that he uses and really he's a smart quarterback. I think the biggest improvement I've seen just from studying him last year to this year is his ability to get the ball out quick."
Fewell wasn't with the Giants the last time these teams played, on Nov. 8, 2009 in Giants Stadium. But those who were in uniform that day haven't forgotten it.
The Giants led, 20-14, when the Chargers took possession at their own 20-yard line with 2:05 remaining in the game. Rivers completed five passes on an 80-yard drive that ended with an 18-yard touchdown pass to Vincent Jackson with just 21 seconds left to give San Diego a 21-20 victory.
"We let Phillip Rivers edge us out last time in the two-minute drill, so that left a salty taste in my mouth," cornerback Terrell Thomas said. "I think we're excited to get back and challenge them again. They're a good team, their record doesn't show but they've competed hard and kind of had some injuries along the way, so we've got our work cut out come Sunday."
Rivers' fellow ballhandlers aren't all household names, but they are productive and efficient. Ryan Mathews leads the Chargers with 782 rushing yards, while Gates, the eight-time Pro Bowl tight end, is the leading receiver with 64 catches. Starting wideouts Vincent Brown and rookie Keenan Allen have combined for 91 catches and slot receiver Seyi Ajirotutu has caught seven touchdown passes.
But San Diego's most intriguing offensive player is 5-8 running back Danny Woodhead, the former New England Patriot, who is second on the team in both rushing (288 yards and two touchdowns) and receiving (61 catches and five scores).
The Giants have faced bigger, more powerful backs like Eddie Lacy and Alfred Morris in recent weeks and now must adjust to the quicker Woodhead.
"It's going to be a challenge for us to do that," Fewell said. "They have several good backs and Woodhead is a change of speed back. That's something that we really haven't seen as much this year. It's going to take us probably a lot of focus and concentration on him being able to dart in and out and getting hats to the ball to control him."
"I think most of the film we've watched you see how guys underestimated his strength or his running ability and took him for granted in some ways," defensive end Justin Tuck said. "He's been, I don't want to call him a gnat, but he's been a thorn in a lot of guys' sides, running the ball and catching it out of the backfield. They use him a lot and he's a huge part of their offense and we're going to have our hands full trying to neutralize their weapon."
The Giants' offense will also have its hands full dealing with a defense that presents numerous fronts and coverages.
"More than anything, they're a pressure-oriented team that would like to do anything they can to keep you off balance," offensive coordinator Kevin Gilbride said. "They probably have as wide an array of blitz packages of anybody that we've faced. It's very well-disguised, that's the best word, it's camouflaged. Normally we would say they're over here, alright we can make an adjustment to the protection to handle something. Okay, they're over here, but they do a terrific job of disguising."
"I see a talented team," Manning said. "They do a good job of getting to the quarterback. They have a number of different looks and blitzes and have good players across the board. Their offense has scored a lot of points and is effective, so we're going to have to go out there and play great football if we expect to win."