EAST RUTHERFORD, N.J. –** Tom Coughlin gave David Wilson a simple yet vital directive this week.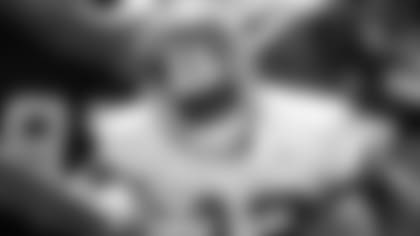 Photos from Giants practice](http://www.giants.com/photos/photos/Photos-from-Practice-104/f4066fd8-3862-420e-a879-025a85679e78) "I told him the other day we need him to get in the end zone and that's what I'm looking for," Coughlin said.
Perhaps nothing would boost the Giants' ailing offense more than a big game from Wilson, of whom so much was expected prior to the season. The Giants released Ahmad Bradshaw on Feb. 6 in part because of their confidence that Wilson, their first round draft choice in 2012, was ready to become the team's No. 1 running back.
Wilson does lead the Giants in rushing. But he's run for only 130 yards and averaged 3.4 yards a carry in four games. His two receptions gained only eight yards. And he has yet to score a touchdown.
But Wilson is not putting pressure on himself to get into the end zone on Sunday, when the Giants will try to win for the first time this season against the Philadelphia Eagles. He's adhering to Coughlin's mantra that it's all about the team.
"I don't think he really cares who gets in the end zone, just as long as we get in the end zone more than the other team," Wilson said. "That's the main thing and I definitely want to be a part of the group that's in the end zone. That's a good feeling. That's what we work for and play for as offensive players. We want to score touchdowns."
Wilson could get more opportunities to score against the Eagles. The Giants this week waived Da'Rel Scott, who was second on the team in carries and had eight more receptions than Wilson. Coughlin said this week that Wilson and Brandon Jacobs will now split the workload at running back, though the latter's role will include heavy doses of short-yardage and goal line work – if such opportunities are available.
That leaves the bulk of the work for Wilson. Is he ready to shoulder that load?
"We'll see," offensive coordinator Kevin Gilbride said. "We hope so. Certainly, that's why he was drafted and that's what we're looking forward to."
Gilbride, however, hinted that going forward, Wilson must be more solution and less problem.
"Like all of the new guys we have, David is one of many that they continue to progress far enough where we cut down on the mistakes, give ourselves the best possible chance of winning," Gilbride said. "Right now, we're still making too many errors and not making enough plays. We certainly believe that those guys have the ability. They're certainly working hard enough to get better and it's just a matter of, hopefully it will come together for us. That's what we're striving for."
Wilson's most glaring errors occurred on opening night in Dallas, where he lost two fumbles in the Giants' 36-31 loss to the Cowboys. After the second turnover, he was replaced by Scott and sat out most of the last two quarters. Coughlin can't abide turnovers and made it clear Wilson must secure the ball to stay on the field. Now he needs the second-year pro to produce and he's confident that will occur.
"He doesn't get down," Coughlin said. "That guy is pretty good about being up and staying up. He's a battler and a fighter, so I really think David is fine. I don't see any emotional setback or anything. As a matter of fact, after the first week, he came rolling right back and tried to solve all those issues."
For Wilson, putting that behind him is part of his makeup.
"I just always looked at the positive side of things," he said. "Even if the worst thing happens, there's something you can learn from it. If you're still breathing, you can learn from it and fix it in the future."
Perhaps facing an Eagles defense that has allowed more yards than any team in the league will be a tonic for Wilson. He had one of the best games of his short pro career against Philadelphia in the 2012 season finale when he had a career-high 15 carries for 75 yards and caught a 15-yard touchdown pass. Last week in Kansas City, Wilson had season-high totals of 13 attempts for 55 yards.
But he wouldn't bite this week when asked if he is anxious to show everyone what he can do.
"Just show my teammates that we can win games and play as a team and win as a team and go out there and be productive," Wilson said. "The first quarter of the season was real bad. We didn't win a game. That's a bad taste in our mouth, so we'll be playing the rest of the season with a chip on our shoulder."
Coughlin's wish is that Wilson carries that chip into the end zone on numerous occasions.
*Gilbride was asked what he can count on from the Giants' offense.
"I think if we give the quarterback time, I think very confidently he'll throw the ball well and give our guys a chance," Gilbride said. "I think we are getting better in the running game. The last two weeks, as bad as it's been, it's been improving and it's something we're looking for to see continued development with. I think we're headed in the right direction. Unfortunately it's been painfully slow.'"