The former Panthers GM and former Giants Senior Pro Personnel Analyst Dave Gettleman interviewed on Wednesday: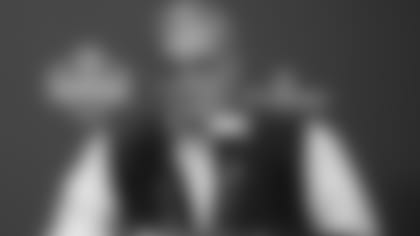 EAST RUTHERFORD, N.J. – Dave Gettleman, a 30-year NFL veteran who spent four seasons as the Carolina Panthers' general manager and 15 as a personnel executive in the Giants organization, today interviewed for the vacant Giants' general manager's position.


NEWS
>
[Giants vs. Cardinals Storylines](http://www.giants.com/news-and-blogs/article-1/Giants-vs-Cardinals-Storylines-What-to-watch-for/afcf1f19-28e6-45e5-abff-0ecec40c56bc)
>
[Collins named starter in Pro Bowl](http://www.giants.com/news-and-blogs/article-1/Landon-Collins-named-2018-Pro-Bowl-starting-safety/cdf59ecf-58c7-4c81-a8ea-c4f46976af24)
>
[Inside the Numbers: Eli's records](http://www.giants.com/news-and-blogs/article-1/Inside-the-Numbers-Eli-climbs-record-books/57d111e6-c9a9-4ccc-ba21-3ae3464f9381)
PHOTOS
>
[Know Your Opponent: AZ Playmakers](http://www.giants.com/photos/photos/Know-Your-Opponent-Cardinals-Playmakers/2f2c9860-2a55-4b49-93bf-eb98ae6d77cc)
VIDEOS
>
[Here's the Diehl: Giants Pride](http://www.giants.com/videos/videos/Heres-the-Diehl-Keep-playing-with-Giants-Pride/dc5b1623-bba5-4611-a01b-9ac74102e5c7)

Gettleman interviewed with team president John Mara, chairman Steve Tisch, and former general manager Ernie Accorsi, who is consulting with the franchise on the selection process. Gettleman joined the Giants in 1998, which was Accorsi's first season as general manager.
From 2013-16, Gettleman was the general manager of the Panthers. In his four seasons, Carolina was 40-23-1 and won three consecutive NFC South titles. In 2015, Gettleman was named The Sporting News NFL Executive of the Year after the Panthers finished an NFL-best 15-1 and advanced to Super Bowl 50. He was dismissed by Carolina on July 17.
Gettleman has been a part of seven Super Bowl teams, including three winners. He was with Buffalo in 1990 and 1991, Denver in 1997, the Giants in 2000, 2007 and 2011, and the Panthers in 2015. The Broncos and the 2007 and 2011 Giants won the championship. Gettleman has been associated with 16 playoff teams in his NFL career.
Gettleman, 66, joined the Giants in the spring of 1998 as then-pro personnel director Tim Rooney's assistant. He was promoted to pro personnel director in the spring of 1999 upon Rooney's retirement. Gettleman stayed in the position 13 years, traveling constantly to scout the Giants' upcoming opponents and developing a thorough knowledge of every player in the NFL.
In 2012, his final season with the Giants, Gettleman was the team's senior pro personnel analyst.
Gettleman entered the NFL in 1986 as a scouting department intern for the Buffalo Bills. He became a full-time scout for Buffalo after the 1987 draft. Following a year as an area scout, Gettleman was assigned as the Bills' representative to the BLESTO scouting combine and continued in that capacity through the 1992 draft as the Northeast area scout. From June 1992 through December 1993, Gettleman worked as a regional scout for BLESTO, concentrating on the East and Midwest regions. In January 1994, Gettleman joined the scouting department of the Broncos, for whom he spent more than four years scouting the East and Southeast.
Gettleman began his football career as a teacher-coach at Spackenkill High School in Poughkeepsie, N.Y. As the head coach (1973-1978, 1980-1981), he led his teams to a pair of league titles. He spent a season as a volunteer assistant at Cal State Long Beach (1979). Gettleman joined the faculty of Kingston High School in 1982 and became the head coach in 1984, when he led his team to a Section I Bowl Berth.
Born in Boston, Gettleman earned a bachelor's degree from Springfield (Mass.) College in 1972. He was an offensive tackle on the freshman football team. Gettleman has two master's degrees: one in physical education from Southern Connecticut State (1978) and another in sports administration (1986) from St Thomas University in Miami.
Gettleman is the second candidate to interview for the Giants' GM position. On Monday, Marc Ross, the Giants vice president of player evaluation, interviewed with Mara and Accorsi and met with Tisch yesterday.