*The Giants have interviewed Louis Riddick, former NFL player and personnel executive and current ESPN analyst, for GM: *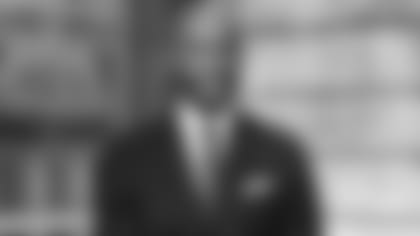 EAST RUTHERFORD, N.J. – The Giants today continued their search for a general manager by interviewing Louis Riddick, a former NFL player and personnel executive who is currently an ESPN analyst.

Riddick interviewed with team president John Mara, chairman Steve Tisch and former general manager Ernie Accorsi, who is consulting with the franchise on the selection process. Riddick is the third candidate to interview for the job, joining Marc Ross, the Giants' vice president of player evaluation, and Dave Gettleman, the former Carolina Panthers G.M. who previously spent 15 years in the Giants organization as a personnel executive.
Former general manager Jerry Reese was dismissed on Dec. 4.
Riddick, 48, is the first candidate with no previous ties to the Giants to interview for the position. He does, however, have 13 years of experience in the front offices of two NFC East teams.
After his playing career, Riddick worked in personnel for the Washington Redskins, first as a pro scout (2001-04) and then as director of pro personnel (2005-07). In 2008, he joined the Philadelphia Eagles as a pro scout. The following year, he was promoted to assistant director of pro personnel, and from 2010-13 Riddick was the team's pro personnel director.
Riddick, who played collegiate football at the University of Pittsburgh, entered the NFL as a ninth-round draft choice of the San Francisco 49ers in 1991. A safety, he first played in 1992, for Atlanta, and in six seasons (1992-98; he did not play in 1997) Riddick played in 94 games with eight starts for the Falcons, Cleveland Browns and Oakland Raiders. He started the only two postseason games in which he played, for the 1994 Browns.
Riddick also played for the Arena League's Sacramento Surge (WLAF) in 1992, and Orlando Rage (XFL) in 2001.
Riddick has been an on-air NFL analyst for ESPN since September 2013.