EAST RUTHERFORD, NJ - The number could not stand out more if it was written in fluorescent pink: 61. That's how many rushing yards the Giants had in their 27-17 loss to the Eagles in Philadelphia on Nov. 21.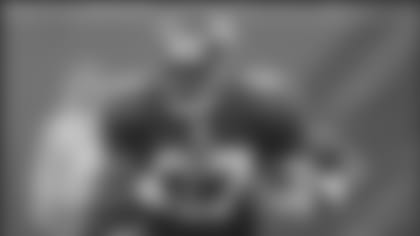 The figure is impossible to ignore when scanning the Giants' game-by-game statistics, because that was the only one of their 13 games this season in which they failed to run for at least 100 yards. The Giants are ranked second in the NFL in rushing, averaging 148.3 yards a game, so the small output in Philly was an anomaly.
On Sunday, the Giants and Eagles will meet in a critical rematch in New Meadowlands Stadium. Both teams are 9-4 and the winner will be the favorite to capture the NFC East title and perhaps a first round playoff bye. The Giants have often succeeded in these bruising, high-stakes, late-season NFC East showdowns because of their productive ground game. This week doesn't figure to provide an exception to that rule.
"It's going to be huge to get it going," Brandon Jacobs said.
The ineffective rushing attack wasn't the only offensive shortcoming that plagued the Giants in Philly last month. Perhaps more crippling were the team's five turnovers, including three interceptions. The Giants will likely have to both run the ball and secure it better if they are to stand alone in first place on Sunday night.
"We didn't have much success running or throwing and our defense was able to rise up and hold them to one out of five in the red zone," Coach Tom Coughlin said. "The turnovers were ridiculous, to be honest with you. The numbers were way down, yet we're ahead in the fourth quarter. They have made quite a habit of winning in these close games in the fourth quarter if you look and study and see where they're at, including the other night (in the Eagles' 30-27 victory in Dallas). There are a lot of clear objectives here, one of which is that offensively we've got to get going, we've got to do our job, we've got to hold the ball, we've got to move the ball, we've got to be able to run the ball against a very good defense."
The Giants will try to crank up their rushing attack, because every minute they own the ball is a minute Michael Vick and the explosive Eagles' offense doesn't have it.
Fortunately for the Giants, their run game seems to be hitting its stride at the right time. In the three games since the loss in Philadelphia – all victories – the Giants have averaged 181.7 yards a game on the ground. They ran for 197 and 213 yards, respectively, in defeating Washington and Minnesota in their last two games.
"I just think the continuity between the offensive line and the running backs," left tackle David Diehl said. "We're a blue collar group and we have confidence in those guys because we know if we open up holes for Brandon and Ahmad that they're going to run extremely hard and they're going to do everything they can to keep it going."
Jacobs went for 103 and 116 yards against the Redskins and Vikings, his first 100-yard games since 2008. On Monday night, Ahmad Bradshaw joined him with 103 yards. It was just the second game in Giants history in which two backs each rushed for at least 100 yards.
The Eagles, meanwhile, had a stretch in which they held their opponents to less than 100 rushing yards five times in six games, the last of which was the Giants' 61-yard output. Since then, Philadelphia's run defense hasn't been as strong, allowing 131, 108 and 110 yards to Chicago, Houston and Dallas. But the Giants know they face a formidable challenge in trying to run against the stout Eagles front.
"They've just got a great scheme," Bradshaw said. "We play them twice a year every year, and they bring a great scheme playing us. All we can do is just handle their schemes. Just playing our game and staying focused is going to help us."
The Giants' rushing attack could get a boost from the return of center Shaun O'Hara, who has missed six games with a sprained foot. O'Hara again practiced on a limited basis today.
"He did more (than he's been able to do)," Coughlin said.
If O'Hara returns, Rich Seubert, who has played extremely well at center in his absence, would presumably shift back to left guard.
"We're getting the whole crew back together and getting the band back together," Seubert said. "The more the merrier. We said guys will be back, and they're coming back. We're happy to have everybody out there practicing, and we'll see how it goes during the course of the week. But it's like riding bike. We've been out there, we've played together for many years, we've played against these guys for a few years now together. So the more the merrier. We've all got to be out there ready to go."
In addition to O'Hara, Diehl returned to action Monday night after missing four games with hamstring and hip injuries. Shawn Andrews has missed the last three games with back issues after starting the previous three at left tackle. But he could have a role on Sunday.
"Shawn is pretty much doing – we are calling it limited – but he does pretty much everything," Coughlin said. "We are just trying to find out to what extent – where he is the next morning."
"I think coach Coughlin has devised a plan for me, and what that will be is yet to be determined, I guess," Andrews said. "But hopefully I can – I want to jump back in there so bad."
Because of the injuries, Kevin Boothe and Will Beatty both played key roles in holding the line together until the starters returned.
"I think with all the different changes in the offensive line, movements here and there, I think our offensive line coach – coach (Pat) Flaherty – deserves a lot of credit," Diehl said. "He always says, even when we start in training camp, 'Everybody in this offensive line room is here for a reason. Whether it's now, whether you're a backup now, we're all going to have to contribute to the season.' I was just excited to be back out there last week and to be able to help out and to win the football game."
"Our front has been doing a great job," Bradshaw said. "They've been doing a great job of handling the guys on the defensive front, and all we can do is just run through those holes."
Sounds like a perfect game plan for Sunday.
*Linebacker Michael Boley did not practice because of what he called a shoulder "contusion," but both he and Coughlin said the injury is not serious.
"It's just a precaution," Boley said. "It wasn't anything major. It was kind of dinged up a little bit, and I'm sure I'll be ready to go tomorrow."
"He didn't practice today," Coughlin said. "We think he will tomorrow."
Wide receiver Devin Thomas (hamstring) also missed practice.
*Guard Chris Snee returned to work on a limited basis after missing yesterday's jog-thru with a sore hip. In addition to O'Hara and Andrews, also limited were wide receiver Mario Manningham (hip flexor) and defensive ends Justin Tuck (abdomen) and Osi Umenyiora (knee).
*For the Eagles, wide receiver DeSean Jackson (foot) and rookie Keenan Clayton (hamstring), who is expected to start at middle linebacker for the injured Stewart Bradley, did not practice. Cornerback Asante Samuel was limited with a knee injury.
*The Giants placed wide receiver Steve Smith on injured reserve, officially ending his season. Smith suffered a knee injury Monday night in the victory over Minnesota in Detroit.
Smith is scheduled to undergo surgery on Tuesday at Hospital for Special Surgery to repair the articular cartilage injury to his left knee. The procedure will be performed by team physician Dr. Russell Warren.
"The doctor said that he expected him to make a full recovery," Coughlin said. In time for next season? "That is what I have been told," Coughlin said. "Non-weight bearing for a while and then progress very slowly, obviously. But hopefully if it all goes well, then what the doctor is projecting will be true."
Smith's roster spot was taken by tight Jake Ballard, who was signed off the practice squad. This is the second time this season Ballard has been promoted to the active roster. It last happened prior to the first Philadelphia game, in which Ballard played briefly. Ballard was waived later that week and re-signed to the practice squad.
To fill his spot on the practice squad, the Giants signed safety Ben Hannula, who played for the Hartford Colonials in the United Football League.