The wind called for it. Andre Brown and Brandon Jacobs answered it. The outcome defied it.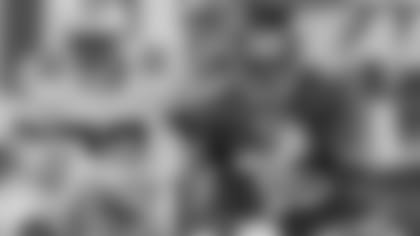 View Gameday Photo Gallery A 200-yard rushing performance and a favorable time of possession tend to make a winning formula in a blustery, divisional game in MetLife Stadium. The Giants had both, but it wasn't enough in a 24-21 loss to the Dallas Cowboys on Sunday, ending Big Blue's four-game win streak after starting 0-6.
"I'm not going to say what we could have done, and if ifs and buts were candies and nuts, it would be Christmas every day," Brown said. "So just go out there and play ball and go on from there."
Playing in his third game back from a fractured leg, Brown led all rushers with a career-high 127 yards on 21 carries. Pile on Jacobs' 75 yards on nine attempts, and the two combined for 202 yards with an average of 6.7 per carry.
That's quite a stride for a team that entered Week 12 as the 29th-ranked rushing offense in the NFL, averaging 77.0 yards per game.
"I just think that our offensive line was just out there playing very physical, and we were pushing guys back," Brown said. "And we went out there, found easy holes, and hit the holes."
However, for all the yards and first downs gained on the ground (11), neither Brown nor Jacobs found the end zone for a touchdown (Brown would run in for a successful two-point conversion to tie the game late in the fourth quarter), including on two trips inside the Cowboys' 10-yard line in the first half.
"I mean, it's always good to be able to control the line of scrimmage, get the clock going, but we got to put up more points," Jacobs said. "We are getting down in the green zone, we are getting down in that area, we have to score points."
While field goals didn't cut it, a feasting ground game doesn't do much good when the opposing offense is driving for the game-winning score.
"It's always tough, you know, when you are on the sideline and you can't do anything about what's going on," Jacobs said. "It's always painful."