EAST RUTHERFORD, N.J. –** Bill Parcells' Hall of Fame tour came home Sunday, to the county in which he grew up and in a stadium that sits a long pass from where he did his most renowned work on an NFL sideline.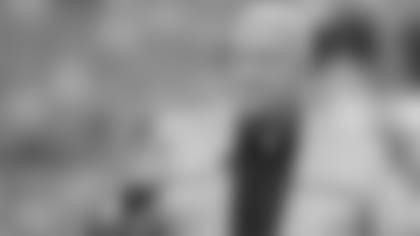 View Photos from Halftime Ceremony](http://www.giants.com/photos/photos/Photos-Bill-Parcells-HOF-Ceremony/ae019d86-a871-4da7-b19c-50dd4acd60ac) The former Giants coach was in MetLife Stadium, where he received his Pro Football Hall of Fame ring during a ceremony at halftime of the Giants' 41-23 loss to the Denver Broncos. Parcells, who led the Giants to victories in Super Bowls XXI and XXV during his eight seasons as their head coach (1983-90), was enshrined in the Hall on Aug. 3
"I had an opportunity to meet a lot of people and have a lot of friends I've coached, coached with and played against," Parcells said. "It's what pro football is supposed to be about. I'm one of the lucky ones. And, of course, this is a special place for me. This is where I'm from. Pretty close, right up the road there (Parcells was raised not far from the Meadowlands in Hasbrouck Heights and Oradell, N.J., where he was a fervent Giants fan).
Parcells was joined at the ring presentation by the other five living Giants Hall of Famers: Y.A. Tittle, Sam Huff, Frank Gifford, Harry Carson and Lawrence Taylor. The latter two were among the very best players Parcells coached in a career that also took him to the New England Patriots, the Jets and the Dallas Cowboys.
That same group of pro football royalty was feted by the Giants Saturday night at a dinner at the famed Manhattan restaurant, 21. Parcells is the 19th Hall of Famer to spend all or a significant portion of his career with the Giants.
Team president and chief executive officer John Mara addressed the attendees at the Saturday night dinner.
---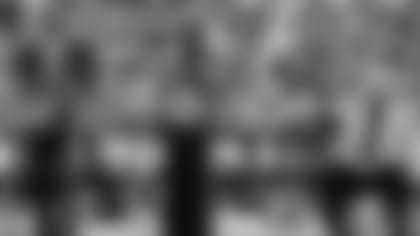 ---
"It's a special occasion as our old coach Bill Parcells goes into the Hall of Fame and gets his ring," Mara said. "We're excited about that. It's also great to see all of our old Hall of Fame players here. I want to thank the people from the Hall of Fame for being here to take part in the ceremony. You Hall of Famers, each one of you hold a special place in Giants history. You've done so much for us and I have to tell you, my father loved each one of you like you were his own son. In fact, I think maybe even a little bit more. On behalf of my family I just want to thank you for everything you've done for our organization to make us the franchise that we are today. We really appreciate that. Bill, congratulations on your long overdue induction into the Hall of Fame. Let's raise our glasses for a toast to Bill Parcells and all of our Hall of Famers that are here tonight."
Parcells learned of his election to the Hall of Fame on Feb. 2. Six months later, dozens of his former players, assistant coaches (including Tom Coughlin) and colleagues, as well as numerous family members and friends, traveled to Canton for the induction ceremony. Parcells was part of a seven-member class that includes Jonathan Ogden, Larry Allen and Cris Carter.
The opportunity to spend time with the Giants' other Hall of Famers seemed just as meaningful to Parcells.
"I'm grateful for it and that the Giants would take the time to have this," Parcells said. "I know all of the guys, Sam Huff, Y.A., I watched them as a young boy being a Giants fan, so that's special. Frank as well. And then, of course, the modern era guys, my players being here, that's special as well."
"It is something very, very special," Carson said of the gathering of Giants royalty. "To be in the room with these Hall of Famers and legends of the game and legends of the Giants organization was something that I never really thought about in the past, but I'm so honored to be a part of it. When I go to the Quest (Diagnostics Training) Center and I see the (photos of) Hall of Famers on the wall and to see my picture be a part of that group, I'm honored. I was even more honored to be in the same room with these guys tonight along with members of the Mara family, Tisch family and to be recognized is something really, really special."
Taylor makes few public appearances, but he attended both the dinner in New York and the ring ceremony in the stadium.
"It's one thing to be a great player or a good player or a New York Giant but to be a Hall of Famer is a little bit different," Taylor said. "It's a little bit more special. I think it's a good idea for the Giants to get together and get all of the Hall of Famers together, because a lot of those guys I never really interacted with. Of course, I interacted with Harry and would interact with Bill but some of the older guys, it's good for us to interact with them. It's special. There is only a handful of Hall of Famers and I think it's good for us to get together."
In his 19 seasons as an NFL head coach, Parcells was 172-139-1 (.569) in the regular season and 11-8 (.579) in the postseason. His overall record was 183-138-1 (.570). Parcells is ranked 10th in NFL history in both regular season and total victories.
In addition to his two Super Bowl victories with the Giants, Parcells led the Patriots to Super Bowl XXXI, where they lost to Green Bay. He is one of 13 head coaches with more than one Super Bowl victory, one of five coaches to lead two different franchises to the Super Bowl and the only head coach in NFL history to take four different franchises to the postseason.
But it's more than the gaudy numbers and milestone achievements that bind Parcells to his former players. They cite his loyalty, his motivational gifts, his fierce determination to win and his continuing interest in their lives.
"I think that's great that Bill's in the Hall of Fame," Taylor said. "He's been a great coach in the NFL for a lot of years. The Hall of Fame was not given to him, he earned it. I'm very proud to have him in there, just like I would have been proud to have any of my coaches in there. Bill, being a good friend of mine and being probably one of the best coaches I've ever been around, he deserves it and I like the idea of him being here."
"Bill challenged me," said Carson, who was a six-year veteran when Parcells was named the Giants' defensive coordinator in 1981. "I was already a pretty good linebacker and he thought that I could be a better player. I thought, 'No, I've already been NFC Linebacker of the Year twice, how can I be better?' But he broke me down to where he wanted me to be and then he built me back up and he recognized the talents that I had. It made me a much better football player and I think that's the way he was with all of the players he coached. He breaks you down, he gives you a role to play and you go out and execute that role as best as possible.
"I think Bill knew his stuff. He's a great judge of talent but what he brings to the table is, he knows defense, he had great coaches who coached with him but he also had great players who were willing to run through walls and get the job done for him. And we were all on the same page, we believed in him, he believed in us. We wanted to be the best that we could be. Bill being inducted into the Pro Football Hall of Fame, I think all Giant players, Giant fans and other ball clubs that he coached were very, very proud of that moment."
---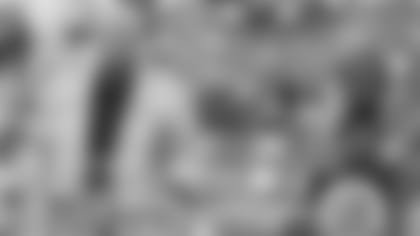 ---
At the dinner hosted by the Giants, Parcells was joined at a table by Taylor, Carson and his wife, Maribel, and John Mara and his wife, Denise.
"They're my boys," Parcells said of the two linebackers. "It's a good crew, even as the years have gone by. I've said this, it's a tremendous conglomeration of characters that have maintained personal relationships. And it really has. Not just anybody can get in that group."
"It was fun just to sit at the table with Lawrence and Bill," Carson said. "To hear the stories go back and forth between Lawrence, Bill - I tried to add a little something, but I can't really measure up to Lawrence Taylor. Those guys are probably naturally funny where I'm probably more a little more historic and serious. Just being here and listening to them kind of takes me back to the locker room.
"I'm just so happy that Bill is a Hall of Famer now. The three of us sort of represent a certain era. It was a glorious era for the Giant organization, I'm so happy to have been a part of it and I wish there were more players who could have been here that warrant being Hall of Famers like an Ottis Anderson, maybe a Phil Simms, Carl Banks, I'd love for those guys to be a part of this exclusive club."
As soon as the second quarter ended on Sunday, a small stage was constructed on the field upon which the six Hall of Famers took seats. They were joined by Stephen A. Perry, the president and executive director of the Pro Football Hall of Fame. Bob Papa, the Voice of the Giants, introduced the select six before asking Carson to speak about Parcells.
"Bill, simply put, for all the players who played for you, you were simply the best," Carson said. "We love you. For all the Giant fans in this stadium and around the country and around the world, thank you for bringing championship football back to the New York Football Giants. And for the members of the Pro Football Hall of Fame who are here, we want to welcome you to the Pro Football Hall of Fame and we have one question for you – how does it feel to be a rookie again?"
Then it was Perry's turn to address the crowd – and Parcells.
"Ladies and gentlemen, coach Bill Parcells' outstanding contributions to pro football earned him the highest honor that any pro football coach could achieve when he was enshrined into the Pro Football Hall of Fame in Canton, Ohio as a part of the class of 2013," Perry said. "There are three things that symbolize the elite and exclusive status of being a member of the Pro Football Hall of Fame. The first is the gold jacket that Bill Parcells is wearing. The second is this bust that will be put on permanent display in the Pro Football Hall of Fame for all the world to see. And the third is this Hall of Fame ring. So, ladies and gentlemen, I am honored to present, on behalf of his fellow Hall of Famers, and on behalf of fans throughout the world, this Hall of Fame ring to one of the greatest pro football coaches of all time, Pro Football Hall of Famer, Bill Parcells."
---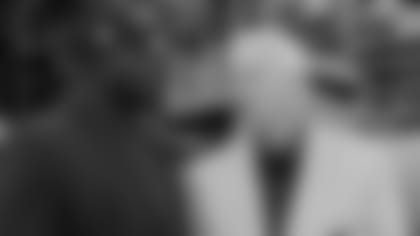 ---
Parcells last coached the Giants 23 years ago in Giants Stadium, which no longer exists. But he remains a favorite of the team's fan base and received a thunderous ovation when he was introduced.
"You know this game gives you an awful lot and today it gives me the opportunity to say a last thank you to the Giant organization for their expressed confidence in me, taking a chance on a young assistant coach," Parcells said. "Also, to my ex-players for their efforts on my behalf and to you fans for your support and your kindness over the years. The best thing about all of this is that it happens in the shadow of my hometown and it happens with the team that I used to root for as a young man. Like the late Wellington Mara used to say, 'Once a Giant, always a Giant.'"
Bill Parcells, Hall of Famer, is forever a Giant.