Q: What is Jason Pierre-Paul's injury?
A: His groin.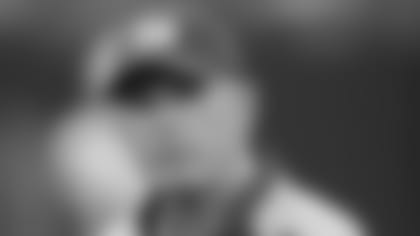 Q: Any idea when he aggravated it?
A: Yeah. He aggravated it coming out of the game the other night and he tried to go yesterday and wasn't able to.
Q: Is something wrong with Chris Canty?
A: Yeah. He tweaked a groin.
Q: How about Shaun O'Hara?
A: He's just sore. That's it. The ankle. It had some swelling. Hopefully he can get that under control. I won't know anything with Canty until they get inside and take a look.
Q: Pierre-Paul is not going to play this weekend?
A: We'll just take it day by day.
Q: Canty just happened here today?
A: Yeah.
Q: Is Eli progressing with no problems?
A: Seems to be doing well.
Q: He says he's going to try to put the helmet on tomorrow.
A: That's the plan. We'll see.
Q: Is it a big deal if he waits another day?
A: Not for me it isn't because the next couple of days we'll do some carded stuff trying to get ready for the weekend but just the fact that he can somehow get comfortable in it
Q: But you feel he's getting the work he needs?
A: Oh, he's definitely getting the work. He's taking all the snaps that he can get.
Q: What's your ideal third down back?
A: My ideal third down back is somebody who can pass protect and then is a threat coming out of the backfield. Run, roll, pass.
Q: And looking at this, how would you define Andre Brown's progress?
A: Andre does a nice job of running the ball up in there on first, second down and on third down if he is able to get all the protections wired up, then he'd be fine.
Q: Could you trust an essentially first year player?
A: If they prove it, sure. If they prove it, you'd have to. Fortunately we have a couple of guys who have done it and hopefully they will continue to be the guys featured.
Q: How is Danny Ware feeling?
A: I think he feels okay, but they're not going to give him the green light.
Q: What about Sha'reff Rashad?
A: Same. Not yet, but he will have a chance faster than Danny probably.
Q: Is that because of Danny's concussion last season?
A: I would say that, but I really don't know the answer to that.
Q: With two safeties out, do you have to alter Kenny Phillips' plan for snaps on Saturday?
A: Well, I'm hoping not to. He should advance – he's proven in the last couple of days of practice that in addition to coming back and feeling fine, that he can take some more reps so maybe that will allow us to give him a few more on the weekend.
Q: Keith Bulluck has been working a lot outside.
A: He's played outside, he's played inside, he can play both spots.
Q: But he did not take a lot of reps outside in training camp…
A: No, but he took very few as it was, and they were mostly in the middle. They were all in the middle.
Q: Is this something that you're thinking of doing in order to get the best three guys out there?
A: Yes. To try to find the best situational players for maybe a first down run or something like that.
Q: Of the two outside spots, is there one that you like Bulluck at better?
A: No, but he's always played the Sam position, so he's more familiar with that.
Q: What were your thoughts looking at the film on Madison Hedgecocok?
A: I thought he played better. I think he listened to what he needed to improve upon [from game one to game two] and let's hope he does it again.
Q: Are you going to be a little bit short at cornerback because of Aaron Ross and because Terrell Thomas looks a little bit sore?
A: I hope we're not but you can certainly do the math like I can. You would hope you would be fine for a game with four or five guys and hopefully we'll have that many.
Q: Is Ross any better?
A: No.
Q: Is Ross any worse?
A: No. He did go for the second opinion and I think they either put a boot or a cast on him so he'll be a good few days anyway.
Q: Where did he go for that?
A: Charlotte, I believe.
--- ](http://www.nyg2010.com/)**