Q: What's going on with Terrell Thomas?
A: He was sore, so we're just giving him some recovery.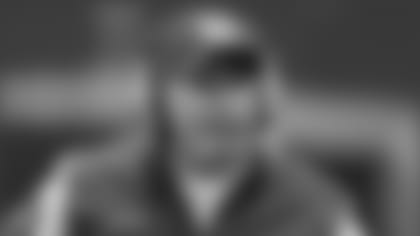 Q: What was sore?
A: The calf thing has been bugging him.
Q: Any update on Chris Canty?
A: Nothing other than the fact that the MRI did not show anything of great significance and hopefully he'll come along fast.
Q: What about both of their availability for the Ravens game?
A: We'll see.
Q: I noticed that on punt returns Mario Manningham was out there…
A: He's been involved in that really from day one, but now that we have no Ross, he's back in the mix.
Q: What about Hakeem Nicks at kick return? Was that a scout team thing?
A: Yeah. Just a scout team. He's done that. You know he's done that.
Q: Did you get a report on Aaron Ross' second opinion yet?
A: Just as I said yesterday, they put a cast on him for about ten days, I think.
Q: Is there a tear on that?
A: No, there's no tear.
Q: Does Tim Brown still have a shot?
A: I hope so. I hope so. I'd like to see him take off with the ball as a returner.
Q: How much would you like to see Eli Manning and the first team working in the Ravens game? Three quarters? A half?
A: I'll just have to see.
Q: In last Saturday's game, Adrian Tracy made some big plays. How has been throughout camp?
A: He's getting better. He is getting a little bit better. I was impressed with a couple of things he did here today, too.
Q: How significant is that move for him from end to the outside?
A: Well we've done that before. Clint Sintim did it. So naturally it's a different spot but it's a spot that he can, at this level, play, and the nice thing is that you can rush him too.
Q: Is it good to see Kenny Phillips getting his hands on the ball?
A: Real good. Fall on the ground, roll around a little bit, get back up. Good stuff.
Q: What kinds of modifications had to go into Eli's helmet?
A: Nothing that I know of.
Q: Is that the same helmet that he was wearing before?
A: I don't know. Between the jog thru and when he came back out, that's when he went in and put his helmet on, so I don't know if it's the same helmet, if it's a different helmet, if it's a new helmet. I can't answer that question. I'll probably find out here in the next day and I'll be glad to let you know.
Q: Has Kenny Phillips' progress been pretty much what you expected?
A: Based on what we said in the summer and how we would bring him along, he's right on schedule.
Q: Have you noticed him missing a beat or a step at all out there or is he pretty much picked up right where he left off?
A: I don't see…his timing is probably off a little bit, but that's because he doesn't get a lot of – or he hasn't to this point – gotten a lot of reps.
Q: In Rhett Bomar's case, are you seeing a difference from the increased reps these past two weeks? How so?
A: Oh yeah. He's more poised. He has a better idea of what is expected.
Q: How is Shawn Andrews coming along?
A: He's coming. He's had a lot thrown at him and of course he came in at a point in camp when we had a lot of stuff for him, but he definitely feels better and is getting used to his pads. He's been away from that for a while. He's in two positions. He's getting a lot of stuff thrown at him but he's responding well.
Q: Do you think he might get some snaps against the Ravens?
A: I hope to be able to play him a little bit.
Q: At guard or tackle?
A: I haven't even thought about that.
Q: With the running game, are you running better to the outside as opposed to between the tackles now?
A: I don't have a breakdown in mind that tells me exactly what's going on inside and what's going on outside, but I would hope that there is pretty good equal distribution. I'm not sure of that, but it's a good question.
Q: When it comes to the competition between Mathias Kiwanuka and Osi Umenyiora, when would you like to figure out who will start? A: They're both starters. They're both playing well. They're both doing everything we ask them to do and they're making good progress so those things will all take care of themselves, but they're two of our better football players, I'll tell you that right now. They're outstanding. They've worked hard, they've competed, and they've done it the right way and you see them hit each other's hands when they sub in and out. It's very good for our team.
--- ](http://www.nyg2010.com/)**