EAST RUTHERFORD, NJ - The Giants own the 19th selection in the first round of the 2011 NFL Draft, which begins on April 28. In the previous 20 years, the 19th pick, like all slots in the first round, has produced its share of successes and busts, great players and marginal contributors. Here's a look at the accomplishments, or lack thereof, of the last 20 players selected 19th in their respective drafts, as well as the players who were chosen immediately before and after them.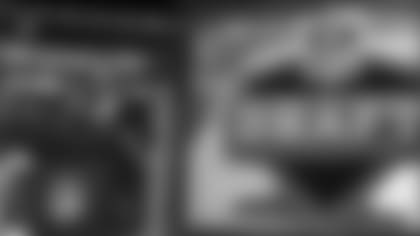 19th Selection: Vinnie Clark, DB from Ohio State, by Green Bay.
Clark lasted only two years in Green Bay and six years in the NFL. In addition to the Packers, he played for Atlanta, New Orleans and Tom Coughlin's Jacksonville Jaguars. Clark started all 16 games for the Jaguars in their inaugural season, 1995. He was cut after four games in 1996, ending his NFL career. Clark played in 83 games with 59 starts and recorded 243 tackles (206 solo) and 13 interceptions.
18th Selection: Alfred Williams, LB from Colorado, by Cincinnati
20th Selection: Kelvin Pritchett, DT from Mississippi, by Dallas
Note: Brett Favre was taken with the 33rd pick by the Atlanta Falcons.
19th Selection: Tony Smith, RB from Southern Mississippi, by Atlanta.
Smith was the second of two players taken in the first round that year by the Falcons, who secured tackle Bob Whitfield with the eighth pick. Atlanta acquired the 19th pick from Green Bay in the trade that sent Brett Favre to the Packers. Smith and Favre were college teammates at Southern Mississippi. Smith played only three seasons for the Falcons – and in the NFL. In 33 games, including six starts, he had 87 carries for 329 yards and two touchdowns. All of the starts and stats were form his rookie season. In his final two years, his ball-handling was limited to punt returns (career total of 56) and kickoff returns (61). He ran a kickoff back 97 yards for a touchdown in 1993.
18th Selection: Dana Hall, DB from Washington, by San Francisco
20th Selection: Dale Carter, DB from Tennessee, by Kansas City
Note: Indianapolis owned the first two picks in the draft and chose defensive tackle Steve Emtman from Washington and linebacker Quentin Coryatt from Texas A&M (a choice they acquired from Tampa Bay).
19th Selection: Lester Holmes, OL from Jackson State, by Philadelphia.
Holmes was the first of the Eagles' two first-round selections that year. Philadelphia took Colorado defensive tackle Leonard Renfro with the 24th pick. Holmes played eight years in the NFL – four with the Eagles, one with Oakland and three with Arizona. He appeared in 102 games with 94 starts and twice started all 16 games, with the Eagles in 1994 and the Cardinals four years later. A tackle in college, Holmes played guard for the Eagles. He suffered a knee injury that limited him to two games in 1995.
18th Selection: Earnest Dye, T from South Carolina, by Phoenix
20th Selection: Irv Smith, TE from Notre Dame, by New Orleans
Note: The Giants did not have a first-round pick in 1993, having used it in the previous year's supplemental draft on QB Dave Brown.
19th Selection: Todd Steussie, T from California, by Minnesota
The Vikings owned the 18th and 19th picks in the '94 draft – the former acquired in a trade with Denver – and chose North Carolina State defensive back DeWayne Washington immediately before Steussie. Both players enjoyed long careers. Washington played four years for the Vikings and 12 in the NFL, while Steussie stayed in Minnesota for seven seasons and in the league for 14. Steussie played in 213 regular season games with 185 starts and in 10 postseason games. His final game in a Vikings uniform was the 2000 NFC Championship Game loss to the Giants. Steussie was a Pro Bowl tackle in 1997 and 98 and played in Super Bowl XXXVIII for Carolina in 2003.
18th Selection: DeWayne Washington, DB from North Carolina State, by Minnesota
20th Selection: Tim Bowens, DT from Mississippi, by Miami
Note: Quarterbacks Heath Shuler and Trent Dilfer were among the first six selections that year, but the best player from this draft was running back Marshall Faulk, taken second by Indianapolis.
19th Selection: James Stewart, RB from Tennessee, by Jacksonville
Tom Coughlin chose Stewart with his second pick in the first round of his inaugural draft with the expansion Jaguars; he took tackle Tony Boselli with the second overall selection. The pick used to acquire Stewart was obtained in a trade with Kansas City. Stewart played five years for the Jaguars and rushed for 2,951 yards and 33 touchdowns on 765 carries. Stewart owns the Jacksonville records for points (30) and touchdowns (five) in a game. Stewart later played three seasons for the Detroit Lions and twice rushed for more than 1,000 yards.
18th Selection: Napoleon Kaufman, RB from Washington, by Oakland
20th Selection: Luther Ellis, DT from Utah, by Detroit
Note: With the 230th pick in the draft, Green Bay took guard Adam Timmerman, who started 172 of 186 regular season games and played on two Super Bowl winners: the 1996 Packers and 1999 Rams.
19th Selection: Marvin Harrison, WR from Syracuse, by Indianapolis.
Harrison quickly became Peyton Manning's favorite target when the quarterback was drafted two years later. Harrison played his entire 13-year career with the Colts and caught 1,102 passes for 14,580 and 128 touchdowns in the regular season. He caught an NFL-record 143 passes in 2002 – 20 more than the second-highest total in history – and was selected to eight Pro Bowls and named All-Pro six times. Harrison helped the Colts win Super Bowl XLI.
18th Selection: Eddie Kennison, WR from LSU, by St. Louis
20th Selection: Daryl Gardner, DT from Baylor, by Miami
19th Selection: Tarik Glenn, T from California, by Indianapolis
The Colts owned the 19th pick for the second year in a row and obtained another terrific player in Glenn, who started every game at left tackle in nine of his 10 seasons (he missed six games in 2003 with a knee injury). Glenn was renowned for protecting Payton Manning's blind side. He was selected to three consecutive Pro Bowls (2004-06). The Colts won Super Bowl XLI following the 2006 season. Six months later Glenn retired, saying he had lost his passion for football.
18th Selection: Kenny Holmes, DE from Miami, by Tennessee
20th Selection: Dwayne Rudd, LB from Alabama, by Minnesota
Note: After four seasons with the Titans, Holmes signed with the Giants in 2001 and spent three years with the team.
19th Selection: Vonnie Holliday, DT from North Carolina, by Green Bay
Holliday has had lengthy and productive, if unspectacular, career. He played in 15 games with two starts for the Washington Redskins in 2010, his 13th NFL season. After being drafted by the Packers, Holliday spent five years in Green Bay, followed by two in Kansas City, four in Miami and one apiece in Denver and Washington. Holliday has played in 182 regular season games with 146 starts and 395 tackles, 62.5 sacks and two interceptions.
18th Selection: Robert Edwards, RB from Georgia, by New England
20th Selection: Terry Fair, DB from Tennessee, by Detroit
Note: The first two picks in the draft were quarterbacks. No. 1 was Peyton Manning, a future Hall of Famer. No. 2 was Ryan Leaf, arguably the biggest bust in draft history.
19th Selection: Luke Petitgout, T from Notre Dame, by the Giants.
Petitgout started at three positions in his eight seasons with the Giants. He played left guard as a rookie, right tackle in 2000 and 2001 and left tackle from 2002-06. Petitgout started 49 consecutive games before suffering a back injury in 2003. He continued to be plagued by back issues before his final Giants season ended after nine games because of a broken leg. Petitgout signed with the Tampa Bay Buccaners, but his 2007 season ended after only four starts when he suffered a knee injury.
18th Selection: Matt Stinchcomb, T from Georgia, by Oakland
20th Selection: Ebenezer Ekuban, DE from North Carolina, by Dallas
Note: The 253rd and final pick in the draft was Penn fullback Jim Finny by Chicago. Finn never suited up for the Bears, but he did play three seasons in Indianapolis and four with the Giants.
19th Selection: Shaun Alexander, RB from Alabama, by Seattle
Alexander was one of the NFL's very best running backs during much of his nine-year career. In the five seasons from 2001-05, Alexander rushed for at least 1,175 yards and 14 touchdowns every year. In 2004, he was named AP NFL offensive Player of the Year and Most Valuable Player after running for 1,880 yards and 27 touchdowns and leading the Seahawks to Super Bowl XX. Alexander's production declined in his final two seasons in Seattle and he finished his career with a four-game, 24-yard stint for the Redskins in 2008.
18th Selection: Chad Pennington, QB from Marshall, by the Jets
20th Selection: Stockar McDougle, T from Oklahoma, by Detroit
Note: Twelve quarterbacks was chosen in this draft, including six - Pennington, Giovanni Carmazzi, Chris Redmond, Tee Martin, Marc Bulger and Spergon Wynn – who were taken before the New England Patriots used the 199th pick on Tom Brady.
19th Selection: Casey Hampton, DT from Texas, by Pittsburgh
Hampton has been a terrific and valuable player for the Steelers for the last decade. He is a five-time Pro Bowl selection who has played in three Super Bowls, winning two. Hampton has been a durable figure in the middle of the Steelers' defensive front, playing in fewer than 13 games just once (in 2004, when he tore his ACL). A premier run-stopper, Hampton has played in 144 regular season games with 134 starts. He has 316 tackles and nine sacks.
18th Selection: Jeff Backus, T from Michigan, by Detroit
20th Selection: Adam Archuleta, DB from Arizona State, by St. Louis
Note: With the 74th pick, Carolina selected wide receiver Steve Smith – six years before the Giants secured their own Steve Smith with the 51st selection of the 2007 draft.
19th Selection: Ashley Lelie, WR from Hawaii, by Denver
Lelie didn't pan out for the Broncos or anyone else who signed him. In seven NFL seasons he played in 107 games – 59 starts – and caught 217 passes for 3,749 yards and 15 touchdowns. His best season was 2005, when he had career-high totals of 54 receptions for 1,084 yards and seven touchdowns. But Lelie became angry when the Broncos acquired wide receiver Javon Walker in 2006. Ironically, Walker was selected immediately after Lelie in the 2002 draft. That led to a trade that sent Lelie to Atlanta. He played single seasons for the Falcons, 49ers and Raiders and had a brief stay with Kansas City before his career ended.
18th Selection: T.J. Duckett, RB from Michigan State, by Atlanta
20th Selection: Javon Walker, WR from Florida State, by Green Bay
Note: With the 95th selection, the Rams chose Heisman Trophy-winning quarterback Eric Crouch – as a wide receiver. Crouch was later converted to safety by the Chiefs, but never played an NFL regular season game.
19th Selection: Kyle Boller, QB from California, by Baltimore
Boller was the second of the Ravens' two-first round choices in '03; they took defensive end Terrell Suggs with the 10th pick. Suggs, who played in his fourth Pro Bowl last season, is still with the Ravens. Boller is not. He played five years in Baltimore and played in 53 games with 42 starts, both franchise record for a quarterback. So are his 44 interceptions. Boller also threw 45 touchdown passes. He was 20-22 as a starter for the Ravens. After becoming a free agent, Boller played with St. Louis in 2009 and Oakland in 2010.  
18th Selection: Calvin Pace, DE from Wake Forest, by Arizona
20th Selection: George Foster, T from Georgia, by Denver.
Note: With the 22nd pick – three spots after Boller was chosen - Chicago took Rex Grossman, another quarterback who was largely a disappointment and left his original team after the '08 season. Grossman has played for Houston and Washington since leaving the Bears.
2004
19th Selection: Vernon Carey, T from Miami, by Miami
Carey has been a dependable and steady player for the Dolphins. He has played in 106 games with 92 starts at both left and right tackle. Carey was named a first-team All-Pro by Sports Illustrated in 2009. Before suffering a knee injury last season that forced him to go on injured reserve, Carey had streaks of 104 consecutive games played and 87 starts.  
18th Selection: Will Smith, DE from Ohio State, by New Orleans
20th Selection: Kenechi Udeze, DE from USC, by Minnesota
Note: In 2010, the Giants had three 2004 players selected by other teams on the first round of the 2004 draft: QB Eli Manning (San Diego), OL Shawn Andrews (Philadelphia) and WR Michael Clayton (Tampa Bay),
19th Selection: Alex Barron, T from Florida State, by St. Louis
Barron played five seasons for the Rams and started 74 of the 76 games he played. But he never lived up to the expectations the team had for him on draft day. Barron was one of the NFL's most penalized players during his tenure in St. Louis. Prior to the 2010 season, he was traded to Dallas for linebacker Bobby Carpenter. Last year, he played in 11 games with one start for the Cowboys. In his first game, Dallas appeared to beat Washington on a last-play touchdown pass from Tony Romo to Roy Williams. But Barron was flagged for holding and the Cowboys lost, 13-7.
18th Selection: Erasmus James, DE from Wisconsin, by Minnesota
20th Selection: Marcus Spears, DE from LSU, by Dallas
Note: Last year, two players selected in the 2005 draft went to the Pro Bowl as Giants: Justin Tuck, selected 74th overall by the Giants, and Antrel Rolle, taken eighth by Arizona.
19th Selection: Antonio Cromartie, DB from Florida State, by San Diego
Cromartie was a the 19th pick in the draft despite missing his entire final season at Florida State after tearing an ACL during a voluntary workout prior to his junior year. He played in all 64 regular season games, with 39 starts, in four seasons in San Diego. Cromartie was an All-Pro in 2007. On Nov 4, 2007, he returned a missed field goal 109 yards for a touchdown in a game at Minnesota. It is the longest play in NFL history. On March 4, 2010, Cromartie was traded to the Jets for a third-round draft choice. He started all 15 regular season games in which he played and three postseason games last year.
18th Selection: Bobby Carpenter, LB from Ohio State, by Dallas
20th Selection: Tamba Hali, DE from Penn State, by Tennessee
Note: With the 253rd – and third-to-last pick in the draft – Green Bay selected Dave Tollefson, who joined the Giants later that year and has since played 37 games and recorded five sacks for them.
19th Selection: Michael Griffin, DB from Texas, by Tennessee
Griffin was AFC Pro Bowl safety in 2008 (when he had a career-high seven interceptions, including an 83-yard touchdown) and 2010 (four picks), He has never missed a game in his four-year career and started 57 of the 64 regular season games in which he's played. Last year, he was credited with 108 tackles (86 solo).
18th Selection: Leon Hall, DB from Michigan, by Cincinnati
20th Selection: Aaron Ross, CB from Texas, by the Giants
Note: All eight of the Giants' draft choices in 2007 contributed as rookies during the team's championship season.
19th Selection: Jeff Otah, T from Pittsburgh, by Carolina
Otah was the second of Carolina's two first-round draft choices in 2008. The Panthers chose running back Jonathan Stewart with the 13th pick. Otah started all 25 games in which he played at right tackle in 2008 and 2009. But he underwent knee surgery last August and didn't play a down in 2010. The Panthers, who had held out hope that he would return to action, put Otah on injured reserve on Nov. 9.
18th Selection: Joe Flacco, QB from Delaware, by Baltimore
20th Selection: Aqib Talib, DB from Kansas, by Tampa Bay
Note: With the 189th pick, Seattle selected San Diego State's Tyler Schmitt – the only long-snapper taken in this draft. Their previous pick was a running back from West Virginia – Owen Schmitt. They are two of the six players named Schmitt to ever play in the NFL.
19th Selection: Jeremy Maclin, WR from Missouri, by Philadelphia
In his first two years with the Eagles, Maclin played in 31 games with 29 starts – he started every game last season – and caught 126 passes, for 1,737 yards and 14 touchdowns. He averaged 13/8 yards per catch in each season.
18th Selection: Robert Ayers, DE from Tennessee, by Denver
20th Selection: Brandon Pettigrew, TE from Oklahoma State, by Detroit
Note: For the second year in a row, more players were chosen from Southern California (11) than any other college.
19th Selection: Sean Weatherspoon, LB from Missouri, by Atlanta
As a rookie in 2010, Weatherspoon played in 11 games with five starts. He was credited with 42 tackles (34 solo) and a sack.
18th Selection: Maurkice Pouncey, C from Florida, by Pittsburgh
20th Selection: Kareem Jackson, DB from Alabama, by Houston
Note: Each of the Giants' first three selections in 2010 – Jason Pierre-Paul, Linval Joseph and Chad Jones – were underclassmen.