EAST RUTHERFORD, NJ - Much of the buildup to the Giants' game Sunday in Minnesota will focus on whether Brett Favre is healthy enough to make his record 298th consecutive start at quarterback for the Vikings. The 20-year veteran sprained his shoulder two days ago against Buffalo and his availability won't be determined until later in the week, possibly close to game time.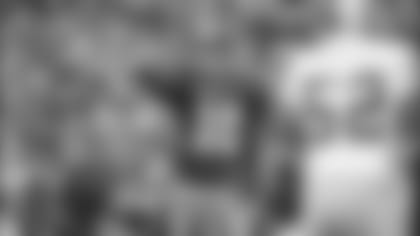 But while the spotlight shines once again on Favre, his quarterback counterpart, Eli Manning, will reach a significant milestone of his own. When Manning takes his first snap in Mall of America Field, he will become only the sixth quarterback in NFL history to start 100 consecutive games. Four of the quarterbacks are active, as are three of the streaks:
Manning started his first NFL game on Nov. 21, 2004, as a rookie against the Atlanta Falcons. The Giants lost that game and each of the next five. Manning's first victory as a starter was on Jan. 2, 2005 against Dallas. He enters the Minnesota game with a record of 58-41 (.586) and the third-most victories among the six iron-man quarterbacks after 100 consecutive starts:
Quarterback                Record           
Tom Brady                  76-24
Brett Favre                  65-35
Eli Manning                58-41 (99 starts)
Peyton Manning          57-43
Ron Jaworski              54-46
Joe Ferguson               47-53
According to the Elias Sports Bureau, the only other Giant to start at least 100 consecutive games since the advent of the 16-game schedule in 1978 is David Diehl, who started 120 games in a row (plus seven postseason games) before hamstring and hip injuries he suffered at Seattle on Nov. 7 forced him out of the lineup the following week against Dallas.
*While the starting streaks of quarterbacks are the most closely monitored, here are the longest current starting streaks at several other positions:
Position                       Name                          Team              Con. Starts
Defensive Back          Ronde Barber              Tampa Bay             179
Linebacker                 London Fletcher         Washington            163
Offensive Line            Jeff Backus                 Detroit                    156
Defensive Line            Justin Smith                San Francisco        151
Wide Receiver            Reggie Wayne             Indianapolis           125
Tight End                    Tony Gonzalez            Atlanta                     66
Running Back             Matt Forte                   Chicago                    44
*The Vikings have not been Manning's favorite opponents. Minnesota is one of four teams outside of the NFC East that Manning has started against four times (the others are Atlanta, Carolina and Seattle). He is 0-4 against the Vikings, with two touchdown passes and nine interceptions. Manning has thrown a career-high four interceptions twice – both against Minnesota, in 2005 and 2007.
*When Brandon Jacobs rushed for 103 yards in the Giants' victory over Washington on Sunday, it raised the team's record under Tom Coughlin to 33-10 in games in which they have a 100-yard rusher. They are 9-1 when Jacobs runs for at least 100 yards and 6-0 when Ahmad Bradshaw crosses the century mark.
Bradshaw has rushed for 1,013 yards this season to become one of eight NFL runners with more than 1,000 yards this season. He is fourth in the league with 1,252 yards from scrimmage.
*The Giants are 7-0 this season when holding their opponents to less than 100 rushing yards.
*With their eighth victory of the season, the Giants have clinched their sixth consecutive non-losing season, extending their longest streak since they had 10 in a row from 1954-63.
*The Giants lead the NFL in both takeaways (30) and giveaways (31). They have recovered an NFL-high 17 opponent fumbles and lost a league-high 14 fumbles (tied with San Diego and Arizona). The last team to finish a season first in the NFL in both takeaways and giveaways was the 2003 St. Louis Rams, who had 46 of the former and 39 of the latter.
*The Giants recovered four Washington fumbles on Sunday, the most they've had in a game since Dec. 8, 2002 – also against the Redskins.
*The Giants have not allowed a sack in their last five games, a franchise record. But they are a long way from the NFL mark of 19 in a row by the Miami Dolphins (the last 12 games in 1988 and the first seven games in 1989).
When Manning starts and is not sacked, the Giants are 15-7.
*The Giants rushed for all four of their touchdowns on Sunday. They are 6-11 in games in which Manning does not throw a touchdown pass.
*The Giants have won their last five games against Washington, their longest winning streak vs. an NFC East opponent since they took nine in a row from Philadelphia (the last a postseason game) from 1997-2000.
*Osi Umenyiora forced one of those fumbles by Donovan McNabb and leads the NFL in that statistical category with eight. While Umenyiora is forcing fumbles, his fellow defensive end, Justin Tuck, is falling on them. Tuck leads the NFL with four defensive fumble recoveries.
Umenyiora is tied for seventh in the league with 9.0 sacks. Tuck is tied for 12th with 8.5.
*Vikings' passing yards per game: 210.2. Vikings' opponents passing yards per game: 210.2.