They didn't talk about it prior to the game, but one of the motivating factors for Tom Coughlin and the Giants prior to their season opener Sunday was historical. They wanted to ensure that the NFL's and the club's record books forever noted that they won the first game in the New Meadowlands Stadium.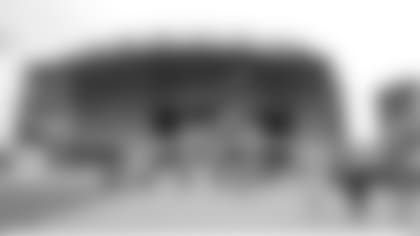 They took care of business and accomplished their goal Sunday by overcoming a two-point halftime deficit to defeat the Carolina Panthers, 31-18.
"We wanted to make sure that that first official regular season game was a Giant win," Coughlin said yesterday. "And it was, so I felt good about that."
Will playing in a terrific new stadium provide incentive and an extra boost in their remaining seven home games?
If it does, the Giants will be one of the few teams to benefit from playing in a new stadium.
The Giants were the 17th team to open a new stadium since 1995. That does not include Coughlin's Jacksonville Jaguars and the Carolina Panthers, expansion teams that began play in 1995; nor the Cleveland Browns, who returned to the field in 1999 after a three-year hiatus; nor the 2002 expansion Houston Texans. It does include the Chicago Bears, who moved into a completely refurbished Soldier Field in 2003.
Of the previous 16 teams to begin playing in new stadiums in the last 15 years, only five had better records in their first season in their new digs than they did the previous year. That includes the 2002 Detroit Lions, who were 2-14 in their final season in the Silverdome in 2000 and leaped all the way to 3-13 the following year, an improvement that hardly seems attributable to playing in Ford Field. Likewise, the Indianapolis Colts' dip from 13-3 in 2007 (when they were defending Super Bowl champions) to 12-4 probably wasn't caused by the move to Lucas Oil Stadium.
Another of the teams that improved was the 1995 Rams, who moved to St. Louis after playing the previous 48 years in the Los Angeles area. Dallas was 9-7 in 2008, its final year in Texas Stadium, and 11-5 in 2009 in Cowboys Stadium, despite an opening night loss to the Giants.
The other two were the 1999 Tennessee Titans and the 2001 Pittsburgh Steelers.
The Philadelphia Eagles were 12-4 in 2002 in Veterans Stadium and in 2003 in Lincoln Financial Field. The Cincinnati Bengals had the same record – 4-12 – in their final year in Riverfront Stadium and their debut season in Paul Brown Stadium, and the Arizona Cardinals were 5-11 immediately before and after their move in the desert.
Those seeking positive omens can look to the '99 Titans. That Tennessee squad and the current Giants team were the only franchises to move into new stadiums following 8-8 seasons. The Titans improved to 13-3 and advanced to Super Bowl XXXIX in Atlanta against the Rams.
| | | | | |
| --- | --- | --- | --- | --- |
| Team | Last Year in Old Stadium | Record | New Stadium | First Year Record |
| St. Louis* | 1994 | 4-12 | Edward Jones Dome | 7-9 |
| Washington | 1996 | 9-7 | FedEx Field | 7-9 |
| Baltimore | 1997 | 6-9-1 | M&T Bank Stadium | 6-10 |
| Tampa Bay | 1997 | 10-6 | Raymond James Stadium | 8-8 |
| Tennessee | 1998 | 8-8 | LP Field | 13-3 |
| Cincinnati | 1999 | 4-12 | Paul Brown Stadium | 4-12 |
| Denver | 2000 | 11-5 | Invesco Field at Mile High | 8-8 |
| Pittsburgh | 2000 | 9-7 | Heinz Field | 13-3 |
| Detroit | 2001 | 2-14 | Ford Field | 3-13 |
| New England | 2001 | 11-5 | Gillette Stadium | 9-7 |
| Seattle | 2001 | 9-7 | Qwest Field | 7-9 |
| Philadelphia | 2002 | 12-4 | Lincoln Financial Field` | 12-4 |
| Chicago** | 2002 | 4-12 | Soldier Field | 7-9 |
| Arizona | 2005 | 5-11 | Univ. of Phoenix Stadium | 5-11 |
| Indianapolis | 2007 | 13-3 | Lucas Oil Field | 12-4 |
| Dallas | 2008 | 9-7 | Dallas Cowboys Stadium | 11-5 |
*Rams played home games in Anaheim in 1994
**Bears played home games at University of Illinois in 2002
*Hakeem Nicks accomplished a relatively rare feat when he caught three touchdown passes in the Giants' season-opening victory over Carolina.
In the 2,560 NFL regular season games from the beginning of the 2000 season through last night, a receiver caught at least three touchdowns only 73 times – one every 35 games or so, according to the Elias Sports Bureau.
The Colts, perhaps not surprisingly, have the most three-touchdown reception performances in those 10-plus seasons with nine. Randy Moss, now with New England, leads all receivers with seven.
The Giants have three of those 73 standout performances. Amani Toomer caught touchdown passes of 82, 21 and 27 yards in a 44-27 victory at Indianapolis on Dec. 22, 2002. Plaxico Burress matched the feat with scoring receptions of 60, four and 10 yards in a 45-35 loss at Dallas on Sept. 7, 2007. Nicks scored touchdowns on passes of 26, 19 and five yards from Eli Manning.
Nicks was the first NFL player to catch three touchdown passes on Kickoff Weekend since…Burress three years ago.
Two weeks after Toomer's big day in Indy, he matched the feat in an NFC Wild Card Game in San Francisco, where he had touchdown catches of 12, eight and 24 yards.
The Giants' single-game record is four touchdown receptions, set by Earnest Gray at the St. Louis Cardinals on Sept. 7, 1980. Gray caught touchdown passes of 10, 37, 42 and 20 yards in a 41-35 victory.
*The Giants are 11-2 when Manning throws three touchdown passes in a game. They are 1-2 when he throws four.
*Manning has thrown eight touchdown passes against both Carolina and Atlanta, his highest total against a non-division opponent.
*The Giants forced five turnovers and sacked Carolina quarterback Matt Moore four times on Sunday. The last time they had at least five takeaways and at least four sacks in a game was September 19, 2005 vs. New Orleans, when they forced six turnovers and had four sacks in a 27-10 victory.
*The Giants' offense turned over the ball four times on Sunday. It was the first time the Giants won when committing at least four turnovers since Dec. 23, 2007, when they won in Buffalo, 38-21. They had three four-turnover games in 2009 and lost all of them. The Giants are just 7-16 under Tom Coughlin when they commit three or more turnovers. Coughlin is 12-35 in his career when his teams cough up the ball three or more times. In 2009, the Giants were 0-5 in games in which they had at least three turnovers.
*Greg Hardy's block of Matt Dodge's punt on Sunday was the first by a Giants opponent since Oct. 21, 2007, when San Francisco's Moran Norris blocked a kick by Jeff Feagles. On both occasions, the ball went out of bounds in the end zone for a safety.
*Esoteric note of the week: The Giants have played 1,222 regular and postseason games in their 86-year history. The victory against Carolina was the first with a final score of 31-18.