EAST RUTHERFORD, NJ - Dropped passes, missed field goals and bad penalties are all like a kick in the gut to Tom Coughlin, but nothing turns the stomach of the Giants' coach quite like a turnover.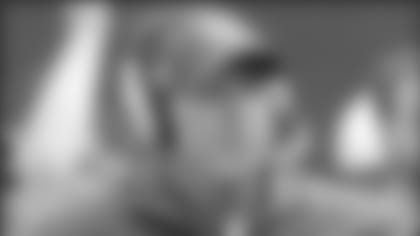 Coughlin, now in his 15th season as an NFL head coach, has been preaching about the evils of turnovers his entire career. He emphasizes to his players that turnovers lose games, supports his argument with statistics that demonstrate the correlation between turnovers and defeats, and practically pleads for his team to play smart, error-free football.
So Coughlin's present unhappiness extends beyond the Giants' 1-2 record and back-to-back defeats to Indianapolis and Tennessee. The Giants are turning over the ball at an alarming rate. In their three games, the Giants have coughed up the ball 10 times, tying them with the Arizona Cardinals for second in the NFL (Carolina is first with 12). The breakdown is six Eli Manning interceptions (four on tipped balls that should have been caught) and four lost fumbles.
The Giants had four turnovers in their season-opening victory over Carolina, then three in each of the last two weeks. According to the Elias Sports Bureau, this is the first time the Giants have had at least three turnovers in each of three consecutive games since it happened four games in a row spanning the 2002 and 2003 seasons.
If they continue their present pace of 3.3 turnovers a game, the Giants will finish the season with approximately 53. The league record for turnovers in a 16-game season is 63 by the 1978 San Francisco 49ers. They finished 2-14. Second on the list with 58 turnovers are the 1983 Giants. That team was 3-12-1. Rounding out the top four with 55 turnovers apiece are the 1983 San Diego Chargers (6-10) and the 1997 New Orleans Saints (6-10).
What is perhaps most galling to Coughlin is how rapidly and dramatically the Giants have deteriorated in what he considers one of football's most important statistics. In 2008, the Giants
had only 13 turnovers (as did the Miami Dolphins), a record low for a 16-game season. At their present pace, the Giants will match that in four games this season. That year, the Giants lost three fumbles all season, or one less than they lost in their first three games this month.
In 2009, the Giants had 31 turnovers, or 18 (more than one a game) more than their total from the previous season. Now they're on pace for 53. The Giants' turnover differential last season was minus-seven, one year after finishing an NFC-best plus-nine.
At his news conference yesterday, Coughlin was asked if his frustration regarding his current team stemmed in part from his belief that the Giants are talented and not playing to their capability. He responded by taking the opportunity to talk about turnovers.
"I think that has to be proven," Coughlin said. "I think that we have to play as one in order to get to that and yes, my frustration is that because I'll remind you again, in '08 we set the all-time record for fewest turnovers in the history of the National Football League and here we are. Last year was nothing but absolute torture with turnovers and we've started out this year as well."
It's stating the obvious to say a team has much more difficulty winning when it is frequently turning over the ball. Of the 18 teams with the five-highest turnover totals (including ties) from 2007-09, only four had winning records. Three others had .500 records. The other 11 teams had losing records. Only two of those 18 teams – the 2008 Minnesota Vikings and the 2009 Arizona Cardinals – made the playoffs.
| | | |
| --- | --- | --- |
| Team | Turnovers | Record |
| Baltimore Ravens | 40 | 5-11 |
| Houston Texans | 38 | 8-8 |
| Oakland Raiders | 37 | 4-12 |
| St. Louis Rams | 37 | 3-13 |
| Arizona Cardinals | 36 | 8-8 |
| Detroit Lions | 36 | 7-9 |
| | | |
| --- | --- | --- |
| Team | Turnovers | Record |
| San Francisco 49ers | 35 | 7-9 |
| Dallas Cowboys | 33 | 9-7 |
| Houston Texans | 32 | 8-8 |
| St. Louis Rams | 31 | 2-14 |
| Minnesota Vikings | 31 | 10-6 |
| New York Jets | 31 | 9-7 |
| | | |
| --- | --- | --- |
| Team | Turnovers | Record |
| Detroit Lions | 41 | 2-14 |
| Arizona Cardinals | 36 | 10-6 |
| Tampa Bay Buccaneers | 34 | 3-13 |
| Chicago Bears | 34 | 7-9 |
| St. Louis Rams | 33 | 1-15 |
| Oakland Raiders | 33 | 5-11 |
If the Giants are going to realize their first goal of being a postseason team, they almost certainly must stop turning over the ball three times a game.
*On the other side of the turnover equation is the fact that the Giants did not have a takeaway in their 29-10 loss to the Tennessee Titans on Sunday. It was the eighth time since the start of 2008 season that the Giants failed to intercept a pass or recover a fumble. They are 1-7 in those games and have lost four in a row.
*The Giants totaled 471 yards of offense Sunday. According to Elias, it's the first time in their history they gained at least 470 yards and scored as few as 10 points.
*The Giants out-gained the Titans by exactly 200 yards (471-271). The last time they outgained their opponent by at least 200 yards and lost was Nov. 13, 2005 vs. Minnesota, when they had 268 more yards than the Vikings (405-137), but lost, 24-21.
*The Giants had 254 more passing yards than Tennessee (364-110). It has been almost 25 years since they had such a large advantage in passing yards and lost. On Oct. 13, 1985, the Giants had 286 more passing yards than the Bengals in Cincinnati but lost, 35-30.
*Manning threw 48 passes Sunday compared to only 16 throws by Tennessee quarterback Vince Young. The last time the Giants threw at least 32 more passes than the opposing team was Nov. 25, 2006, when Manning put the ball in the air 49 times while Minnesota's Tarvaris Jackson had just 12 passes. The Giants lost that game, 41-17.
*The Giants scored their only touchdown Sunday on Ahmad Bradshaw's 10-yard run. Since Manning became the starting quarterback in 2004, the Giants are 4-11 when he does not throw a touchdown pass.
*Tennessee completed only 10 passes on Sunday, the fewest by a Giants opponent since Dec. 23, 2007, when Trent Edwards of Buffalo hit nine of 26 passes. Since the start of the 2002 season, the Giants are 2-8 when the opposition completes 10 or less passes.
*The Giants never punted while Tennessee punted five times on Sunday. The last time the Giants had had at least five fewer punts than their opponents and lost was Oct. 12, 2003, when they punted three times and New England punted eight times and the Patriots won, 17-6.
*Sunday's game was the first in the Super Bowl era (since 1966) in which the Giants had neither a takeaway nor a punt.
*It was the second game in Coughlin's 242-game NFL head coaching career (227 regular season games) in which his team did not punt. On Oct. 20, 1996, the Jacksonville Jaguars never punted and out-gained St. Louis, 538-204, but lost, 17-14. The reason was turnovers. The Jaguars had six of them, including five interceptions by Mark Brunell.
*Lawrence Tynes kicked a 50-yard field goal and was wide left on a 53-yard attempt Sunday. It was the first time he tried two field goals of 50 or more yards since Oct. 21, 2005, when he kicked field goals of 51 and 52 yards in Kansas City's 30-20 victory in Miami. The Giants had last attempted two 50-yarders in a game on Oct. 30, 2005, when Jay Feely tried 50- and 51-yarders against Washington. The first was good, but the latter hit the left upright.
*The Giants have not scored first in any of their first three games this season, a trend they would do well to reverse. Since Coughlin became coach in 2004, the Giants are 39-16 when they score first, 17-27 when they don't. In his career, Coughlin is 88-36 when his teams are the first to score, 36-67 when the opposition scores the first points.