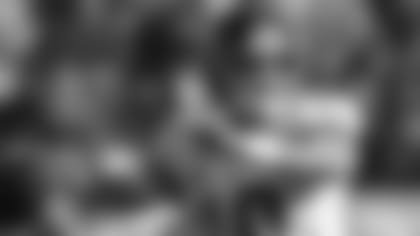 On Sunday in San Francisco, Eli Manning started his 112th regular season game, which is the equivalent of eight full NFL seasons. He has started those games consecutively, which is the longest streak among the league's active quarterbacks and the fourth-longest in history. Only Brett Favre (297), Peyton Manning (208) and Ron Jaworski (116) have started more consecutive games among quarterbacks than Manning, who is 66-46 (.589) in the regular season.
Courtesy of the Elias Sports Bureau, this is how his record and statistics compare with all other current quarterbacks who have started at least 112 games, as well as Favre, Jaworski and Phil Simms, whose Giants career passing records will likely be broken by Manning.
*Among the active quarterbacks – including Collins, who is on injured reserve – Manning is tied for the third-most victories (with his brother).
*Eli Manning has thrown 247 fewer passes than Peyton and has 333 fewer completions and 4,174 fewer yards, but they have identical records through 112 games.
*Eli and Peyton each have more than twice as many victories as their father did at this point in their careers.
*Including his totals from two games he played as a rookie reserve in 2004, Eli Manning has 25,334 passing yards in seven seasons plus nine games. Archie Manning finished his 14-year career with 23,911 yards.
*Eli has 173 touchdown passes and 121 interceptions. His father's career totals were 125 touchdown passes and 173 interceptions.
*Compared to Simms' 112-game stats, Manning has thrown 266 more passes, has 301 more completions and 1,011 more yards - and has one more victory.
*Tom Coughlin coached two of the players on the list – Mark Brunell in Jacksonville and Manning.
*Manning's 66-46 breaks down 33-23 at home and 33-23 on the road.
*Manning has led the Giants to a 6-3 record and first place in the NFC East. He is also having his finest statistical season. Through nine games, Manning has completed 202 of 320 passes (63.1 percent) for 2,688 yards, 17 touchdowns and eight interceptions. If Manning continues to post numbers at his present pace, he will establish both career bests and franchise records in several categories: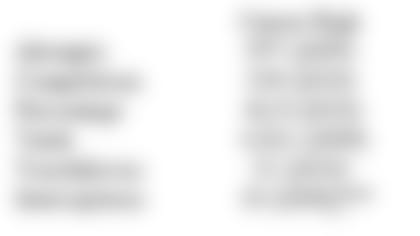 *Would tie the team record set by Collins in 2001.
**Would set a team record. Manning owns the marks for completions and percentage (339 and 62.9, both in 2010) and Collins holds the yardage record with 4,073 in 2002.
*Career low for a 16-start season.
Now in the second half of his eighth season, Manning is on his way to setting all of the Giants' major career passing records:
*Manning's streak of 112 consecutive starts is more than twice as long as all but two active quarterbacks:
*Manning has started against 60 other quarterbacks in the regular season. His highest number of victories is against Jason Campbell (6-0) and Donovan McNabb (5-4).
*Manning has started against 54 different head coaches. He has more victories against Philadelphia's Andy Reid (7-7) than any other coach.
*Manning's record by the month: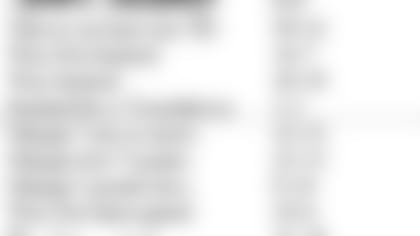 Manning's 2,134 completions and 25,334 passing yards by receiver
(Includes three completions and 66 yards as a reserve at Philadelphia on Sept. 12, 2004 (40 different receivers)
Manning's 173 Career Touchdown Passes
First: 34            Second: 53           Third: 33               Fourth: 52                Overtime: 1
Long:  92-yarder to Manningham at Washington on 1/2/11
Next: 85-yarder to Manningham at Green Bay on 12/26/10.
Next: 78-yarder to Burress at Oakland on 12/31/05.
Next: 74-yarder to Jacobs vs. Dallas on 12/6/09.
          74-yarder to Cruz at Philadelphia on 9/25/11.
Next:  68-yarder to Nicks vs. Philadelphia on 12/13/09.
           68-yarder to Nicks at Washington on 9/11/11.
           68-yarder to Cruz vs. Seattle on 10/9/11.
*Manning completed his first 10 passes on Sunday in San Francisco. That was his longest streak to start a game. The previous long was seven completions vs. Seattle on Oct. 5, 2008 and vs. Carolina on Dec. 27, 2009.
*Manning and Green Bay's Aaron Rodgers are the only NFL quarterbacks ranked in the top five in both third down and fourth quarter passing. Manning is second in the league with a fourth quarter passer rating of 116.5 and fourth with a third down rating of 106.1. Rodgers is third in the final quarter (111.8) and second on third down (115.3).
*This season, the Giants are 4-0 when they rush for at least 100 yards and 2-3 when they don't.
*The Giants led after three quarters in San Francisco, 13-12. They fell to 3-1 this season and 54-6 under Tom Coughlin in games in which they owned the lead entering the fourth quarter.  Coughlin is 109-18 in his career in such games.
*The Giants have had at least one takeaway in 22 consecutive games, the NFL's longest active streak. Houston is second at 13. Atlanta's streak of 26 consecutive games with a takeaway ended Sunday in the Falcons' loss to New Orleans.
Download the FREE GIANTS MOBILE APP by texting "Giants" to 51288 or by visiting iTunes, Android MarketPlace, Blackberry App World! *