Tom Coughlin has long preached the virtues of a balanced offense, but a wheezing rushing attack has made them unusually one-dimensional.
The Giants are 31st in the NFL with 83.2 rushing yards per game and 32nd with an average of 3.16 yards per carry, figures that are anomalous for an organization that has long prided itself on a churning ground attack. The Giants haven't averaged so few rushing yards per game over a full season since 1945 (76.9 a game) nor has their per-carry average been this low since 1953 (2.64).
In addition, the Giants haven't ranked next to last or worse in rush yards per game since 1953 (last with an 87.4-yard average) and they haven't ranked last in rush yards per attempt since 1975 (3.4).
Prior to this season, the Giants lows of the eight-year Coughlin era were 114.8 yards a game and 4.1 yards a carry, both in 2009. The team ranked 17th and 20th, respectively, in the NFL in rushing yards per game and per attempt that season.
This would be nothing more than statistical footnotes if it didn't impact winning and losing. But history suggests it does, unless a team is committed to the forward pass as its favored mode of attack.
According to the Elias Sports Bureau, nine teams averaged 82.3 or fewer rushing yards from 2005-10. Six of those nine teams finished with losing records (winning an average of five games a year). The exceptions were the Peyton Manning-led Indianapolis Colts in 2008 and 2009 and the Kurt Warner-quarterbacked Arizona Cardinals in 2008. Those teams preferred to move the ball through the air and finished fifth, second and second, respectively, in passing. The '08 Cardinals and '09 Colts advanced to the Super Bowl.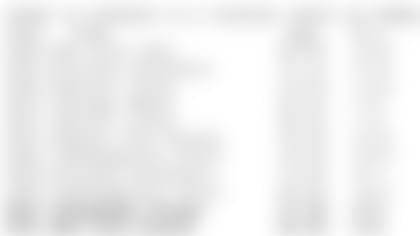 During that same span, it's been difficult for teams to win if they don't average 3.2 yards a carry: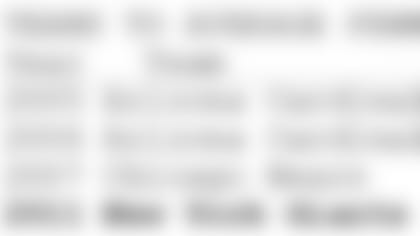 The Giants are 6-4 and tied for first place in the NFC East largely because of a proficient passing attack that has increased its production as the running game has sputtered. They rank fifth in the NFL with an average of 281.4 yards a game, about 30 yards more than the franchise record of 251.2, set in 2009. If they are still fifth when the season ends, it will be their highest ranking since finishing fourth in passing in 1984.
*The Giants' rushing attack dropped to a season low in the 17-10 loss to the Philadelphia Eagles on Sunday night. They ran for only 29 yards on 17 carries, a 1.7-yard average. That was the Giants' lowest per-carry output in a game since Sept. 12, 1999, when they averaged 1.12 yards a carry (28 yards on 25 attempts) in a 17-13 victory at Tampa Bay.
*The Giants' longest run Sunday was a nine-yarder by Brandon Jacobs, their shortest longest run since Nov. 14, 2010, when they also had a nine-yarder vs. Dallas.
*Kenny Phillips, Aaron Ross and Prince Amukamara all intercepted Philadelphia quarterback Vince Young on Sunday. It was the first time the Giants had at least three picks in a game and lost since Sept. 24, 2006, a 42-30 loss in Seattle. The Giants had won 11 consecutive games in which they intercepted three or more passes.
*The Giants pulled off an NFL rarity they'd prefer not to be a part of by losing despite those three interceptions. This season, teams that intercept at least three passes in a game are 26-1. In this case, the Giants' one is certainly the loneliest number. In the five years since the start of the 2007 season, those teams are 191-22-1 (.893).
*Philadelphia converted 53 percent of its third down opportunities (nine of 17), the highest percentage by a Giants opponent since Nov. 28, 2010, when Jacksonville succeeded on 62.6 percent (10 of 16).
*The Eagles had 17 first downs and the Giants had 12, the first time neither team had more than 17 in a Giants game since a game against the same opponent on the same weekend a year ago. On Nov. 21, 2010, the Giants had 13 and the Eagles had 17 in Philadelphia.
*Michael Boley was inactive Sunday, ending his streak of 33 consecutive games played, which had been the third-longest on the Giants after Eli Manning (113) and Zak DeOssie (74). The third-longest current streak of consecutive games played in a Giants uniform is 26 by six players (Deon Grant, Kareem McKenzie, Jason Pierre-Paul, Antrel Rolle, Chris Canty and Kenny Phillips).
*Steve Weatherford booted nine punts on Sunday, the Giants' highest total in a game since Dec. 24, 2006, when Jeff Feagles punted nine times in a loss to New Orleans.
*The Giants' 31 sacks tie them with Minnesota and Washington for the NFL lead. Perhaps sacks aren't all they're cracked up to be. The Vikings are 2-8, while the Redskins have lost six in a row to fall to 3-7.
Jason Pierre-Paul is third in the NFL with 10.5 sacks. He trails league-leader DeMarcus Ware of Dallas by 3.5 sacks.
*Victor Cruz leads the Giants in all three major receiving categories with 46 catches for 800 yards and five touchdowns. Cruz is on pace to finish the season with 1,280 yards, which would be the second-highest total in Giants history and challenge Amani Toomer's record of 1,343, set in 2002.
*When Mark Herzlich started at middle linebacker for the Giants Sunday night he became the second rookie free agent to start for the team this season. The other was fullback Henry Hynoski, who started three games, most recently at Arizona on Oct. 2.
Before Herzlich, the last undrafted rookie to start on defense for the Giants was cornerback Bruce Johnson at Minnesota on Jan. 3, 2010.
*Manning's fourth-quarter passer rating of 120.5 continues to lead the NFL by a significant margin (Aaron Rodgers is second at 111.2). In the final quarter, Manning has completed 73 of 107 passes (68.2 percent) for a league-high 1,081 yards (and an NFL-best 10.10 yards per attempt), 10 touchdowns and three interceptions.
Download the FREE GIANTS MOBILE APP by texting "Giants" to 51288 or by visiting iTunes, Android MarketPlace, Blackberry App World! *