EAST RUTHERFORD, N.J. – Six weeks ago, the Giants traveled to Chicago to face the Bears with a defense that was ranked 26th in the NFL, allowing 395.2 yards per game. The Giants were also 32nd and last in scoring defense, giving up 36.4 points a game.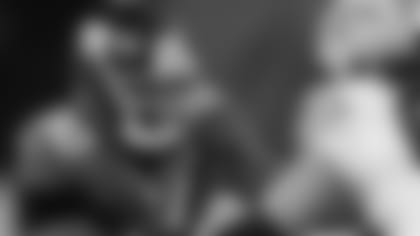 Giants vs. Packers Photo The Giants lost to the Bears to fall to 0-6. But after surrendering 24 points in the first half, the Giants held Chicago to just a field goal in the third and fourth quarters, beginning a defensive revival that has turned around their season.
The Giants have not lost since visiting Soldier Field and will take a four-game winning streak into their critical game Sunday at home against the Dallas Cowboys.
The defense's ranking has improved every week since the Giants played the Bears, moving from 26 to 24, 19, 14, 12, and now 11. The yardage allowed average has fallen to 336.1, an improvement of 59 yards a game. The Giants are now 24th in scoring defense, allowing 25.6 points a game, including 11.8 points per game during the winning streak. And the defense was not responsible for three of the five touchdowns Giants opponents scored in those four games.
The unit has been strong against both the pass and run. The Giants have not allowed a touchdown pass in four games (plus the second half in Chicago). According to the Elias Sports Bureau, that is their longest such streak since they went five straight games without allowing a score through the air from Sept. 22-Oct. 27, 1996. The Giants' streak is the longest by an NFL team since Buffalo did not allow a touchdown pass in four consecutive games from Oct. 11-Nov. 1, 2009.
The Giants rank fifth in the NFL in yards allowed per pass attempt (6.49). Cleveland leads the league with a 5.88-yard average.
The run defense has been strong all season. The Giants are seventh in the NFL in rushing yards allowed per game (98.0) and fourth in yards allowed per carry (3.6). Carolina's DeAngelo Williams ran for 120 yards on Sept. 22, the only back to rush for at least 100 yards vs. the Giants this season. Several other top running backs found it difficult to gash the Giants' defense:
| | | |
| --- | --- | --- |
| **Name** | **Yards Per Game/Yards Per Carry (Non-Giants Games)** | **Yards Per Game/Yards Per Carry(vs. Giants)** |
| Jamaal Charles (KC) | 82.0/4.4 | 65/3.6 |
| LeSean McCoy (PHI) | 101.7/5.1 | 47/2.7 (2-game avg.) |
| Matt Forte (CHI) | 78.5/4.5 | 67/3.5 |
| Adrian Peterson (MIN) | 91.4/4.5 | 28/2.2 |
| Eddie Lacy (GB) | 83.6/4.2 | 27/1.9 |
The five running backs listed above have combined to rush for 32 touchdowns this season. Only McCoy and Lacy scored a touchdown against the Giants. McCoy's was on a one-yard run and Lacy's was on a four-yard run.
The Giants have allowed a total of 240 rushing yards in their four-game winning streak. That is the fewest yards they've allowed on the ground in a four-game stretch since Oct. 10-Nov. 7, 2010, when Houston, Detroit, Dallas and Seattle combined for 178 rushing yards.
Andre Brown leads the Giants in rushing with 181 yards, followed by Brandon Jacobs (163), David Wilson (146) and Peyton Hillis (127). They join Indianapolis and New Orleans as the only teams with four players who have rushed for more than 125 yards.
The Giants have not had a run longer than 18 yards in 12 consecutive games dating back to last season. That is their longest streak without a run of at least 18 yards since they had a 13-game stretch from Nov. 24, 1974-Nov. 16, 1975.
Jacobs scored his 60th career rushing touchdown against the Packers. He is one of four active players with at least 60 rushing touchdowns, joining Peterson (85), Jacksonville's Maurice Jones-Drew (67) and Cleveland's Willis McGahee (64).
In their last two games, the Giants had just four accepted penalties (one against Oakland, three vs. Green Bay). That is their lowest two-game total since Dec. 9-15, 2001, when they had four total penalties in victories against Arizona and Seattle.
Josh Brown kicked three extra points on Sunday to increase the Giants' consecutive PAT successes to 267. That is the league's third-longest current streak, behind San Francisco (327) and Tennessee (270). The Giants last missed an extra point attempt on Oct. 21, 2007 vs. the 49ers.
Victor Cruz's eight receptions in the victory over Green Bay increased his career total to 226. That moved him past Steve Smith (220) and into 19th place on the Giants' career list.
Cruz's 110-yard outing was his 16th career regular-season 100-yard game. That is third in Giants history, behind Amani Toomer (22) and Homer Jones (17).
Hakeem Nicks' four catches left him with 297 for his career. He needs three receptions to become the 10th player to catch 300 passes in a Giants uniform.
Nicks' 50 receiving yards increased his career total to 4,346 and moved him past Del Shofner (4,315) and into 10th place on the Giants' career list. Bob Tucker is in ninth place, 30 yards ahead of Nicks.
In his 10 seasons with the Giants, Eli Manning has been sacked 239 times for losses totaling 1,677 yards (in the regular season). On Sunday, he will face Dallas' DeMarcus Ware, who has sacked him more than any other player. Ware has 13.5 sacks of Manning (though he had none on opening night in Dallas). Second on the list is Philadelphia's Trent Cole (8.0), followed by Jevon Kearse and Andre Carter (6.5 each).
Quarterbacks Scott Tolzien of Green Bay and Matt McGloin of Oakland made their first regular-season starts on Sunday. That increased to 154 the number of quarterbacks who have started a game since Manning made his first start for the Giants on Nov. 21, 2004.
The Giants have rushed for at least 100 yards in just two of their 10 games this season. They would have to reach the century mark in each of their six remaining games to reach eight, the lowest number of 100-yard games they had in Tom Coughlin's first nine years as head coach. From 2005-2010, the Giants had double digit 100-yard rush games in every season, with a high of 12 in 2008.
The Giants, FedEx and New York Cares will host their 18th annual Coat Drive this Sunday, when the Giants host the Dallas Cowboys at MetLife Stadium. Fans are encouraged to bring new or gently worn coats to any of the FedEx trucks or volunteers located at each stadium entrance.
All coats collected during the drive will be donated to New York Cares, a non-profit organization that meets pressing community needs by mobilizing caring New Yorkers in volunteer service. The coats will then be distributed to men, women and children at homeless shelters, community organizations, centers for battered women and agencies serving senior citizens across the metropolitan area.