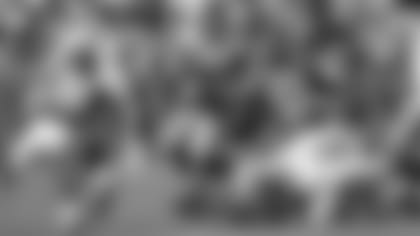 ---
In their four games this season, the Giants have rushed for 50, 23, 60 and 98 yards. According to the Elias Sports Bureau, this is the first time they've played four consecutive games without rushing for at least 100 yards since Oct. 14-Nov. 4, 2001, when they ran for 97, 96, 42 and 93 yards vs. St. Louis, Philadelphia, Washington and Dallas.
The Giants converted one of 14 third down opportunities at Kansas City. It was the first time they had no more than one successful conversion on at least 14 opportunities since Nov. 7, 2004, when they were one-for-14 vs. Chicago.
Third downs have been a problem on both sides of the ball; the Giants are last in the league in both offensive and defensive third down efficiency. They have converted 22.9 percent (11 of 48) of their third down opportunities on offense. Since the 1970 merger, their lowest conversion percentage in a full season was 27.7 percent in 1996. Giants opponents have succeeded on 50 percent (30 of 60) of their third down attempts. Since the merger, the highest conversion percentage allowed by the defense was 45.3 in 1980.
The last team to finish at the bottom of the third down rankings on both sides of the ball was the 1991 Indianapolis Colts.
---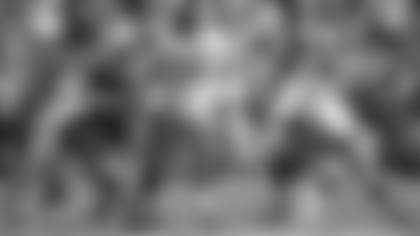 ---
The Giants have allowed an NFL-high 146 points, eight more than Philadelphia. Their opponents have scored at least 31 points in each of the first four games, the first time in their history they have allowed at least 31 points in four straight games in a single season. They gave up 31+ points in four consecutive games spanning the 1965 (last game) and 1966 (first three games) seasons.
The Giants' defense has four sacks of opposing quarterbacks. That's the lowest total through the first four games since 2002, when they also had four.
The Giants have committed three turnovers in each of four consecutive games for the first time since Sept. 12-Oct. 3, 2010. But they won two of those games.
Eli Manning's 69-yard touchdown pass to Victor Cruz in Kansas City was his eighth career scoring pass between 60-69 yards. Manning has seven touchdown passes between 70-79 yards. Oddly, he has five touchdown passes between 40-49 yards and five between 50-59 yards.
Manning has been sacked 14 times in four games this season, including three times vs. the Chiefs. In 2012, he was sacked 19 times in 16 games.
---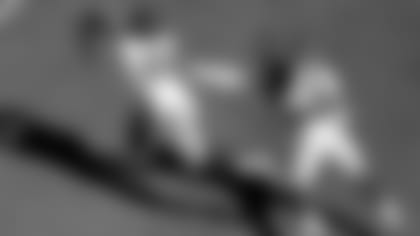 ---
Hakeem Nicks' three receptions on Sunday increased his career total to 267. That moved him past Mark Bavaro (266) and into 10th place on the Giants' career list.
Nicks' 33 receiving yards moved his career total to 3,956. That jumped him ahead of Lionel Manuel (3,956) and into 13th place on the franchise's all-time list.
David Wilson's 61 kickoff return yards in Kansas City increased his career total to 1,739. That vaulted him past Domenik Hixon (1,692) and David Patten (1,724) and into sixth place on the Giants' career list.
Long snapper Zak DeOssie played in his 100th consecutive game on Sunday, the second-longest streak on the Giants behind Manning's 139 games. Antrel Rolle and Jason Pierre-Paul are tied for third with 52 consecutive games played.
Denver's Trindon Holliday and Kansas City's Dexter McCluster have returned punts for touchdowns against the Giants this season. It's the first time the Giants have allowed two punt return touchdowns in a season since 2010, when Dallas' Dez Bryant and Philadelphia's DeSean Jackson did so.
Holliday's return touchdown was 81 yards, while McCluster brought his back 89 yards. This is the first time the Giants have given up two punt return touchdowns of at least 80 yards in the same season since 1992, when Washington's Brian Mitchell (84) and Philadelphia's Vai Sikahema (87) did it.