EAST RUTHERFORD, N.J. –** The Giants have enjoyed the best of times and endured some of their worst performances playing in domed stadiums in Tom Coughlin's 10 seasons as head coach.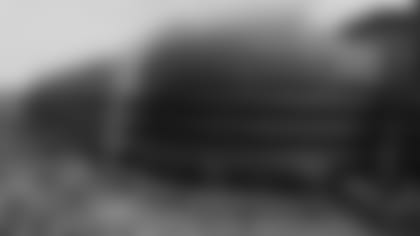 They won Super Bowls XLII and XLVI indoors in Arizona and Indianapolis, respectively. The Giants also won their first six regular-season dome games under Coughlin from 2004-2008.
Since then, life indoors hasn't been as fruitful for the Giants. They've suffered some of their ugliest defeats in domed stadiums, including 44-7 in Minnesota in the 2009 season finale, 49-24 in New Orleans in 2011 and 34-0 in Atlanta last season. The Giants' only indoor game this season was a 36-31 loss in Dallas on opening night. They last won a regular-season game indoors on Dec. 11, 2011, when they defeated the Cowboys, 37-34, in what is now AT&T Stadium.
Since Coughlin's arrival prior to the 2004 season, the Giants are 10-6 in regular-season dome games, a .625 winning percentage. That places them fourth in indoor games among teams that play their home games outdoors, following the Jets (7-3, .700), Patriots (6-3, .667) and Packers (22-11, .667).
Which brings us to this week. If the 5-9 Giants are going to attach a positive ending to a disappointing season, it must start with a strong performance indoors when they visit the Detroit Lions on Sunday. Detroit lost last night to Baltimore, 18-16, to fall to 4-3 at home.
The Giants are 2-0 in Ford Field, defeating the Lions, 16-10, in 2007, and the Vikings, 21-3, in 2010, after the game was moved to Detroit when the Metrodome roof collapsed in a snowstorm. They were 4-1 in the Lions' previous home, the Silverdome, so the Giants are 6-1 in indoor games in Detroit.
Perhaps they can improve that impressive record on Sunday.
Realizing that goal will be easier if the Giants score points earlier than they have the last three weeks. The Giants fell behind Washington, 14-0, San Diego, 24-0, and Seattle, 23-0 (the final score). They rallied to beat Washington, 24-17, but lost by 23 points to both the Chargers and Seahawks. According to the Elias Sports Bureau, it is the first time the Giants fell behind by at least 14 points without scoring in three consecutive games since Nov. 28-Dec. 12, 1971, when they trailed the St. Louis Cardinals, 17-0, Washington, 23-0, and Dallas, 28-0.
This is the first time the Giants trailed by at least 23 points without scoring in back-to-back games since Dec. 27, 2009-Jan. 3, 2010, when they fell behind Carolina, 31-0, and Minnesota, 44-0 (the 2009 finale in the dome mentioned above).
Few things gall Coughlin more than the Giants' 39 turnovers or their NFL-worst minus-17 turnover differential. That is their highest turnover total since they had 42 in 2010. Their differential is their worst since they finished at minus-22 in 1983.
The previous-worst turnover differential for a Coughlin team in his 18 years as an NFL head coach was minus-nine – in 2007, the season the Giants won Super Bowl XLII. Last year, the Giants' differential was plus-14.
The Giants' 39 turnovers and the resulting 17 touchdowns and 130 points allowed off those turnovers all lead the NFL. The Lions are second in the NFL with 31 turnovers and have a minus-13 differential, so it will be interesting to see who can take better care of the ball on Sunday.
The Giants had five turnovers - all on interceptions of Eli Manning passes - in their loss to Seattle on Sunday. The last time they had exactly five turnovers was in the Seahawks' previous visit to MetLife Stadium, on Oct. 9, 2011, when Manning threw three interceptions and they lost two fumbles.
Coughlin would like to see the Giants run more offensive plays. In their last three games, they've had 54, 54 and 53 offensive snaps. This is the first time they've gone at least three consecutive games with no more than 54 plays in any of them since Nov. 28-Dec. 18, 2004, when they had 52, 41, 50 and 44 plays in losses to Philadelphia, Washington, Baltimore and Pittsburgh.
The Giants are averaging 83.5 rushing yards a game. If they don't raise it in the final two games, they will finish with their lowest season-long average since they rushed for 76.9 yards a game in 1945.
The Giants have a league-low three runs longer than 20 yards this season. Baltimore and San Diego have four apiece.
The Giants have not scored an opening-possession touchdown in nine consecutive games, the NFL's third-longest streak behind Miami (12) and New Orleans (10).
According to Elias, the Giants will finish third in the NFC East no matter what happens in the season's final two weeks. If they win their last two games and Dallas loses two, each team would finish 7-9, but the Cowboys would get second place because they twice beat the Giants. If the Giants lose twice and Washington wins its final two, they'll each be 5-11. In that scenario, they would have split their season series and finished with identical 2-4 division records. The Giants would get third place based on a superior conference mark (4-8 vs. 3-9).
Antrel Rolle's career-high six interceptions tie him for the NFL-lead with Seattle cornerback Richard Sherman and Detroit linebacker DeAndre Levy. Rolle can become the first Giant to lead the league in interceptions since Willie Williams did so with 10 in 1968.
Giants opponents have scored 357 points, or 13 more than the team allowed all of last season. Of course, that includes the nine return touchdowns the Giants have allowed (three apiece on interception, fumble and punt returns).
Manning has thrown a league-high 25 interceptions, but he did not throw one in three games this season. The Giants won two of those games, vs. Minnesota and at Philadelphia. In Manning's 10 seasons as the starting quarterback, the Giants are 37-12 when Manning is not intercepted and 46-54 when he is.
Manning made his 149th consecutive regular-season start on Sunday. Manning, who hasn't missed a start since the 10th game of the 2004 season, is exactly halfway to breaking Brett Favre's NFL record of 297 consecutive starts.
Victor Cruz had two receptions on Sunday to increase his career total to 241. That moved him past Alex Webster (240) and into 15th place on the Giants' career list.