The Giants have lost their first three games for the 11th time in their history (plus two seasons in which they opened with a tie and two losses). According to the Elias Sports Bureau, an 0-3 Giants team has never faced a 3-0 team, as they will do Sunday in Arrowhead Stadium – the site of the last game in which an 0-3 team defeated a 3-0 team.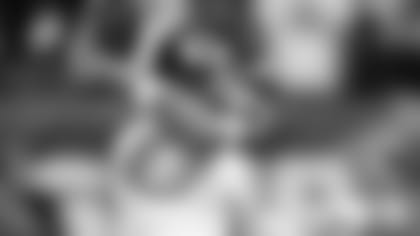 Know your opponent: Chiefs Roster Since 1990, there have been 15 such matchups. The undefeated team won 10 of those 15 games. The last 0-3 team to defeat a 3-0 team was the 2008 Chiefs, who beat the Broncos in Kansas City, 33-19.
Since the merger, five teams that started 0-3 rallied to make the playoffs, including three since the current postseason format was introduced in 1990. They are the 1981 Jets, 1982 Tampa Bay Buccaneers, 1992 San Diego Chargers, 1995 Detroit Lions and 1998 Buffalo Bills. Each of those teams won at least 10 games except for the Bucs, who finished 5-4 in the strike-shortened 1982 season.
The Giants have allowed an NFL-high l15 points – 36 to Dallas, 41 to Denver and 38 to Carolina. They are the third team in the last 50 years to allow at least 35 points in each of their first three games, joining the 2000 San Francisco 49ers and the 2008 St. Louis Rams.
When cornerback Corey Webster was unable to play Sunday in Charlotte because of a hip injury, it ended his streak of 34 consecutive starts, which was the third-longest on the team. Eli Manning (138 straight starts) and Antrel Rolle (51) are 1-2. Linval Joseph and Chris Snee are now tied for third with 29 starts in a row.
The Giants have rushed for 50, 23 and 60 yards in the first three games. According to Elias, this is the first time in their history they have had 60 or fewer yards on the ground in three consecutive games.
The Giants and Washington Redskins have competed in the NFL since 1932. This is the first time they each started 0-3 in the same season. The Giants and Pittsburgh Steelers are 0-3 together for the first time since 1970, a season in which the Giants rallied to finish 9-5.
The Panthers rushed for 194 yards on Sunday. Under Coach Tom Coughlin, the Giants are 35-49 when the opposition rushes for at least 100 yards and 48-15 when it doesn't. They are 16-25 when an opposing back rushes for at least 100 yards (DeAngelo Williams ran for 120).
Manning threw for only 119 yards on Sunday, but that increased his career total to 32,458 and moved him past former teammate Kurt Warner (32,344) and into 29th place on the NFL's all-time list. Ken Anderson is 28th with 32,838 yards.
The Giants fell to 8-17 in games in which Manning does not throw a touchdown pass.
Mathias Kiwanuka had the Giants' only sack at Carolina. That increased his career total to 31.0 and jumped him ahead of Jessie Armstead and Erik Howard (30.5 apiece) and into ninth place on the franchise's official career list (since 1982).