EAST RUTHERFORD, N.J. –** The Giants will attempt to stretch their winning streak to three games when they host the Oakland Raiders on Sunday, the first of three consecutive games in MetLife Stadium. The 2-6 Giants did not allow an offensive touchdown in defeating Minnesota and Philadelphia prior to their bye. Oakland is 3-5 after losing at home Sunday to Philadelphia, 49-20. The Giants trail in the series, 7-4, but won the two most recent games, in Oakland in 2005 and in Giants Stadium in 2009.
---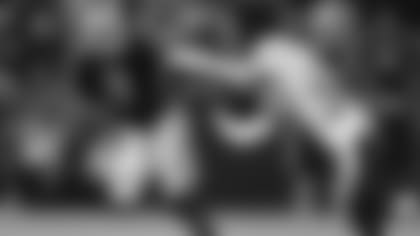 The Raiders are ranked 14th in the NFL with an average of 345.5 yards game. They are third in the league in rushing yards (147.8 a game) and 30th in passing (197.8). Oakland is tied for 28th in scoring with an average of 18.3 points per game. The Raiders have allowed 32 sacks, tying them with Pittsburgh for the NFL's second-highest total behind Miami's 35.
As the statistics indicate, the Raiders are a run-first team that uses zone read and power gap schemes. They are fourth in the NFL with a 5.0 yards-per-carry average and are tied for the NFL-lead with 14 runs of 20 or more yards. Oakland lines up with two backs and one tight end – 21 personnel in NFL parlance – more than any other team in the league. But the Raiders do a lot of unusual things out of their old-school alignment, including disguised runs and option passes.
Oakland is a fast-starting team, outscoring its opponents 52-24 in the first quarter. The Raiders have scored three first-possession touchdowns. But while they have scored 96 first-half points, the Raiders have totaled only 50 points in the third and fourth quarters. Oakland has a west coast-style passing attack with a lot of short and intermediate throws.
Quarterback Terrelle Pryor is essentially a rookie; he has started seven games this season and eight in his career (he missed the Week 4 game vs. Washington with a concussion). Pryor is 6-4, 230 pounds and faster than Washington's Robert Griffin III – before RG3 had knee surgery. He leads both the Raiders and NFL quarterbacks with 485 rushing yards – including a 93-yard touchdown run vs. Pittsburgh – and is averaging 7.7 yards a carry. Pryor's eight runs of 20 or more yards lead the league. Pryor is a very effective short passer and has completed 61.1 percent of his throws, but has just one touchdown pass and seven interceptions in his last three games. The only other quarterback on the roster is rookie Matt McGloin, who completed seven of 15 passes in a mop-up role last week.
Darren McFadden is one of the NFL's most dynamic running backs when healthy, but has too often been derailed by injuries. His current malady is a sore right hamstring, which he reinjured last week vs. the Eagles. McFadden has impressive strength and speed and leads the team with four rushing touchdowns. He has a history of taking direct snaps, both at the University of Arkansas and in Oakland. Backup Rashad Jennings rushed for 102 yards against Philadelphia. Jennings, who lines up all over the formation, is the team's third-most targeted receiver. Pryor looks for him on screens and checkdowns. Jennings has run for 242 yards and caught 19 passes for another 171 yards.
The Raiders play two fullbacks, Marcel Reece and Jamize Olawale. Reece is a converted college wide receiver who, not surprisingly, is a quality pass-catching fullback. A versatile player, he has 13 carries and 12 receptions. Olawale is a more traditional blocking fullback. He is an aggressive run blocker with the strength to knock a defender on his back.
The Raiders' leading receiver with 32 catches and four touchdowns is Denarius Moore, who has outstanding speed and is a threat to score from anywhere on the field. Rod Streater has a long, lean build, exhibits quickness in his routes and is very smart in zone coverages. Jacoby Ford is often put in motion prior to the snap and is a home run threat after it. Juron Criner is a big post-up target. He was the No. 3 receiver last week, but suffered a shoulder injury vs. the Eagles and might be inactive on Sunday. Andre Holmes has a big receiving radius. Rookie Brice Butler was the third receiver early in the season, but hasn't played as much in recent games.
Tight end Jeron Mastrud is listed No. 1 on the depth chart and is a traditional blocker at the position. Rookie Mychal Rivera is more of a receiver and has 16 catches and a touchdown. Rivera was a sixth-round draft choice who plays more than the Raiders' fifth-round selection, Nick Kasa.
Oakland's offensive line has been a medical wreck. The Raiders have started five different O-line combinations in eight games and have used seven or eight variations with perhaps more on the way, depending on who is healthy enough to face the Giants. Two players have started every game: left tackle Khalif Barnes and right guard Mike Brisiel. Barnes was penciled in as the right tackle until Jared Veldheer tore is left triceps in training camp. Veldheer is on injured reserve/designated for return and is eligible to return for the Giants, but is not expected to. When he is ready, Veldheer will play left tackle and Barnes will switch to the right side. Tony Bergstrom was the starting left guard, but underwent surgery on his right foot. Lucas Nix and Andre Gurode have alternated starts at left guard. Gurode (knee/quadriceps injury) returned to practice Wednesday, but coach Dennis Allen wasn't ready to say if he will return to the starting lineup. Nix left the Philly game with an undisclosed injury after previously missing Weeks 3-4 after hurting his right ankle against Jacksonville. Center Stefen Wisniewski missed two games with a sprained right knee, but played the last two contests. When Wisniewski was out, Gurode, the top backup at each interior position, filled in. Right tackle Tony Pashos was out of football in 2012. He was playing well before a hip flexor sent him to the sideline. Pashos' replacement was former Giant Matt McCants, who started two games…before injuring his right foot late in the second half vs. Philly. That could open the door for rookie Menelik Watson - who practiced just once in training camp because of a calf injury and has played in only one game – to perhaps start vs. the Giants.
---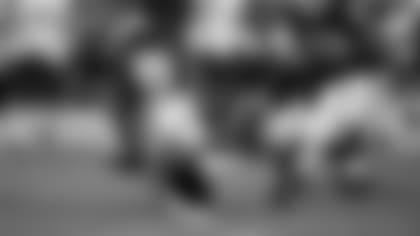 Oakland's defense is ranked 18th in the NFL, allowing 357.3 yards a game. The Raiders are sixth against the run (94.6 yards a game) and 24th vs. the pass (262.6). They are 19th in points allowed, giving up 24.9 points a game. Oakland's turnover differential is minus-3, with 14 giveaways and 11 takeaways.
The defense hasn't been as hard hit by injuries as the offense. Strong safety Tyvon Branch has missed the last six games with a fractured ankle. Linebacker Miles Burris, who had right knee surgery in January, might be activated off the physically unable to perform list this week. He would be the top backup at all three linebacker positions.
The Raiders' defense, which has 10 new starters from a year ago, is a 4-3, but they use a lot of hybrid fronts that frequently present a 3-4 look. Oakland blitzes a lot and tries to create confusion, making it a difficult team for which to prepare. The defense is a tough, physical high-energy group that has allowed more than 24 points just twice, to Denver and Philadelphia. No individual back has run for more than 78 yards against the Raiders. Oakland has 14 different players with at least one sack.
Lamarr Houston is the lone starter remaining from last season – and he switched from left to right end. Houston is a powerful player who leads the team with 4.0 sacks. The other end is Jason Hunter, an intelligent player who pursues the ball with great effort. Vance Walker is the line's best interior player, a tough, competitive defender against both the run and pass. Tackle Pat Sims is a solid technician who gets good leverage inside. Jack Crawford is the top backup at end and Daniel Muir and rookie Stacy McGee help inside.
Middle linebacker Nick Roach, who joined the Raiders after six seasons in Chicago, is the defensive signal-caller and leading tackler. Rookie Sio Moore mans the strong side, where he is long-armed, athletic and productive. Weakside backer Kevin Burnett has 67 career starts and is seldom off the field. He is a heavy-bodied defender with good strength. Kaelin Burnett has been the top backup, but would lose that designation if Burris returns.
Charles Woodson, a 16-year veteran, has returned to Oakland (where he played his first eight seasons) after seven years in Green Bay. The eight-time Pro Bowler is savvy and instinctive. He lines up as a centerfielder in the back of the defense, where he tracks and chases the ball. With Branch sidelined, Brandian Ross has played the other safety. Ross plays in the box, where he's been a solid run defender. The Giants are familiar with left cornerback Mike Jenkins from his five-year tenure in Dallas. He is a good cover corner on vertical routes who will come up and tackle when the opposition runs the ball. Right corner Tracy Porter is a versatile player with good ball skills. When the Raiders employ their nickel defense, Porter moves inside and first round draft choice DJ Hayden takes over at corner. Usama Young also get snaps in the back of the defense.
---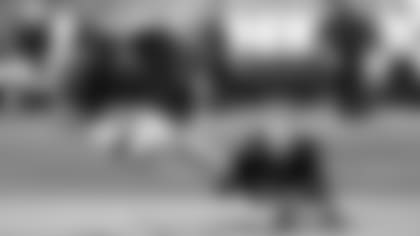 ---
OAKLAND RAIDERS SPECIAL TEAMS

Oakland's new special teams coordinator is Bobby April, who held the same position in Philadelphia the previous three seasons. He has developed one of the NFL's best kickoff coverage units, one that is allowing an average return of 20.2 yards. Taiwan Jones and Young are the leading special teams tacklers. The return teams have not fared as well. Oakland's average starting point after receiving a kickoff is the 18.7-yard line, the worst spot in the league. The Raiders switched punt returners from Phillip Adams to Ford – who had been returning kickoffs, a duty now handled by Jones. Kicker Sebastian Janikowski still has one of the NFL's strongest legs, but missed four field goal attempts in the first six games. Janikowski had the same holder for 13 years in Shane Lechler, who is now in Houston, and is still getting comfortable with Marquette King, the new punter/holder. King is fourth in the NFL with a 48.3-yard gross average and 12th with a 40.6-yard net average.