EAST RUTHERFORD, N.J. –** The Giants will take their first step in what they hope is a turnaround when they host the Minnesota Vikings in their only Monday night appearance of the season. The teams are a combined 1-10, the Giants at 0-6 after their loss last week in Chicago and the Vikings at 1-4. Minnesota's only victory was over the Pittsburgh Steelers, 34-27, in London. The Vikings lead the regular-season series, 13-9. The teams last faced each other on Dec. 13, 2010, when the Giants won, 21-3, in a game that was played on a Monday night in Detroit's Ford Field. The game was moved after the Metrodome roof collapsed during a snowstorm. That victory ended the Giants' four-game losing streak in the series.
---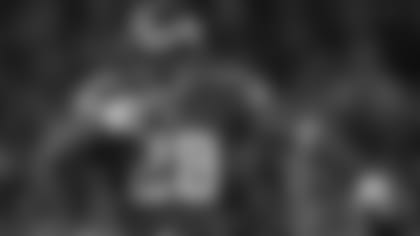 ---
MINNESOTA VIKINGS OFFENSE

The Vikings are ranked 19th in the NFL in yards-per-game (338.4), but are 10th in scoring (25.0 points a game). They are 13th in the league in rushing (116.4) and 21st in passing (222.0).
Minnesota has operated a West Coast offense that features a lot of short passes and a heavy emphasis on Adrian Peterson's rushing. The Vikings try to be balanced and conservative. They have yet to have a quarterback throw for 300 yards this season.
The offense could have a different look Monday night, when Josh Freeman starts at quarterback for the first time since he signed with the Vikings on Oct. 8. Freeman, a former first round draft choice, started the season's first three games for the Tampa Bay Buccaneers. Freeman is a strong-armed quarterback who likes to throw the ball down the field. That's far different than Christian Ponder and Matt Cassel, the two quarterbacks who started games this season for the Vikings. Ponder, the team's top draft choice in 2011, started every game last season and was No. 1 this year until a fractured rib forced him from the lineup. Cassel started the last two games. Now the Vikings will turn to Freeman, who completed 43 of 94 passes (45.7 percent) for 571 yards, two touchdowns and three interceptions for the Buccaneers. Freeman started against the Giants on Sept. 16, 2012 and completed 15 of 28 passes for 243 yards, two touchdowns and two interceptions.
The key figure in the offense remains Peterson, whose 2,097 rushing yards in 2012 were just eight yards shy of Eric Dickerson's NFL record. Peterson, who was named the league's Most Valuable Player last year, is currently fourth in the NFL with 483 rushing yards and he has averaged 4.7 yards a carry (that falls to 3.1 yards when his 78, 60 and 36-yard carries are eliminated). Widely recognized as the league's best running back, Peterson explodes through the hole and has great finishing speed. He is often joined in the backfield by fullback Jerome Felton, who can wall off and knock back defenders as a blocker. Toby Gerhart plays most often on third down, but has only two carries.
Wide receiver Jerome Simpson leads the Vikings with 23 catches and a 16.2-yard average. He has good vertical speed and strong hands that enable him to snatch the ball away from defenders. Greg Jennings has scored the only two touchdowns by Minnesota wideouts, including a 70-yarder against the Steelers. Jennings is not quite as explosive as he was when he played in Green Bay, but he is a savvy route runner with big-play ability. Jarius Wright has played as the third receiver. Quick off the line, he has the speed to go deep. Cordarrelle Patterson, one of the Vikings' first round draft choices this season, has been getting more playing time at wide receiver. Joe Webb was the starting quarterback in Minnesota's NFC Wild Card Game last year at Green Bay and completed just 11 of 30 passes. He is now a receiver who is getting accustomed to his new position. Webb has three receptions and has been a willing blocker.
Tight end Kyle Rudolph was a Pro Bowler last season. He has size, awareness and smarts and is competitive in traffic. Rudolph, who has 21 catches and two touchdowns, has good hands and is a solid blocker. He is a popular target in the red zone. John Carlson, a former starter in Seattle, is a big post-up target with good receiving skills.
Left tackle Matt Kalil was the fourth overall selection in the 2012 NFL Draft. He has good upper body strength and foot movement and is an improving young player. Right tackle Phil Loadholt is a massive 6-8 and 343 pounds. He's not as athletic as Kalil, but his hands are strong and it's a long trip around him for a pass-rushing defensive end. Left guard Charlie Johnson is a former tackle who has the skills to pull and trap and make run game adjustments. Brandon Fusco is an instinctive power player at right guard. Center John Sullivan is a natural leverage player who is tough and durable. J'Marcus Webb is the top backup.
---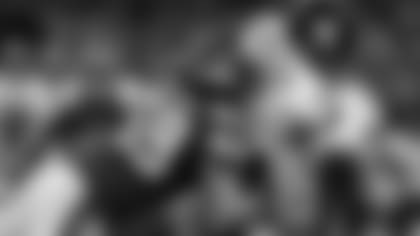 ---
MINNESOTA VIKINGS DEFENSE

Minnesota's defense is ranked 31st in the NFL, allowing 418.0 yards a game. The Vikings are tied for 17th against the run (110.0) and 29th vs. the pass (308.0). They are 30th in scoring defense, allowing 31.6 points per game, and have given up at least 27 points in every game.
The 4-3 defense was healthy entering last week's loss to Carolina. But the Vikings lost weakside linebacker Desmond Bishop to a torn ACL. Safety Harrison Smith (turf toe) and cornerback Xavier Rhodes (ankle) also left the game.
The Vikings' premier player up front is right end Jared Allen, who has a league-leading 118 sacks since he entered the NFL in 2004 (including a team-high 3.5 this year). Allen has an explosive first step, is difficult to block and can be a chippy player. Left end Brian Robison is a tough snap-to-whistle player with a variety of pass rush moves. Nose tackle Letroy Guion is very athletic and has speed, range and movement skills. The other tackle is 11-year veteran Kevin Williams, a six-time Pro Bowler who was a member of the NFL's All-Decade team in the 2000s. He is a thick, heavy-bodied player who remains a disruptive force in the middle of the line. End Everson Griffen contributes in the sub packages. He has good upfield movement. Tackle Fred Evans plays in the goal line package. Sharrif Floyd, another first-round choice this year, is an active player with 2.5 sacks in limited snaps. The Vikings recently added former Giants defensive end Justin Trattou to their roster.
Middle linebacker Erin Henderson flies all over the field and is the Vikings' leading tackler with 62 (41 solo). He has 2.0 sacks. On the strong side, Chad Greenway is an instinctive playmaker who is particularly tough against the run. Marvin Mitchell, who can play all three linebacker positions, will take over for Bishop. Rookie Michael Mauti is a smart, instinctive backup with good straight line speed.
Smith is Minnesota's best defensive back, a safety with range and athletic ability. But he is expected to miss the game Monday night and will likely be replaced by Andrew Sendejo. Strong safety Jamarca Sanford is a rugged, physical player in the box. Left cornerback Josh Robinson has quick feet and good speed. On the right side, Chris Cook has the speed and length to disrupt receivers. Rhodes, a talented rookie, is the nickel back and a good press corner.
---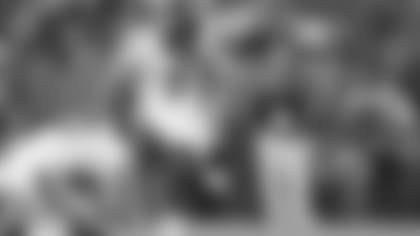 ---
MINNESOTA VIKINGS SPECIAL TEAMS

Kicker Blair Walsh was a Pro Bowler last season, when he made 35 of 38 field goal attempts (10 of 10 from 50 or more yards) and had touchbacks on 53 of 86 kickoffs (61.6 percent). This season, he has succeeded on nine of 10 tries, including 52 and 54-yarders. But last week a tight hamstring forced him to relinquish kickoff duties to Jeff Locke, the team's rookie punter. Locke wore No. 12 early in the season, but gave it to Freeman and now has No. 18. His 42.2-yard net average is sixth in the NFL. Patterson's 33.8-yard kickoff return average is second in the league and includes a 105-yard touchdown at Chicago. Marcus Sherels has all four of the Vikings' punt returns – for eight total yards.