TURNING POINT:** The Giants were on the wrong end of a fortunate bounce on the first play of the fourth quarter. Eli Manning's pass was deflected off the foot of cornerback Tony Carter, flipping it over to teammate Chris Harris, who came down with the interception. Peyton Manning and the Broncos turned it into a touchdown to make it a two-possession game for the first time as they went on to beat the Giants 41-23.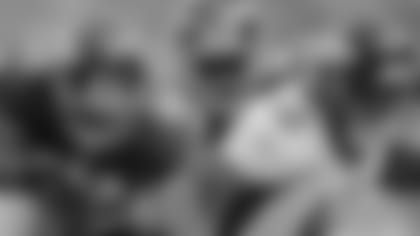 LONG PLAY OF THE GAME: Return specialist Trindon Holliday ran back a punt 81 yards for a touchdown, giving the Broncos a 22-point lead in the fourth quarter.
WHAT WE LEARNED ABOUT THE OFFENSE:The Giants continued to struggle in the red zone and on third down, not to mention turnovers. Eli Manning and company began 0 for 6 on third-down conversions to begin the game (0 for 2 in the red zone), and once they converted on their seventh try, Manning threw an interception in the end zone late in the first half. They finally broke through at the goal line on a one-yard run by newly-signed running back Brandon Jacobs, but it wouldn't be enough for the Giants. After rushing just 14 times last week for 50 yards, New York become one-dimensional again, rushing for 23 yards on 19 attempts (1.2 average).
WHAT WE LEARNED ABOUT THE DEFENSE: If the over/under was set at seven for Peyton Manning's passing touchdowns, the Giants kept him under. They did more than that, though. The Denver quarterback, who threw for seven touchdowns last week, did rack up his completions and yardage as usual, but it was the change of pace on the ground that gashed the Giants defense down the stretch. Running back Knowshon Moreno averaged 7.2 yards per carry for 93 yards and two touchdowns.
WHAT WE LEARNED ABOUT SPECIAL TEAMS: **The kicking game kept the Giants in this game early on with Josh Brown making three field goals in the first half, but it was punt coverage that led to the Broncos putting the game out of reach. Return specialist Trindon Holliday, who led the NFL in punt return yards last season, broke an 81-yard touchdown return in the fourth quarter to put his Broncos ahead by three possessions. Meanwhile, David Wilson returned to his kickoff return duties (in addition to playing in the backfield) in place of rookie Michael Cox.
ROOKIE WATCH: Justin Pugh remained the starting right tackle as the Giants allowed just one sack on the night. Running back Michael Cox, quarterback Ryan Nassib, and defensive tackle Johnathan Hankins did not suit for the game.